If you love the outdoors, then you have probably taken the time to go fishing at some point. You may also know that there are different ways to go fishing – like deep sea fishing in Connecticut, lake fishing, and river or stream fishing.
If you didn't, then you would be happy to know that deep sea fishing is an awesome and fun way to take a short trip and explore bodies of water.
Connecticut already has tons of lakes for fishing, our list of the 10 best places for lake fishing can give you lots of options to choose from.
But, if you are down for a bit of an adventure and want to try something new, then deep sea fishing is definitely something cool to try.
We found the best charters for deep sea fishing in Connecticut so that you can find a place near you or one that has everything you might want.
With so many summer and fall activities out there to do, it's nice to take the leg work out and know that the options you see are really the best!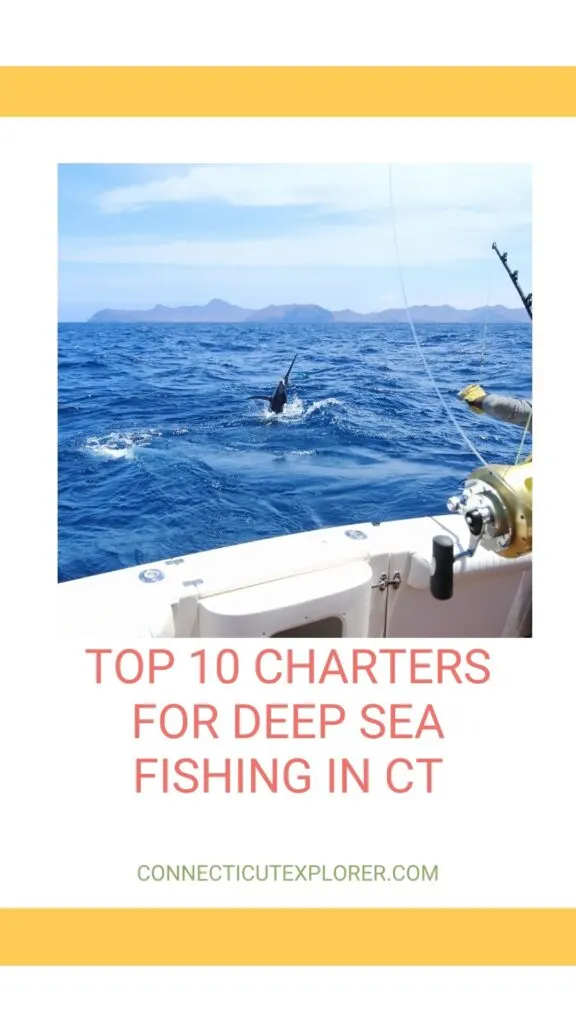 Best Charters For Deep Sea Fishing in Connecticut
1. Lucky Hook Charters- Clinton, Connecticut
The Lucky Hook Charters deep sea fishing company is one of the best things to do in Clinton, Connecticut, and for good reason.
Lucky Hook Charters is perfect for boat tours and water sports, and if you want to go fishing you will certainly be able to do that with their rental options and location.
They have party boat shipping seven days a week, so you can plan your trip out anytime.
Lucky Hook Charters is equipped with a Mate, Captain, and well-maintained boat for you and your family or group of friends to have a nice mini-vacation or celebration.
2. Captain Morgan's Boat Training and Charter LLC- Wethersfield Connecticut
Captain Morgan's Boat Training and Charter trains boat captains from all around New England, so you can ensure that you are in safe hands.
Bring your whole family out for a fun and relaxing day aboard the boat, their excursions are open for all ages and experience levels too.
When you book with Captain Morgan's Boat Training and Charter, you are getting a fully equipped boat, capable staff, and peace of mind to continue your day of deep-sea fishing, water skiing, diving, and more!
3. Pelagic Beast- Norwalk, Connecticut
If you are a first-time fisher, this is perfect for you! The Pelagic Beast is a fully equipped boat that is up to date.
When you book, you also get a very experienced captain and small crew that will take care of everything.
That way, you can just focus on working that fishing hook and catching something good! The captain is very knowledgeable about the water, so when you are ready to fish, you will get to the right spot perfect for a good catch.
They even teach you how to bait, how to use the rod… it really is a full-service experience at Pelagic Beast!
4. Kingfisher Charters- Old Saybrook, Connecticut
Get the premier saltwater fishing experience with Kingfisher Charters. They provide all the fun and excitement you could expect when you go out on a fishing adventure.
No matter how much experience you have, beginners and expert fishers will have the best time with Kingfisher Charters.
They even specialize in live bait charter fishing, because you can catch trophy-sized bass and bluefish.
They have the option for booking half-day or full-day trips, so no matter what you are expecting, you will be sure to find it with Kingfisher Charters!
5. Reel Cast Charters- Old Saybrook, Connecticut
If you were looking for a sport fishing guide right here in Connecticut, then Reel Cast Charters has everything that you need.
Their fishing guide service is one of a kind because they have a light-tackle approach to fishing. If you don't know what that means, that's fine too, since they have trained guides and knowledgeable fishing experts to help you.
You can fish with live baits or artificial lures to catch the big fish waiting in the Long Island Sound!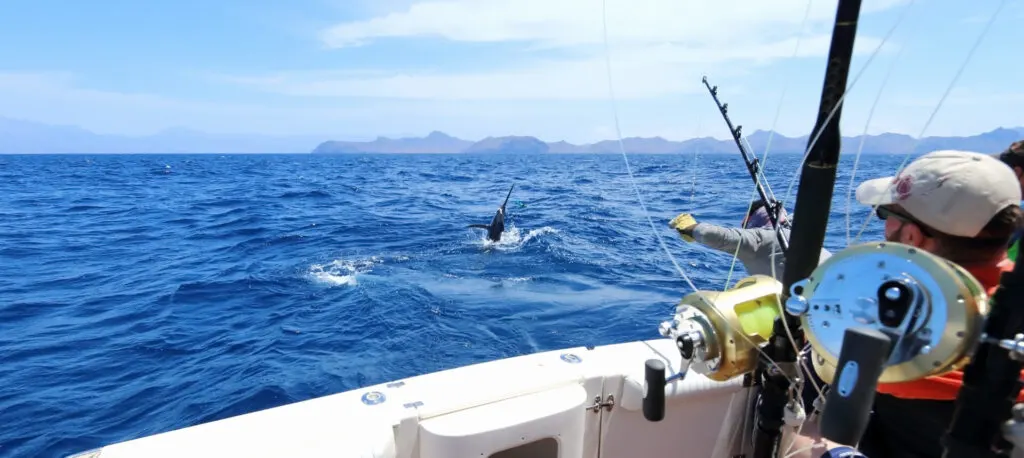 6. Tartan II Fishing- Niantic Connecticut
This family-owned fishing business has been around for a long time and continues to support the avid fishers in Connecticut.
Their captain has over 20 years of experience, so you won't have to worry about a thing if you book with them.
The Tartan II Fishing boat is certified by the U.S. Coast Guard, so it's safe and equipped for boat bottom fishing and private charter fishing.
7. The Flying Connie- Clinton, Connecticut
The Flying Connie fishing charter is one of the best activities to do in Clinton, Connecticut.
They are a full-service fishing charter that is dedicated to offering you the most fun day of fishing you could ask for.
The Flying Connie has everything you need, including a professional mate to help you catch fish, be safe, and have an awesome time!
8. Happiest Paddler- East Hampton, Connecticut
Right on the edge of Lake Pocotopaug holds the Happiest Paddler, where you can spend anywhere from an hour to a whole day having fun on the lake in their watercraft rentals.
East Hampton actually has Connecticut's largest bodies of water inland, so with over 500 acres of water, you won't run out of places to explore fishing.
After you're done, you will be right by nice pubs and restaurants worth a visit!
9. Bluefin Sportfishing Charters- Clinton, Connecticut
Chartering a fishing boat has its ups and downs, but Bluefin Sportfishing Charters takes all the guesswork out.
Everyone there is a seasoned professional that can almost guarantee a catch each time you go out on the water.
The Captain goes on every trip for however long you book for, so you can get out on the water, relax, and fish!
10. Petrel Charter Fishing- Waterford, Connecticut
Hop aboard a 36' or 38' charter boat with up to 6 people when you book with Petrel Charter Fishing.
Their crew is up to date on all safety protocols and fishing techniques, so as you coast through the Long Island Sound and Block Island Sound, you may come across some striped bass!
There you have it! Try out some deep sea fishing in Connecticut with some of these charter companies who operate in great locations along the Long Island Sound and other bodies of water right here in Connecticut!