Connecticut sits right on the coast, so the Long Island Sound is nearby and offers tons of fresh seafood, oysters included, for fishermen and restaurants nearby to get right from the source!
With so many different cultures and cuisines in Connecticut, all these restaurants have something for every pallet. Oysters are one of the most popular kinds of seafood and can be enjoyed in multiple ways.
Seasoned oyster lovers know what they want, and these 10 best places for oysters in Connecticut satisfy everyone!
Maybe oysters are something new you want to get into, so some of these places in Connecticut have professional staff to help shuck the oysters and recommend the best options depending on what you like.
The best places for oysters in Connecticut have super fresh fares, flavor enhancements, and expert preparation so you know you are getting the best oysters in the best way!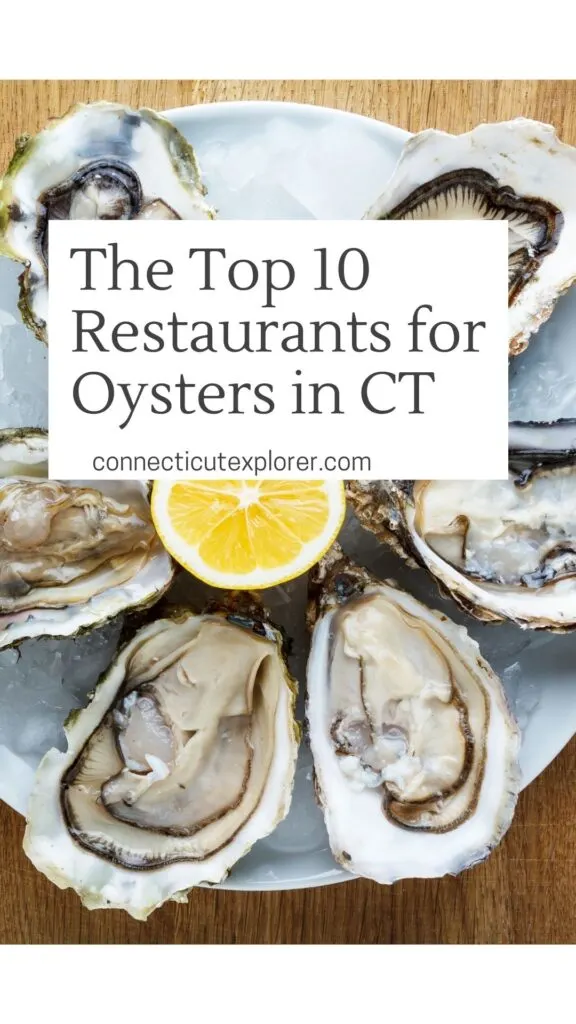 10 Best Places for Oysters in Connecticut
1. Oyster Club- Mystic, Connecticut
The Oyster Club in Mystic, Connecticut really sets the scene of 'eating like a viking' with their themed, boat-to-table fare and rustic-chic design.
They use fresh, sustainable, and local ingredients in all their recipes. They have some spots that are great for a casual night out or one that's more romantic.
Their outdoor deck is especially popular, so while you are indulging in amazing oysters, you can enjoy the view!
2. Liv's Oyster Bar- Old Saybrook, Connecticut
If you have been searching for a great place to bring family and friends, then Liv's Oyster Bar is the right choice!
They are based on fostering community and family and have a very welcoming environment for their patrons. The menu is seasonal, so that is why the ingredients are always fresh and chosen by the Bar's executive chef.
They offer their oysters half-shell style, and their Oyster's Casino appetizer is incredibly popular and loaded with bacon, herbed butter, and fresh-baked Blue Point oysters!
3. Maine Fish Market and Restaurant- East Windsor, Connecticut
This place might just be the freshest! The Maine Fish Market and Restaurant prepare their food to order, so the wait time is worth it for fresh oysters.
They have been around since the 1870s, and it is in one of the oldest commercial buildings in Connecticut. Their menu is expansive and covers many raw bar favorites.
The Maine Fish Market and Restaurant has a retail counter for you to check out before you leave, too.
If you're up for it, you can take some lobster or cocktail shrimp home for later!
4. Max's Oyster Bar- West Hartford, Connecticut
Classic American seafood meets modern times here at Max's Oyster Bar! This place is certainly a must-try, especially if you live near by.
Their ethnic interpretations and traditional influences really make their menu pop. Their raw bar has bi-coastal oysters and shellfish, made to the finest of quality and highest standards when you order.
With oyster appetizers and entrees, you will get enough oysters to last a long time, or at least until the craving hits again!
5. Lucas Local Oyster Bar- Newtown, Connecticut
They call their oysters 'shucking amazing' for good reason–Lucas Local Oyster Bar presents fresh oysters and a beautiful ambiance with their location right on the Connecticut shoreline.
The local farm provides a lot of their ingredients, so they are always prepared to great quality, with the touch of local home cooking. They have an open wood-fired kitchen to make some unique flavors, and the craft bar is perfect for catching up with family and friends.
At Lucas Local Oyster Bar, the world is really your oyster, since you can choose from Alpine, Blue Point, Little Neck, and Wellfleet!
6. Ten Twenty Post- Darien, Connecticut
This contemporary, casual spot is an oyster mecca. Ten Twenty Post is a super friendly and fun spot to bring family and friends together to enjoy oysters with a European Bistro flair, mixed in with proper New England tradition.
Their oysters are their specialty, but they have other options for all seafood lovers.
Their menu is very diverse and has something for every tastebud! Plus, the bar is huge!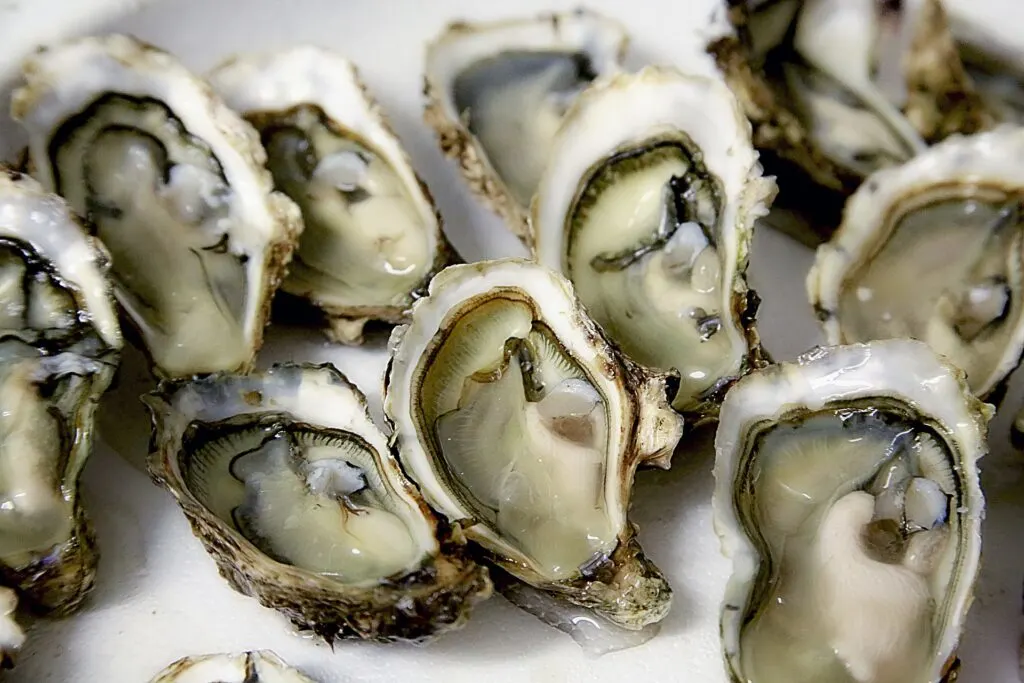 7. Elm Street Oyster House- Greenwich, Connecticut
If you ever find yourself near the Gold Coast, you have to stop off at Elm Street Oyster House. Their menu has fresh, daily oysters from the sea. You will have some trouble picking something for sure since they have so many great options.
They have oysters that are pan-fried or served with salad, the chef has something different as a special every day! Their staff is super experienced and can help you pick the perfect wine pairing.
Their indoor decorations are a sight as well, with the murals and hand-chosen decor in the dining room, immerse yourself in a proper oyster-eating experience.
8. The Whelk- Westport, Connecticut
The Whelk has an air of french ambiance and local, sustainable seafood. Their selections offer only the finest seafood and are made to order.
Their presentations are also very creative and worth a photo! The Whelk has a gorgeous dining room and offers outdoor seating, so when the weather is nice, you can enjoy your oysters with a view of the sunset!
9. Crabby Al's Seafood Restaurant- Thomaston, Connecticut
This place is for old-school lovers! Crabby Al's Seafood Restaurant offers a raw bar on Thursday evenings as a special.
Their Blue Point oysters are their signature, but they have tons of other options too, even if you don't like seafood and just came for fun!
Their deck overlooks the Naugatuck River, so it's an easy stop after a day of hiking or trail walking by the lake.
10. Cast Iron Chef, Chop House and Oyster Bar- New Haven, Connecticut
The Cast Iron Chef Chop House and Oyster Bar is elegant and all-American. Their fine fare of oysters is perfect for oyster lovers and meat-eaters, so you can get the best of both worlds here.
They have daily deliveries of fresh seafood, and their menu has a la carte options so you can try a bunch of different menu items!
The Chef Tower is a hand-crafted masterpiece that has all the favorites–lobster, shrimp, oysters, of course, clams, and crab legs!
---
You can practically smell the fresh oysters from your house, with all these oyster places in Connecticut to choose from, it's hard not to try them out for yourself!
Connecticut is a coastal state with access to many fishing points, so it is only natural that restaurant owners and chefs have made amazing strides to offering the freshest of seafood for all the seafood aficionados out there!