If you're looking for some great restaurants for brunch in New Haven, CT, you've come to the right place.
Brunch is probably the best time of the day, you don't have to be up too early to enjoy the best breakfast foods with a hearty twist.
Some of the best restaurants in Connecticut are in New Haven, so it makes sense that you can find some excellent brunch spots here, as well.
These brunch places in New Haven are just a sample of what New Haven has to offer for brunch, but I promise they are the best.
It's always great to show support for small business owners too, and some of the best brunch places in New Haven are owned and operated by small business owners, and family businesses.
You've got to love that.
These places are great for Mother's Day or any other special day.
Or just any old day – we love brunch.
So, let's get into it.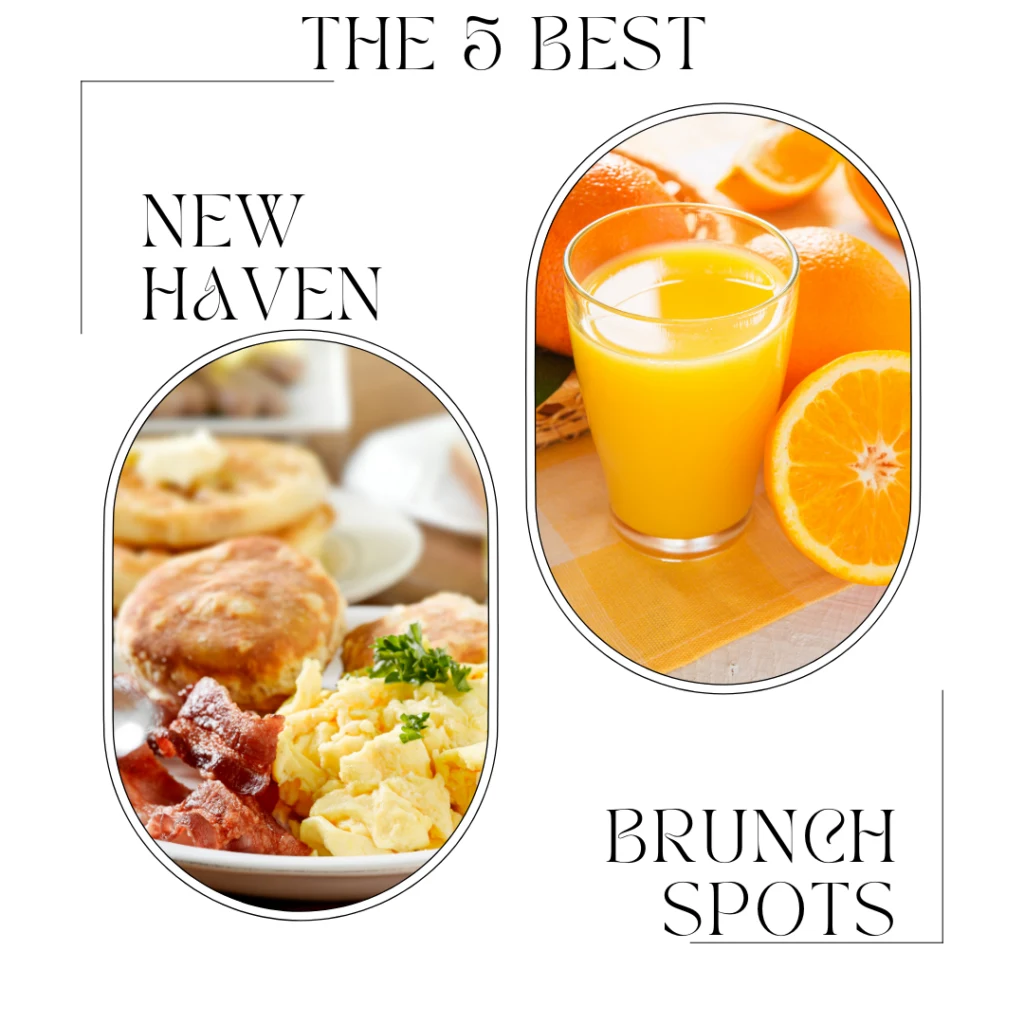 The 5 restaurants for brunch in New Haven
This traditional brunch restaurant is the perfect representation of what brunch means.
It's not right in New Haven, but in West Haven. I just had to put it on the list, though – it's too good.
Nick's Luncheonette has many specialties, but their top favorites are unique omelet combinations, french toast, steak and cheese, subs, hot soups, muffins, and eggs benedict.
Their classic take on breakfast and lunch foods make for the perfect brunch combinations.
Nick's Luncheonette has been around since 1992, at the very same location it is now.
Address: 255 Sawmill Road, West Haven, CT 06516
This quaint Latin American Gastro bar is a rare gem nestled in New Haven. Barracuda Bistro and Bar specializes in seafood dishes like avocado sashimi, roasted salmon, and lobster rolls.
It's a great place to stop for Sunday brunch because the food is light and tasty and just simply perfect.
Their loyal customers love the chilaquiles, chorizo mac and cheese, and varieties of arepas.
It's like traveling to Latin America through your taste buds.
With a cocktail bar on site making handcrafted drinks, the brunch drinks don't stop at just mimosas.
They have mojitos, rum drinks, and margaritas – yum.
The food critics from Connecticut Magazine have named Barracuda Bistro and Bar as one of the best Latin restaurants, and CTNOW readers have named Barracuda Bistro and Bar as the best brunch place.
Since 2014, they have graced the top lists for best foods in Connecticut.
This place is good.
Their owner, Sonia Salazar, immigrated from Colombia and trained as a chef here in the States, so the food is also a great fusion of some American cuisines.
Address: 1180 Chapel Street, New Haven, CT 06511
Nestled on the bustling College Street in downtown New Haven, Elm City Social has been serving great food in an inviting environment since 2015.
Elm City Social opened in July of 2015, right inside a historic building that was once home to Kasey's Restaurant back in 1990.
Facing the Shubert Theater and Taft Hotel building, Elm City Social is all things historic and new.
Since it's by the New Haven Green, it's the perfect place to stop in and try a great cocktail or fresh, house-made food.
The chef, John Brennan, serves unique and tasty twists of classic foods you love to eat for brunch.
The culinary efforts of Elm City Social are all thanks to John, the owner, who continues to strive for a warm and creative brunch spot.
The brunch menu here includes "Hangover Helpers", chicken and waffles, and the ever-delicious Red Velvet Waffle.
Address: 266 College Street, New Haven, CT 06510
We can't talk about brunch foods without mentioning crepes!
This boutique creperie is a little piece of France right here in New Haven.
Since 2014, Crepes Choupette has been serving little slices of French crepe heaven to local travelers and New Haven residents.
This street-food-style creperie is a great stop for brunch.
On the corner of College and Wall Street, this French creperie makes delicious crepe combinations that you can take with you on your walk or stroll through the city.
Not only are the crepes delicious, but Adil Chokairy makes nutritional crepes, like fruit fillings and whole wheat batter.
He sources all his fruits from a local farmer's market, and he takes his crepes on the road to the cityseed farmers market on Saturday and Sunday.
If you want a quick brunch that won't fill you up too much before lunch, then Crepes Choupette is the place for you!
Address: 24 Whitney Avenue, New Haven, CT 06510
This gastro-pub is driven by quality ingredients and Eclectic sensory settings.
When you walk into the Oak Haven Table and Bar, you will be met with trendy atmospheres, great ambiance, and a bustling cafe setting.
The craft beers and wines match the foods perfectly.
For Sunday brunch, they have great foods that taste exquisite. Their menu is seasonal, with a farm-to-table motto that promises the food is fresh.
If you are in the mood for a great-tasting cocktail, Oak Haven is the perfect place, because Albert and business partner Craig studied mixology at The Genuine Hospitality Group in Miami, Florida.
New Haven residents have a wonderful place to come experience a brewery, cafe, and brunch gastro pub all in one.
The historic location in the grotto neighborhood of New Haven provides a wonderful daytime brunch place, but also a hip, nighttime transformation to hang out in.
The Oak Haven Table and Bar has been around since 2013, and their tapas, beers, and wines are a brunch restaurant dream!
Address: 932 State Street, New Haven, CT 0611
---
No matter what you're looking for out of a brunch place, New Haven has some of the best places to offer up a variety of different cuisines and settings to enjoy with friends and family.
The combination of breakfast and lunch is in good hands with New Haven's amazing eateries.
Is your favorite New Haven brunch spot on this list?
If it's not, leave a comment below and tell us about it.