I've talked about my kids' love of Mystic, CT plenty – we come here at least weekly for one activity or another. Due to this, it's imperative for me to have a list of kid-friendly restaurants in Mystic on hand for when we're here.
We've all been in a situation where our kids get hungry and we walk into a restaurant that's just not meant for kids.
Too quiet, too fancy, too slow, and too expensive.
When you're getting a meal with your kids, you want background noise, kid-friendly food options, and lightning-fast food service.
Luckily, Mystic, the town with some of the best kids' activities in the state, like the Pequot Nature Center for example, has some great kid-friendly restaurants, as well.
So, let's find out what they are.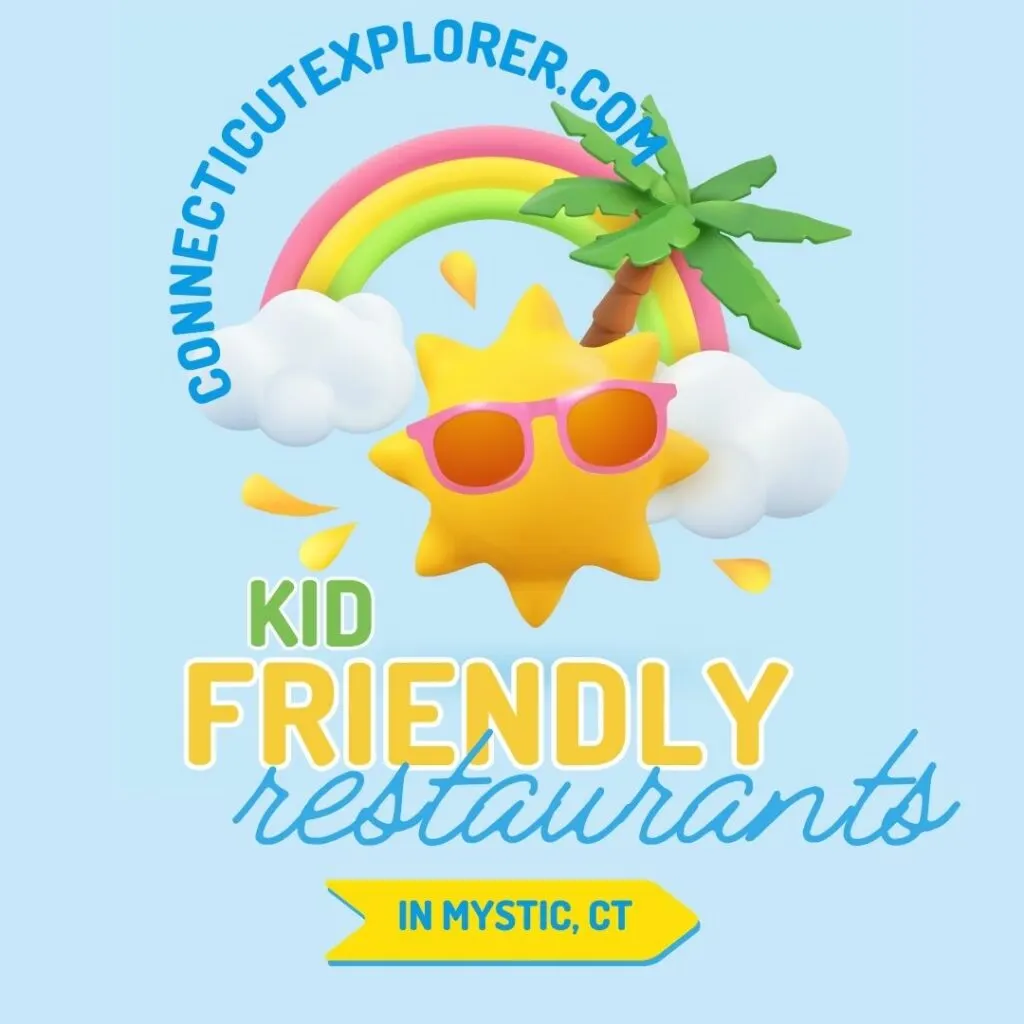 7 great kid-friendly restaurants in Mystic, CT
Mango's Pizza is a great kid-friendly restaurant that's located in Olde Mistick Village.
I love to take my kids to this place for so many reasons.
The first reason is that the atmosphere is super laid-back and it's a little bit loud, so if the kids get a little loud, it really doesn't bother anyone.
Another great reason this restaurant is kid-friendly is the food comes out quickly and everything is really tasty.
If you order a pizza here, your kids will be fed and happy likely within 20 minutes.
Address: 27 Coogan Boulevard, Mystic, CT
Mystic Pizza isn't just an iconic Connecticut treasure, it's a great kid-friendly restaurant.
The memorabilia on the walls is really fun for kids to look at and the service is usually quick, which is great when you've got hungry kids.
The pizza is good (not great, but good) and the prices are definitely for the tourists, but eating here is a generally a good experience for families.
Both the downtown Mystic and North Stonington locations are great for kids.
Address: 56 West Main St. Mystic, CT 06355
Abbott's Lobster in the Rough is a great waterfront restaurant in Mystic Country that serves delicious food and is super kid friendly.
The menu here is mostly comprised of seafood like lobster rolls and clam chowder, but there are some great kids' meals here, as well.
You can choose from grilled cheese, peanut butter and jelly, macaroni and cheese, and a hot dog – all kid friendly.
The atmosphere here is super laid back and you can choose from indoor and outdoor seating, which is great for families with young kids.
Address: 117 Pearl Street, Noank, CT 06340
I was hesitant to stop for dinner here with my kids. After all, it's a restaurant known for beer and certain German foods – nothing my kids are interested in.
I did, though, and it ended up being a really positive experience for all of us.
The atmosphere here is super kid-friendly and there are some great kids' meals, including fish and chips, cheeseburgers, hot dogs, pasta with butter, and more.
I highly recommend giving this restaurant a try with your kids.
Address: 27 Coogan Blvd., Mystic, CT 06355
If you're in Mystic with your kids and you're looking for a family-friendly place for breakfast or brunch, you need to check out Kitchen Little.
Your kids will enjoy watching the boats come and go from the marina as they enjoy some yummy pancakes or French toast.
The laid-back atmosphere will relieve any fears you have related to your kids getting a little restless.
Address: 36 Quarry Road, Mystic, CT
Pizzetta in downtown Mystic prides itself in being one of the town's best family-friendly restaurants.
Not only is Pizzetta kid-friendly, but your dog is welcome here, as well.
The outdoor seating here is generous and your kids will enjoy all the sights and sounds of downtown while they eat.
As far as kids' meals, there are cheese sticks and chicken tenders to choose from, but kids love the pizza here, too.
The food here is great and there are plenty of vegetarian and vegan menu options.
Address: 7 Water St., Mystic, CT 06355
When you're looking for a kid-friendly restaurant, you really can't go wrong with a diner.
Mystic Diner is a traditional Connecticut diner that provides the whole diner experience.
Families feel welcome here and there are so many menu items to choose from, from breakfast foods to sandwiches to dinner meals.
Address: 253 Greenmanville Ave., Mystic, CT 06355
---
There they are – 7 great options for kid-friendly restaurants in Mystic, CT.
If you visit Mystic and you come across a restaurant that you feel should be on this list, let us know about it.
Send an email or drop a comment below!