Are you looking for some great petting zoos in CT? If so, there's no need to look any further.
My kids love themselves a good petting zoo experience, and Connecticut sure has a lot of farms that offer their cutest and cuddliest goats, sheep, alpacas, and bunnies up for cuddling.
Whether you're looking for something fun to do this weekend, or you need to keep your toddler happy during the week, these Connecticut petting zoos are sure to please.
Visiting a petting zoo should also be on your list of spring break and summer activities if you've got kids.
After all, the animals seem to enjoy the visits as much as the kids do. So, why not?
Happiness all around!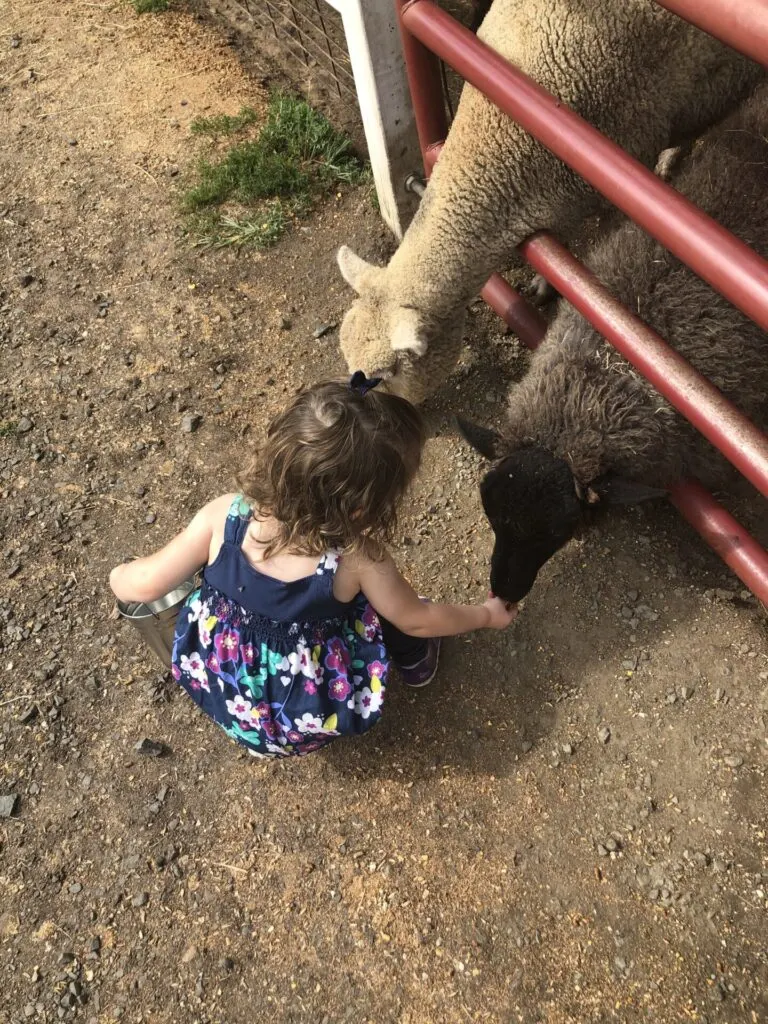 Top 14 petting zoos in CT
Flamig Farm in Simsbury is one of the most petting farms in CT.
From potbellied pigs and miniature horses to peacocks and goats, there are so many cute animals here to pet.
Flamig Farm is also a great place for kids' birthday parties. Their party package is packed with enough fun to make sure everyone has a great time.
Address: 7 Shingle Mill Rd, West Simsbury, CT 06092
Riverview Farms is a fun farm in South Glastonbury that holds corn mazes during the fall season, as well as pumpkin patches and hay rides.
They also have a petting zoo with some cute little critters for kids to love on.
Address: 91 Wassuc Rd, South Glastonbury, Ct 06073
Silvermans' Farm is a popular place for fruit picking and all sorts of other seasonal family activities.
Their petting farm does have an admission fee, but for the money, your family will get to pet and feed some seriously cute animals.
Silverman's Farm is happy to host birthday parties near their petting zoo, as well.
Address: 451 Sport Hill Road, Easton, CT 06612
Highwire Deer and Animal Farm is a mix of a regular zoo and a petting zoo.
Here, you'll be able to pet some furry friends and see some more exotic animals from afar.
Address: 68 Park Road, Woodbury, CT 06798
Action Wildlife Foundation in Goshen is a great place to take your kids to feed and pet a variety of animals.
They host a variety of events and their yearly haunted house is one of the best in CT.
Address: 435 Torrington Rd, Goshen CT 06756
March Farm in Bethlehem is one of the most popular farms in CT. They host a variety of events and pick-your-own opportunities.
Their Pondside Animal Farm is a really neat waterside petting zoo that you can visit on your trip to The Farm.
Address: 160 Munger Lane, Bethlehem, CT 06751
Bradley Mountain Farm in Southington, CT is all about goats.
Brings your kids for goat strolls and goat snuggle sessions.
There are so many other fun goat-themed activities offered here, as well.
Address: 537 Shuttle Meadow Road, Southington, CT 06489
Aussakita Acres Farm in Manchester is a really neat farm that offers some unique opportunities with its petting zoo.
They let kids pet and feed the farm animals, as well as help socialize baby goats and other farm animal babies.
Address: 555 Lydall Street, Manchester, CT 06042
Ray of Light Farm in East Haddam rescues and rehabilitates a variety of animals, including horses.
Here, you kids can learn about horses, feed goats, and snuggle with guinea pigs.
Address: 232 Town Street, East Haddam, CT 06423
Marra's Animal Menagerie is one of the most fun and educational petting zoos you'll ever visit – our kids absolutely love it.
They have goats, cats, pigs, and more, all ready to cuddle.
Address: 51 Old Voluntown Rd, Griswold CT 06351
Auerfarm is a non-profit educational farm in Bloomfield, Connecticut that is dedicated to hands-on learning for kids.
A visit to Auerfarm will have your kids completely emersed in the beauty of nature, including meeting some cute and friendly farm animals.
Address: 158 Auer Farm Road | Bloomfield, CT 06002
Westmore Park in West Hartford is a massive preserved green space that hosts plenty of educational events for the whole family.
It's also home to the demonstration farm that the 4-H club uses.
Visitors are welcome to come to pet the animals and learn a bit about them during the petting session.
Address: 119 Flagg Rd, West Hartford, CT 06117
Thames Crest Farm is a cool little petting zoo with a variety of different animals, some being rescues.
You can visit the farm on open farm days or call ahead to make an appointment.
Thames Crest Farm is located near the Mohegan Sun Resort & Casino. It's a great place for tourists who want to take their kids away from the glitz and glam for a few hours.
Address: 241 Massapeag Road, Uncasville, CT
If you're looking for a mobile petting zoo for a birthday party, Goldilocks Farm is your place.
You can visit Goldilocks Farm by appointment, but what makes this Connecticut petting zoo special is that they specialize in bringing the animals to you.
Goldilocks Farm has a wide variety of animals for cuddling, but where they really shine is the pony rides they offer.
---
There you have it – 14 awesome petting zoos in CT.
Is your favorite petting zoo on this list? If not, leave a comment or send us an email and let us know about it!