Are you looking for some fun and relaxing resorts in CT? If so, you're in the right place.
Connecticut offers many resorts for visitors near and far to come to check out. The Constitution State is the most southern part of the New England Area.
With that comes all the charm and relaxation you could need out of a short vacation.
With Connecticut being right along the coastline, it's easy to enjoy the nice weather, and visit great resorts that make it easy to enjoy great outdoor activities like fishing, skiing, swimming, and hiking!
Since Connecticut also has so much cultural history, like the Mark Twain House and Museum, there are lots of places to visit that are near the resorts.
Theatres, live music, and events year-round give you many opportunities to find a good time to visit a resort in Connecticut.
We've got amazing wineries, micro-breweries, and Casino destinations all near some of the best resorts in CT!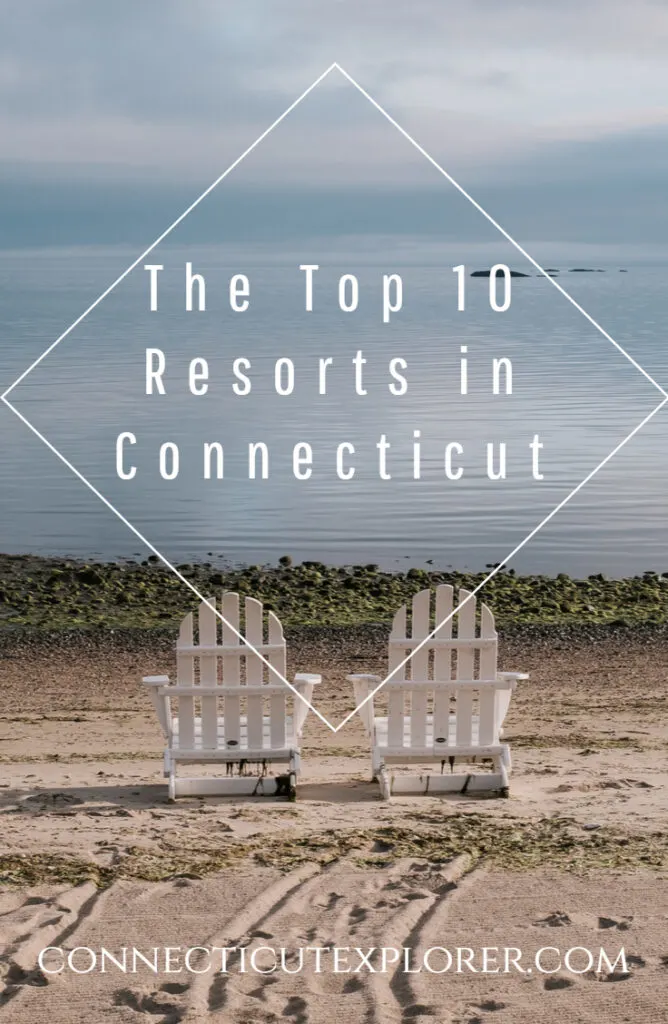 The 10 best resorts in CT
Water's Edge Resort and Spa- Westbrook, CT
This beautiful resort is right on the shoreline of Connecticut. The Water's Edge Resort and Spa has been serving Connecticut natives and travelers for more than 30 years.
Their private beach is gorgeous, and the rooms have charming character unique to each room.
Their complex is nicely designed, making it easy to see the ocean from many different areas while indoors.
The Spa resort also has a bit of a majestic flair to it, making you feel like you are pampered and cared for!
Their beachside pool and world-class spa is family-friendly, with 4 restaurants on sight, and entertainment nearby.
You may not even need to leave once you visit!
This is the perfect location for an event or party, or for a quick trip. Either way, the distinct character of the Water's Edge Resort and Spa won't disappoint!
Winvian Farm- Litchfield Hills, CT
The Winvian Farm resort is arguably the best holiday destination in the state.
Their spa resort has fine dining onsight, plus the farm that houses one-of-a-kind cottages with amazing character.
Their camping, golfing, or bird-watching excursions are highly popular among guests.
The Treehouse sits 35 feet high and has access to their Library, which holds a wealth of literature and history.
The Winvian Farm atmosphere is truly magical, well-designed, and a timeless resort destination.
Seaport RV Resort- Mystic, CT
Another Mystic favorite, the Seaport RV Resort is perfect for road-trippers who want to stop and relax at a great resort.
The oceanside town of Mystic makes it easy to enjoy the views of the water and crisp fresh air.
Their tent sites are designed for families of all sizes and ages, and they have a pavilion at the resort that is perfect for entertaining.
The Seaport RV Resort has pool, a basketball court, mini-golf, and a fitness center with laser tag activities. It's a one-stop-shop for all things fun!
Odetah Camping Resort- Bozrah, CT
The Odetah Camping Resort is nestled in the picturesque woods of Connecticut. It's one of the most well-known camping resorts in CT.
Their camping grounds have the perfect shading for year-round camping, and the grounds are well-maintained and cared for.
The resort is within a 32-acre private lake area that has some outdoor activities like fishing, swimming, and boating.
They even have a mini-golf course! The Odetah Camping Resort has a cafe on-site, and there are even food festivals sometimes.
Their pool and jacuzzi give it that spa-like feeling, not to mention the high-definition blu-ray theater!
The Odetah Camping Resort definitely offers a memorable trip!
Heritage Hotel and Spa- Litchfield Hills, CT
The Heritage Hotel and Spa is up in the relaxing area of the Litchfield Hills and has many different kinds of rooms and suites for all needs and tastes.
Their onsite function center makes it a go-to for events and weddings, or corporate events as well.
Hotel guests also get access to the PGA-rated Pomperaug Golf Course.
If you are looking for a resort where you can relax and get a good spa-like feeling, then the Heritage Hotel and Spa is perfect since they have many day spa services to your liking.
There are 2 restaurants on-site, so you won't have to go far to get some good cuisine!
Strawberry Park RV Resort- Preston, CT
With a whopping 160 acres of space, the Strawberry Park RV Resort is a perfect stop along the southeastern part of Connecticut for RV travelers.
Its location is perfect for exploring the nearby casinos, and they have a mix of accommodations like log cabins. The Strawberry Park RV Resort is also pet-friendly!
It's a great place for the family, with their tennis courts, 3 huge pools, and a water playground!
The owners of the Strawberry Park RV Resort organize themed events throughout the year, like music festivals and Halloween festivities, so it's a wonderful, lively resort to bring the family to!
Stateline Campresort and Cabins- Old Saybrook, CT
The Stateline Campresort and Cabins are a quaint resort nestled on the waterfront lake near Rhode Island state.
This full amenity camp is surrounded by trees and nature, with powered campsites and cabins available for modernity.
The Lodge also has entertainment like a private pool and camp cooking, they even have laundry on-site! The Stateline Campresort and Cabins is perfect for families traveling and has lots of games for all age groups.
The lodge has a gaming center and boating activities, for both indoor and outdoor fun. The softball field and basketball court are also common outdoor activities.
It's the perfect summer destination!
Mohegan Sun Resort and Casino- Uncasville, CT
This is one of the largest casinos in Connecticut, and has 2 hotels within the resort; the Sky Tower and Earth Tower.
The Mohegan Sun Resort and Casino offers a variety of contemporary accommodations for any traveler.
The Earth Tower is suited for the spa-day and relaxation trip, while the full range of spa services are available at the 22 treatment rooms in the Earth Tower or Sky Tower.
The Mohegan Sun Resort and Casino also has an array of bars and nightclubs where guests have easy access to the casino and private 18 hole golf course.
The Mohegan Sun experience is one you can't miss! (There's also plenty to do in the area, as well.)
Foxwoods Resort and Casino- Mashantucket, CT
The Foxwoods Resort and Casino has a unique experience for all its visitors. There are 5 hotels total, each with its own style and character, and supreme luxury.
Along with the 5 hotels are a few dining opportunities that are top-of-the-line cuisine experiences.
The Foxwoods Resort and Casino spas are luxurious, golf course top tier, and arcade and bowling alleys are completely fun.
Not to mention the contained casino, where you can practically feel like you're in Vegas!
Interlaken Resort and Spa- Lakeville, CT
The Interlaken Resort and Spa is sated in deep history and offers wonderful holiday experiences.
This 18th-century site has maintained its history, complete with the same stagecoach stop from hundreds of years ago.
The Interlaken Resort and Spa has a spa on-site, and 9 wonderfully designed and maintained cottages, houses, and suites for you to stay in.
There is also easy access to lots of experiences like horse riding, fly fishing, and trail hiking!
Their seasonal farm-to-plate restaurant, Morgan's, is the perfect place to end the night over a great dinner!
---
While Connecticut has many resort options to choose from, you can get the same experience from them all, and that's memorable fun!
With so many options, activities, and restaurants on-site, the 10 best resorts in CT are waiting and happy to have you!