New England looks beautiful during every season; summer, winter, fall, and spring, but there is something special about the fall season. Many festivities begin in the fall, and pumpkin patches in Connecticut open up.
Some of them even have apple picking farms nearby, or local farmers markets that have been around for years. The best thing about pumpkin patches is that they are very family-friendly, and offer lots of fun for any age group.
So, it's no surprise that Connecticut has plenty to offer in terms of pumpkin patches.
The picking season is coming up quickly, that's why we found the top 10 pumpkin patches in Connecticut and we're super excited to share them with you!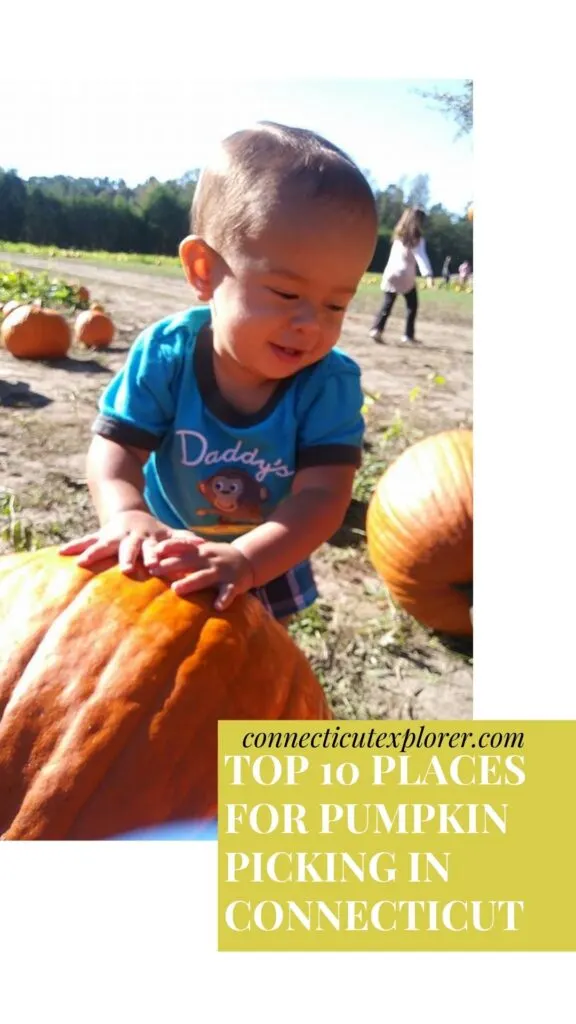 Top 10 pumpkin patches in Connecticut in 2023
The Buttonwood Farm keeps families entertained all summer and into the late fall.
They start with growing sunflowers on their huge acreage farm, and they also have a corn maze.
Every year starting in mid-September until late October, Buttonwood Farm opens their pumpkin patch for pumpkin picking and they have hayrides, cow trains, a corn maze, and farm animals for family fun and amusement.
They even have an ice cream bar, so if you can brave the cool winds and cold ice cream, it's the perfect seasonal destination!
Connecticut Trolley Museum Pumpkin Patch- East Windsor, CT
If you are looking for a pumpkin patch that's family-friendly and good for the kids especially, then the Connecticut Trolley Museum is calling your name!
Starting in October, they offer trolley rides that go through the pumpkin patch and everyone can pick one free pumpkin for themselves.
There are face painting areas at the Museum, a corn box for kids to play in, and a sandbox filled with corn kernels instead!
Their website has more information, but the Connecticut Trolley Museum is open to all every Friday, Saturday, and Sunday of October!
This one has a little dose of history. The Lyman Orchards Farm has been family-owned and operated since 1741.
Every summer and fall, they have many pick-your-own seasons for strawberries in June, and then pumpkins begin in October.
It's the perfect dose of fall and Halloween themes, too.
They have apple picking as well, but the pumpkin patch is open for picking all through October.
The farm itself is very gorgeous and scenic, so bring the whole family and take some great photos and make great memories!
Oh, and don't forget to try one of their homemade pies before you leave!
The fall season is well and alive here at the Foster Family Farm. Not only do they have a pumpkin patch, but they have a themed corn maze, amazing farm scenery, and hayrides!
Their pumpkin patch has a mix of small, medium, and large pumpkins for decorating, carving, or making a pumpkin pie, or pumpkin anything!
Another cool thing is they have a wheelbarrow that you can pay one price to fill up.
Work your way through their enchanted forest theme and take home as many pumpkins as you like!
The Ekonk Hill Turkey Farm's Corn Maze has all the fall festivities in one place! Choose from a wagon ride or walk through the pumpkin patch with your family.
Either way, you can pick your own pumpkin, or check out the farm store, where you can select pumpkins already pre-picked for perfect jack-o-lantern making.
Their farm stand has snacks for you to purchase, and the farm store has other locally made and fresh farmed foods.
All through the summer and into fall, the Rose's Berry Farm LLC has many fun treats and pumpkin picking during the fall season.
They have pumpkins that are perfect for carving, and once you find the perfect batch, check out their sweets and treats to take home too.
If you love baking, maybe you can even make a nice pumpkin pie or pumpkin-based dessert.
Their farm also has fresh produce and other farmed products.
For hundreds of years, literally, the Pickin Patch has been serving families since 1666!
They have a garden center and a Pickin Patch for you to pick your own ripe vegetables and fruits. They offer a hayride to make it easier for you to browse all their pumpkins and choose the perfect one.
With great fall decorations and flowering plants, the Pickin Patch is a one-stop-shop for everything fall-oriented!
Silverman's Farm really rings the fall season in with their October Fest. They have pick-your-own pumpkin options, as well as squash and gourds after the fall harvest.
They make great table decorations because of their size, or you can cook something pumpkin-based, and make fun Halloween carving pumpkins!
Their weekend events include live tv and entertainment, food from vendors in the area, and face paintings!
Their tractor rides make it much easier to see all the beautiful greenery and farmland at Silverman's Farm.
Every weekend starting in September and continuing in October, Scotts Yankee Farmer is open for you to pick your pumpkins and apples, as well as a wagon ride.
Their scenery is beautiful and picturesque, so bring your phone or camera!
They have a CSA program for their produce, so you know that you are getting the best!
Each fall, Whittle's Willow Spring Farm is open to pick apples, pumpkins, and fresh goods from the farm stand.
They also have pre-selected pumpkins that you can view at the farm stand if you just want to grab them and check out their other options.
If you make it in the early fall, they have peach picking, too.
Whittle's Willow is a wonderful, family-friendly pumpkin patch with plenty of other options for a whole day of fall fun!
There you have it! The top 10 places for pumpkin picking in Connecticut have so much more to offer for all different areas of interest.
With wagon rides, hayrides, or strolls through the farm, they all make it easy for you to enjoy family fun and partake in the best fall activities.
Picking pumpkins is always a fun way of ringing in the fall season, so why not couple it up with some apple or peach picking, since these farms all have other options?
We hope you have some ideas of where to go already! Click here for information on other family fruit-picking activities.
If you're looking for some fall festivals, click here!
For places to look at fall foliage, click here!