If you are a Connecticut local, then you may already know that there are tons of cities with all different kinds of charm and unique places to visit – and tons of free things to do. New Haven is no exception.
New Haven is a huge attraction in Connecticut, bringing people from all around the world to work, study, and live in the beautiful, historical city.
With so many attractions to visit, it's hard to keep up. And, with some places charging admission and other fees, it makes it harder to see all the cool places.
So, we have found some of the best free things to do in New Haven, that way you can visit as many places as you'd like no matter your budget! If you are into art, books, museums, science, or nature, we think you'd find a few options from our list.
Make a day out of visiting these places, or a few days over the rest of summer break–they're not going anywhere!
The top 10 free things to do in New Haven, Connecticut are waiting for you to check them out!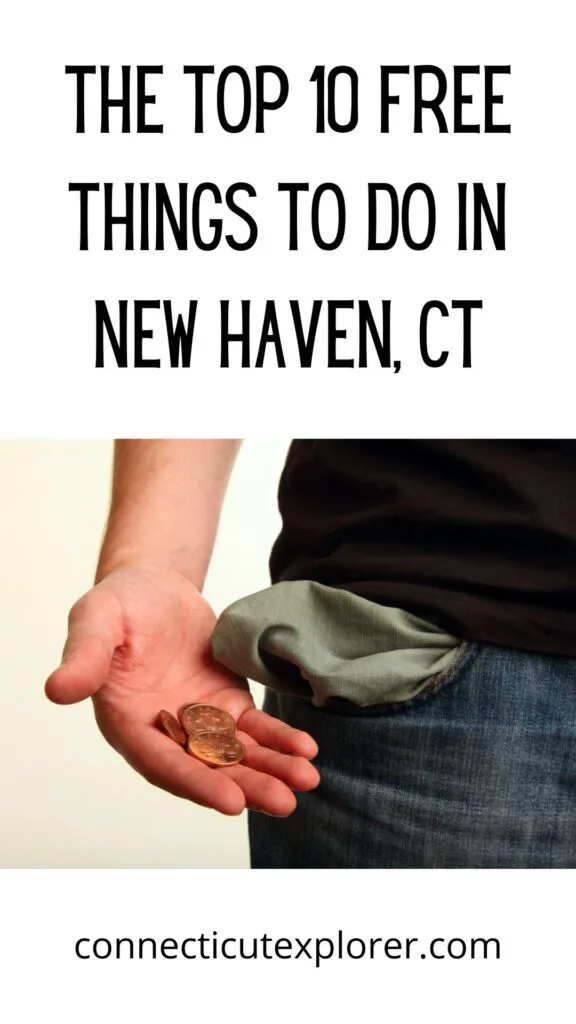 The top 10 tree things to do in New Haven, Connecticut
1. Yale University
Yale University is probably the biggest attraction in New Haven. Their international students make up a large part of their student population and the working population of Yale.
The Yale campus boasts many beautiful attractions and scenery for visitors and students alike. Their libraries are massive, and sometimes open to the public at certain hours.
There are trails all through the campus, that lead to the downtown area and retail shops like The Shops at Yale.
Whether it's a college visit, or just curiosity and wanting something new to partake in, you might find a visit to Yale to be worth your while.
2. Yale University Art Gallery
Are you an art buff? Yale has tons to offer in terms of sculptures and historic buildings, but for some specific art pieces, the Yale University Art Gallery will not disappoint.
Their collection is world-class, includes Dutch masters of fine art, and includes displays from renowned artists like Bosch.
Their art museums have free admission, once inside you can check out the gift shop and booths to buy refreshments from, otherwise, it's always free!
3. Beinecke Rare Book & Manuscript Library
Book lovers? We've got something for you!
The Beinecke Rare Book & Manuscript Library is completely free. Browse thousands of books in all genres, including the rare Gutenberg bible and the James Audubon collection.
There are lots of things worth seeing, and the library maintains group study spaces, lounge areas, and free internet access.
Grab a book and read it in one day, it's totally possible here!
4. Yale Center for British Art
If you couldn't tell already, art lovers will be right at home in New Haven.
Yale especially offers so many art exhibits and museums. The Yale Center for British Art is free all the time, and you can get a membership for free with other perks.
The Center has been well maintained over the years, to the facilities are welcoming and easy to relax for the afternoon!
5. East Rock Park
There is so much you can do in this large outdoor space. The East Rock park has acres of maintained greenery, safe trails, and seating.
Plan a picnic, outdoor party, or set up a tent for a nice outdoor celebration.
The park hosts many locals and residents of the quaint, East Rock neighborhood in New Haven. Safe for families, kids, and anyone who wants a fun day in the sun, East Rock Park is welcoming and always free!
6. Chapel Street
The few blocks of Chapel Street are just minutes from the Yale campus and other New Haven spots.
The shops and restaurants on Chapel Street are fun to drop into, but the landmarks make for amazing pictures, and memories too!
7. Five Mile Point Light
If you visit the Five Mile Point Light, then it's best to go just before sunset. With no admission fees, you can spend as much time as you like working through the trails, as well as viewing the lighthouse.
The scenery is peaceful, beautiful, and a place you'd want to come back to! It's a long-time point of interest for New Haven, so it fits right in with all the popular New Haven spots.
8. The New Haven Green
Spend the afternoon with a nice stroll around the New Haven Green, or scout out a picnic spot, watch the hustle and bustle of downtown New Haven, or just finish that book growing dust on your dresser!
The Green centers City Hall and the Courthouse, so it's safely monitored and has been well maintained by the City of New Haven.
It is completely free to take up a spot on the Green for as long as you'd like, but if you do get hungry or thirsty, food trucks are on every block from Monday to Friday.
9. Yale Collection of Musical Instruments
Do you love music? History? You can get a huge dose of both at the Yale Collection of Musical Instruments.
There are so many different instruments to view, and you can be sure that they are properly restored and preserved. It's like looking at a piece of time from years ago.
They have restoration examples too, so you can see demonstrations and live performances. It is one of the leading institutions among musical instruments collections!
10. New Haven Free Public Library
It's all in the name! The New Haven Free Public Library is always open to the public and has free internet, books, and computer usage during their open hours.
Library staff is always available, and bookkeepers are at your disposal for any questions or needs you have. Their website also has information on some of their classes and kid camps, and when they are offered.
---
We hope you've got some nice ideas of free places to go see in New Haven.
If you like to explore and try new things, it can get hard to do when admissions fees and stuff pile up, so these free places to go visit and still have a fun time are perfect for trying new things with no excuses!
The city of New Haven website has a few more details on things like hours and parking information if necessary, so be sure to check that out before you go!
If you are looking to have a unique experience while spending just a few bucks, the Shoreline Trolley Museum is an excellent choice.