There are so many wonderful things to do in Connecticut. However, sometimes just appreciating the natural beauty that surrounds the great state is the best way to go. If you are looking for places to watch the sunset in CT, you've got lots of options.
Lucky for you, we've put together a guide that gives you the absolute best spots, both well-known and secret, in Connecticut to watch a beautiful sunset, either by yourself or with your loved ones.
The best part? None of these spots cost a dime.
When the sun sets in Connecticut, you need to see it from one of the spots on our list.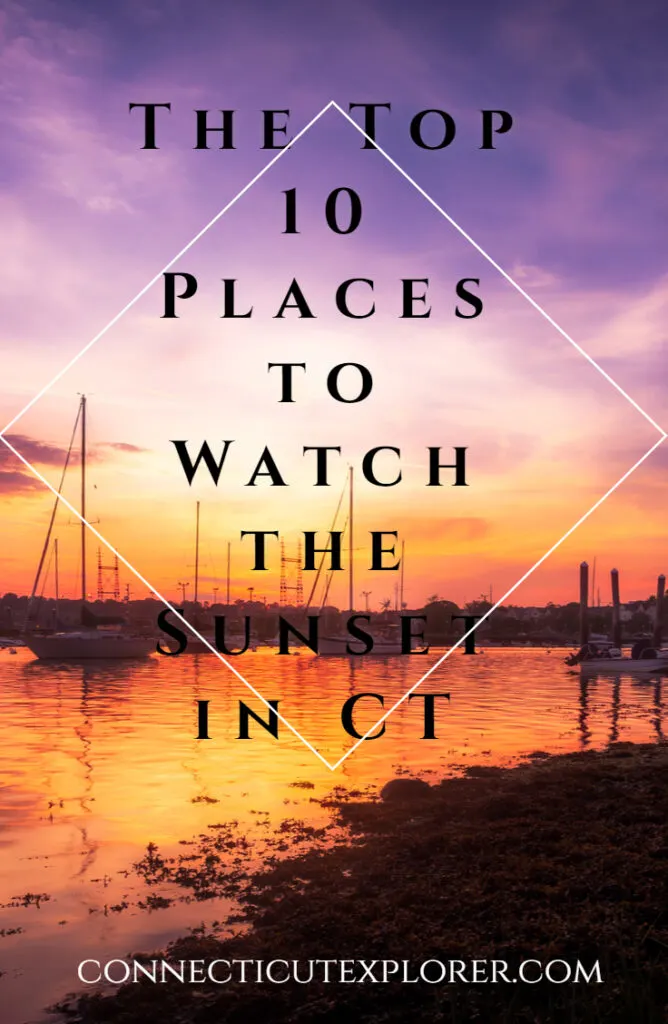 The top 10 places to watch the sunset in CT
1. Harbor Park, Middletown, CT
If you are looking to end your day with the most breathtaking views in Connecticut you have come to the right place.
Harbor Park in Middletown offers unparalleled views of the sun setting.
With a tidy spot on the boardwalk, you can sit overlooking the Connecticut River and Arrigoni Bridges. It's a surreal experience and one of the more popular destinations for proposals.
It's no wonder why!
80 Harbor Dr, Middletown, CT
2. Tod's Point, Old Greenwich, CT
Tod's point is, interchangeable with Greenwich Point, is a popular destination for a little relaxation and a lot of good times.
From this point, you can see the long island sound and NYC, which seems pretty crazy but makes for beautiful views.
Lined with chairs and umbrellas during the summer months, you are sure to enjoy this beautifully kept area.
99 Tod's Driftway Old Greenwich, CT
3. Sunset Meadow Vineyard, Goshen, CT
While it is hard to argue with water views, some people prefer beautiful meadows and more of a woodsy scene.
That's why this second option simply is not second.
With a real tie for first, the warm sunsets that take place over Mount Tom are something truly remarkable.
What's even better is that the vineyard matches the sunset with a golden-hue wine that makes for a great toast with anyone.
599 Old Middle St, Goshen, CT
4. Ocean Beach Park, New London, CT
While it is very much worth seeing the sunrise on the East Coast over the water, that doesn't mean that the sunset isn't worth the view either.
Here at Ocean Beach Park, in New London, CT, With tons of walking trails, family-friendly areas with picnic tables and playgrounds, it's a win-win for everyone.
Let the kids play till the sun goes down while you and your significant other, or friends, take in the view.
98 Neptune Ave. New London, CT
5. Harvey's Beach, Old Saybrook, CT
With one of the top beachgoing destinations in Connecticut, we would be hard-pressed not to have this spot on our list of top 10 sunset views in CT.
The sand is what really makes the experience.
A rocky beach simply is not super comfortable to set up on, but with soft beautiful sand, it becomes somewhere you can hang out all day to sunbathe, fish, bodysurf, make sandcastles, and do many more beach activities.
Plum Bank Road. Old Saybrook, CT
6. Lantern Hill, North Stonington, CT
We really do love the beach but the sand isn't for everyone which is why we are giving another fantastic spot in non-beach nature.
Lantern Hill in North Stonington, CT is a spectacular view from nearly 500- feet up in the air.
The walking trail up is great exercise and a popular walking spot.
This means there will be many other hikers, so you don't have to worry about your journey down in the dark.
While watching the sunset from atop you can span over the beautiful valley below. You'll feel like you're on top of the world!
Lantern Hill. North Stonington, CT
7. Litchfield Fields, Morris, CT
Sunsets are most commonly sought after in the summer and, after having looked over the amazing spots on our list, it's no wonder why.
BUT, have you ever thought about how beautiful New England is in the fall, and what a sunset looks like overlooking beautiful fall foliage?
Exactly. Mind blown.
That's why you have to go to Litchfield Fields and watch the sunset bounce off the beautiful red, orange, yellow, and brown leaves.
If you are looking for the perfect fall getaway then check yourself into the Winvian to take in the most magnificent views.
155 Alain White Road Morris, CT
8. Gillette Castle, East Haddam, CT
Possibly one of the most unique options on our list is this amazing castle and its grounds to watch the sunset from.
While the castle technically closes at 5 PM there are still plenty of places nearby and around to watch the sunset.
Its beautiful scenery offers a true fairytale scenario for anyone looking for a magical night.
67 River Road, East Haddam, CT
9. New London Harbor Light, New London, CT
Earning its second spot on the list is the town of New London, The New London Harbor Light needs to be mentioned.
It's a little different than our other previous choices because not only does it boast beautiful water views, but it offers picturesque scenery with the lighthouse around.
How do they say it in French?
C'est romantique!
Pequot Ave, New London, CT
10. Stonington Borough, Stonington, CT
Also, earning its second spot on the list is the Stonington Borough – in part because of the many activities you have surrounding the area.
This is the perfect place to watch the sun go down because you have tons of shopping, eating, and experiences nearby.
After all, you're right in Mystic!
It's a fantastic place to spend the day finishing with a golden hour.
Whether you are a local or traveling from afar, it is worth the visit.
Stonington Borough, Stonington, CT
Life is too short not to watch a Connecticut sunset
Life really is too short to not make the most of your memories.
Whether you are sitting alone taking in the wonderful views or you are wanting to share your memories with your loved ones and friends, visiting these places to watch the sunset in CT will help you make the most of your days.
It can be as simple or as creative as you want in terms of how you watch it.
Bring a picnic or just sit there and appreciate the beauty on its own. Either way, you are sure to be amazed at what sits in front of you.