If you are a food lover, then Connecticut has plenty to offer you, no matter what you prefer! Seafood, burgers, steaks, hot dogs… we've got you! Today we want to bring you the 10 best hot dog places in CT.
These places all have great reviews, great customer bases, and loyal customers that have kept them around for years.
Hot dogs are a classic American favorite, it only makes sense that Connecticut has mastered the trade of the hot dog.
With so many combos, types of meat, breads, and unique creations, these hot dog places in CT are second to none.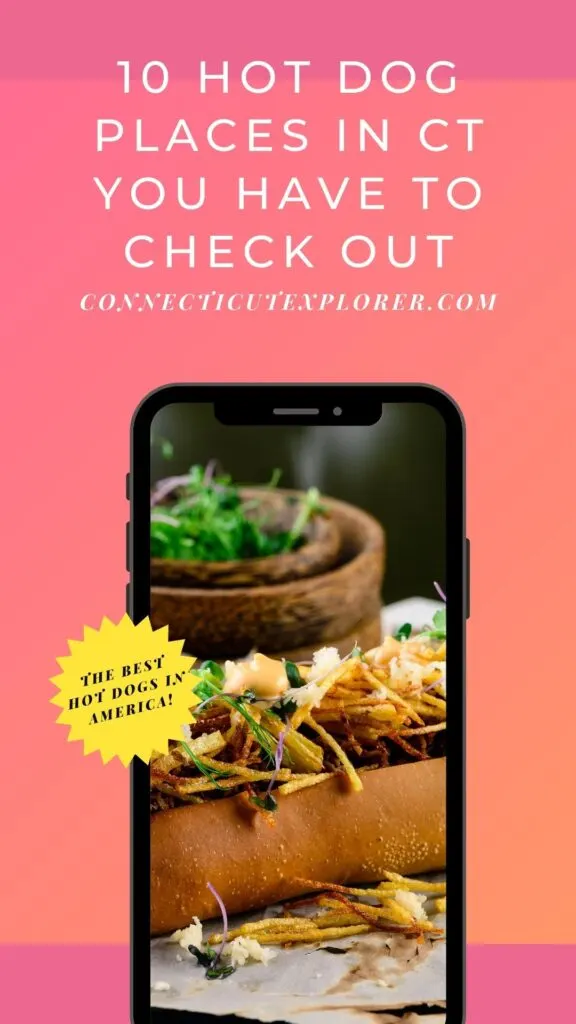 The 10 absolute best hot dog places in CT
This place has the best of both comfort foods. Mac and cheese and hot dogs may seem like an unusual combination, but Jordan's Hot Dogs and Mac has mastered it.
They boast their most popular as the New England Dog, it's got an all-beef hot dog, bacon, onions, and sauerkraut. Is your mouth watering yet?
Their Mac Dog supreme is a close second and has bacon, mac and cheese, and jalapenos for a bit of a kick. You can order online, in-store, or over the phone, but you will need lots of napkins no matter what you decide!
Established in 1928, Blackie's has become a favorite of many customers in Connecticut. The Blackmans, a married couple, founded the place originally as a gas station that also made hot dogs.
They make their own relish in-house, so their specialty dogs all have delicious, one-of-a-kind flavor. They even sell their relish so you can save yourself the trip if you are so in love with it, but your best bet is to get it hot and in-house.
Their title is pretty obvious, so they really stand behind what they have to offer. The Super Duper Weenie gets the passer-throughs and the local Connecticut residents.
They have specialty hot dogs that have really made their name for them. You have the option to add as many sides as you want.
We recommend The Cincinnatian, it comes with Cincinnati-style chile, lots of cheddar, onions, and french fries. It's their best seller for good reason.
The decor is nostalgic and the service great, you won't regret checking them out!
This place is a bit different since they are open seasonally, but if you are lucky enough to catch them when their food stand is out, you will be itching for the next visit.
They have long hot dogs, and chili dogs with grilled buns for that slight crispy flavor. Everything is cooked to perfection and coupled with onion rings and cold lemonade.
If you're down at the beach, the Crescent Beach Stand is the perfect end to your long day of fun in the sun! Oh, and, don't leave Niantic without some ice cream from Gum Drops and Lollipops!
There is an amazing hot dog place option in many Connecticut cities. New Haven has so many culinary options to choose from, so if you have been looking to change it up with a nice hot dog, then Jake's Diggity Dogs won't disappoint.
Their Hawaiian dog is a top recommendation. It has diced pineapples and coconut shavings like it came right from a tropical island! The savory juices of the hot dog coupled with those fruity flavors will send your taste buds to heaven and back.
Not only that, they have more than 30 toppings to choose from, so you can taste whatever mix of flavors that you want. Finish your hot and savory meal off with their delicious mochi ice cream in over 20 flavors to choose from.
6. Kamp Dog– New London, CT
New London is a smaller town that may get overlooked often, but their good food places are starting to put them on the map.
Kamp Dog calls themselves the 'fine New England Weinery' and backs it with their well-served long dogs, corn dogs that are hand-dipped, and their most popular Kamp Dog.
This long dog is covered in signature spicy dynamite sauce, onions, and cheese. They are very popular among college students for their good prices, so you can't beat an affordable, tasty hot dog that's one of a kind.
You don't have to wait for dinner to come here. Chef's Dog House has breakfast and lunch. Its central location makes it easy for travelers to stop and enjoy a good beef hot dog with lots of options for toppings.
Their Prairie Dog is a popular favorite. Wrapped in bacon and dipped in onion dip, the Prairie Dog is finished off with potatoes and sure to satisfy.
Their menu boasts salad and soup options, in case someone in your group isn't a meat lover but still wants to be part of the experience.
For over 85 years, Capital Lunch has served the residents of the New Britain area. They have a smaller menu that makes it super simple to order your favorites or pick a new one.
They have a top pick to highlight what people are loving, and their everything hot dog has all the fixings. Onions, mustard, and famous sauce they have curated since their opening.
With other options like quarter pounder burgers and plenty of sides, this is definitely a place to come back to.
Al's is open early and ready to serve you afternoon or evening. Their Connecticut-made beef and pork hot dogs are made by the Hummel Brothers.
Their long dogs come with many topping choices, and their homemade relish is one of a kind and ranges from mild to spicy if you want that extra kick.
Their side of fries can nearly be a full course meal since they're Texas-sized and called Texas Fries for good reason.
A huge menu, fast food, and great service–the Original Swanky Franks is popular for a reason!
The huge menu makes it super easy for you to order quickly, and no matter what you choose, their Boar's Head dogs guarantee a flavorful bite every time.
Their Swanky Red Hot adds some spice to your palate if that's your thing. Their menu has a few options outside of hot dogs too, like clam strips and burgers, so try one or try all, either way, you will leave happy!
---
There you have it! We hope something piqued your interest and you're on your way out right now to try one of these places out.
Hot dogs are an American novelty, and we're lucky to have so many places in hot dog places in CT that get it right!