If you are looking for some amazing CT attractions for families, you've come to the right place. We know all the best places for family fun in Connecticut.
Family attractions are kind of my thing, after all.
Kid-free time is rare for me, so when I want to have a good time, I've got to find something that's going to be fun for the whole family.
My kids range in age from toddlers to elementary age, but a lot of the family attractions we visit are well suited for families with kids ranging from babies to teenagers.
These CT family attractions are perfect for a summer vacation trip, a weekend family getaway, or just a day trip with your kids if you live in the state.
So, let's get right to it.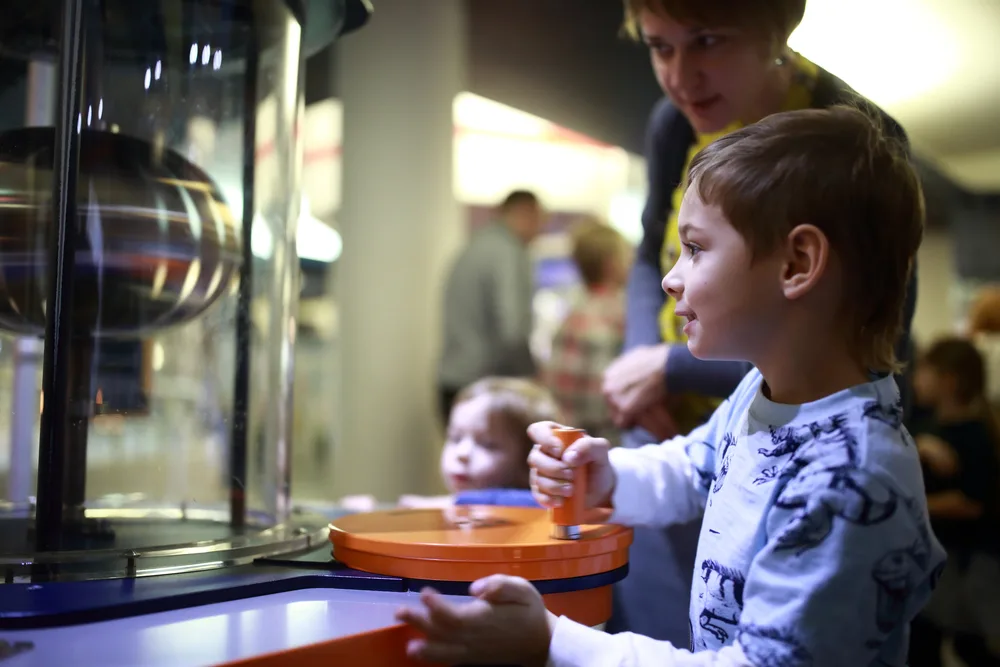 17 fun CT attractions for families
The Connecticut Science Center is a massive multi-level children's museum that's located in Hartford, right alongside the Connecticut Convention Center.
This family attraction is one of our favorite places to visit. It's worth traveling to, in my opinion.
The Science Center has hundreds of interactive, hands-on exhibits, including a special traveling exhibit that rotates out each year.
From babies to teenagers to parents, there is something for everyone to enjoy here.
You can expect to spend several hours, or maybe the whole day, here and there's lunch served on-site.
The Marriott Hartford is right across the way and it's walkable for families.
Address: 250 Columbus Blvd., Hartford, CT
The Norwalk Maritime Aquarium is located in a small section of Norwalk, right near Stepping Stones Children's Museum.
My kids love this aquarium.
Here, kids can feed stingrays and admire sea turtles, sharks, and rare fish.
There's a small children's museum-type area inside, as well, which makes this a great place for a family vacation in CT for folks with babies and toddlers.
Book a room at a nearby hotel and make a weekend of it, visiting both the aquarium and Stepping Stones.
Address: 10 North Water Street, Norwalk, CT 06854
Lake Compounce is America's Oldest Amusement Park and it's maintained its reputation throughout the years as one of the best in New England.
This lakeside amusement park has water attractions, summer concerts, roller coasters, and so much more.
A visit to Lake Compounce is a must-visit family attraction for anyone in New England.
It's worth the visit from across the country, as well.
Address: 185 Enterprise Drive Bristol, CT 06010
Mystic, CT is a worldwide attraction in and of itself, but there's a special little village located here that is especially fun for families – Olde Mistick Village.
Here, you find holiday-themed activities for kids, fun restaurants, like Alice in the Village (an Alice in Wonderland-themed tea room), and some of the most fun and unique boutique shops in the country.
There's a Holiday Inn right across the street, too, which is great.
This is one of the CT attractions for families that parents plan yearly visits to.
Address: 27 Coogan Blvd., Mystic, CT
A visit to Gillette Castle State Park is a fun family trip idea for folks that are fascinated with castles, history, and nature.
Tours of the castle are given daily and there are some really great hiking trails that surround the castle.
Something that we love doing is coming to the park from the west and taking the Hadlyme Ferry across the Connecticut River.
Your family will be able to see the castle perched upon the hill – a pretty unforgettable site for kids.
Address: 67 River Road, East Haddam, CT 06423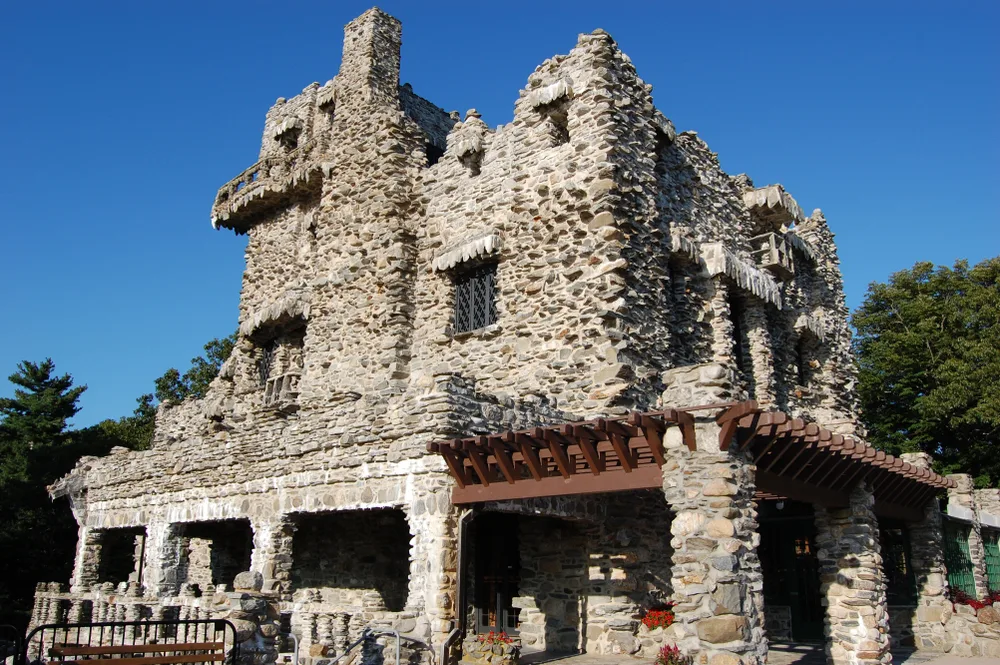 Essex Steam Train & Riverboat is one of CT's most popular and unique family attractions.
Here, you can find fun riverboat charters and dine on a real working steam train.
The steam train has some fun-themed dinner and tea events and the riverboat offers a variety of different cruise options.
Your kids will never forget the time they got to eat lunch in an old-fashioned dining car.
Address: 1 Railroad Ave, Essex, CT 06426
If you have kids ages 10 and under and you've never been to The Dinosaur Place in Montville, you've been derelict in your duties as a parent.
I'm just kidding. But not really.
This place offers a whole day-long experience for kids.
You'll walk through a trail through the woods where you will look for nearly life-size dinosaurs, all while you learn some really cool dino facts.
Along the way, you'll find caves, a realistic-looking erupting volcano, and plenty of things for families to do.
At the end of the dinosaur trail, there's a window where you can order lunch or ice cream, a splash pad, and one of the best playgrounds your kids will ever visit.
Address: 1650 Hartford-New London Tpke., Montville, CT 06370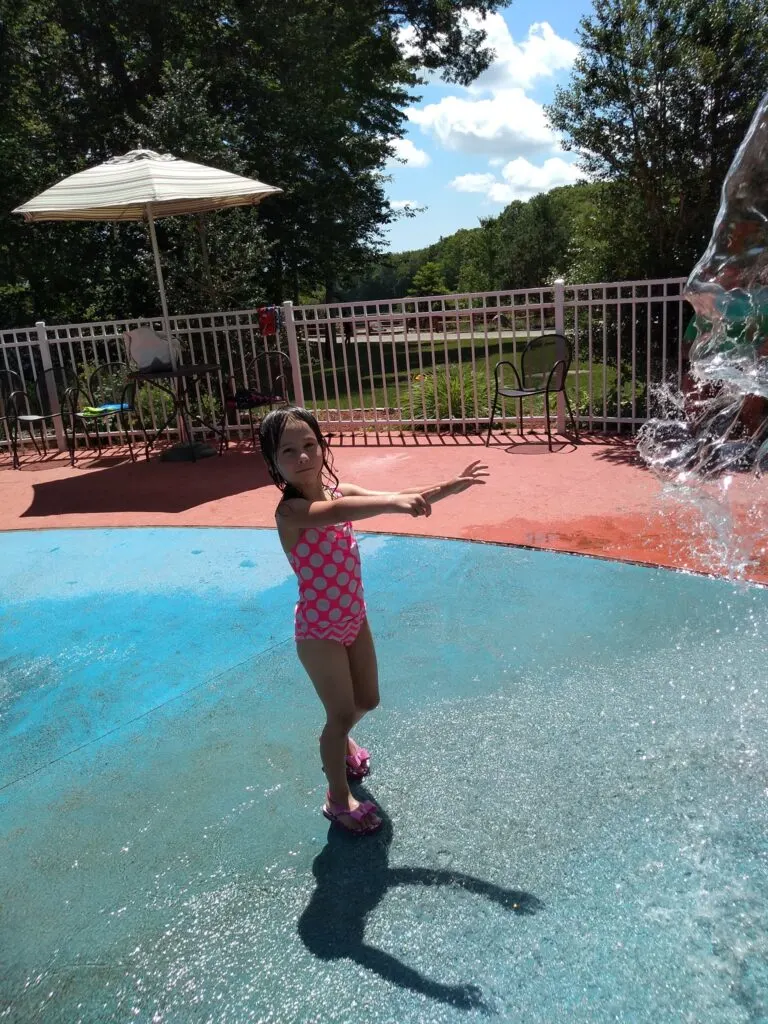 IT Adventure Ropes Course is one of the coolest indoor ropes courses in the country.
This place is massive and there's something for the whole family here.
Come bond over ropes course challenges and have fun ziplining, all in a safe, climate-controlled environment.
Address: 40 Sargent Drive, New Haven, CT 06511
The Shoreline Trolley Museum is one of the smallest CT attractions for families on this list, but my family loves it so much that I just had to include it.
The museum itself is very small, but there's an amazing model train display inside.
After you enjoy the indoor exhibits, grab some trolley tickets and head outside for a fun trolley ride through some beautiful wetlands.
Address: 17 River Street, East Haven, CT 06512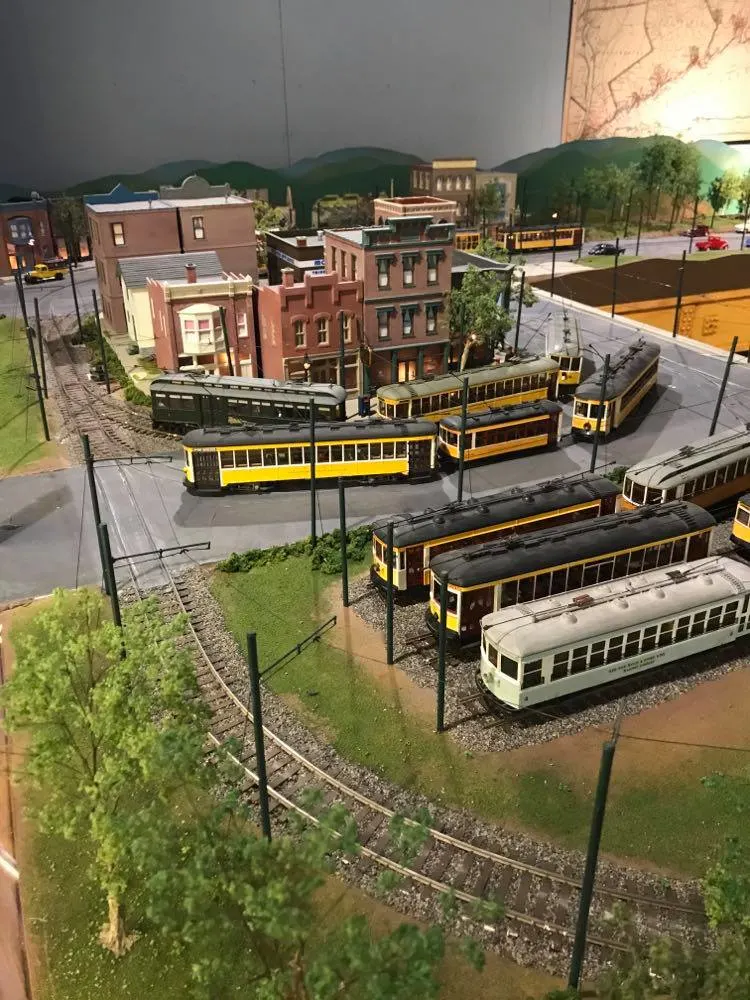 Lyman Orchards is one of Connecticut's stand-out family orchards. It's one of the main attractions for families in CT.
Here, you'll find plenty of seasonal "pick-your-own fruit" fun and an event calendar that's bursting at the seams with family-friendly events.
Address: 32 Reeds Gap Rd., Middlefield, CT 06455
If you're looking for a low-key amusement park experience, something that's more suited for little kids than older kids, Quassy Amusement & Waterpark is where you need to take your family.
This small lakeside amusement park offers roller coaster rides, fun rides for little kids, and plenty of waterpark-type fun.
Address: Lake Quassapaug, Rt. 64, Middlebury, CT 06762
The Mystic Aquarium has been a top CT attraction for families for many decades.
The indoor and outdoor sea and wildlife exhibits here are fun for the whole family.
Come enjoy live seal and sea lion shows, dine at the cafe, and enjoy walking the wonderful outdoor paths during your family's visit.
Of course, there are plenty of other attractions in Mystic, too. If you're interested in seeing more wildlife exhibits and live animals, make the 3-minute drive to the Denison Pequotsepos Nature Center.
Address: 55 Coogan Blvd., Mystic, CT 06355
The Mystic Seaport Museum is a CT family attraction that will leave you wanting to come back for future visits.
This place is spectacular.
There are plenty of amazing indoor exhibits here, but there's a lot of fun stuff outside, too.
Come tour real historic whaling ships and walk through an impeccably preserved whaling town.
There is also a restaurant here, a green where you can sit and enjoy a packed lunch, a playground, and a small nautical-themed children's museum.
Address: 75 Greenmanville Ave., Mystic, CT 06355
Ocean Beach is a family destination in CT that's so much more than a beach – it's a whole experience.
Here, you'll be able to relax and play on the beach, swim in the pool, dine at the cafe, visit the waterpark, and more.
Address: 98 Neptune Avenue, New London, CT
The Yale Peabody Museum of Natural History is Connecticut's top natural history museum, thereby making it one of the top family attractions in the state.
Here your family can learn about dinosaurs, wildlife, nature, and more.
There were some major renovations happening in 2022/2023, so make sure you check their website to see if everything has opened back up prior to planning your family trip here.
Address: 170 Whitney Ave., New Haven, CT 06520
The Mashantucket Pequot Museum is a CT family attraction for those looking to further their family's knowledge and understanding of local Indigenous Tribes.
Here, you'll find interactive exhibits, life-size dioramas, and more.
Your family will learn all about life on reservations, the arrival of the settlers, and the Pequot War.
This is a must-visit attraction for Connecticut's locals, but it's also worthy of a visit for anyone planning a family vacation to eastern CT.
Address: 110 Pequot Trail, Mashantucket, CT 06338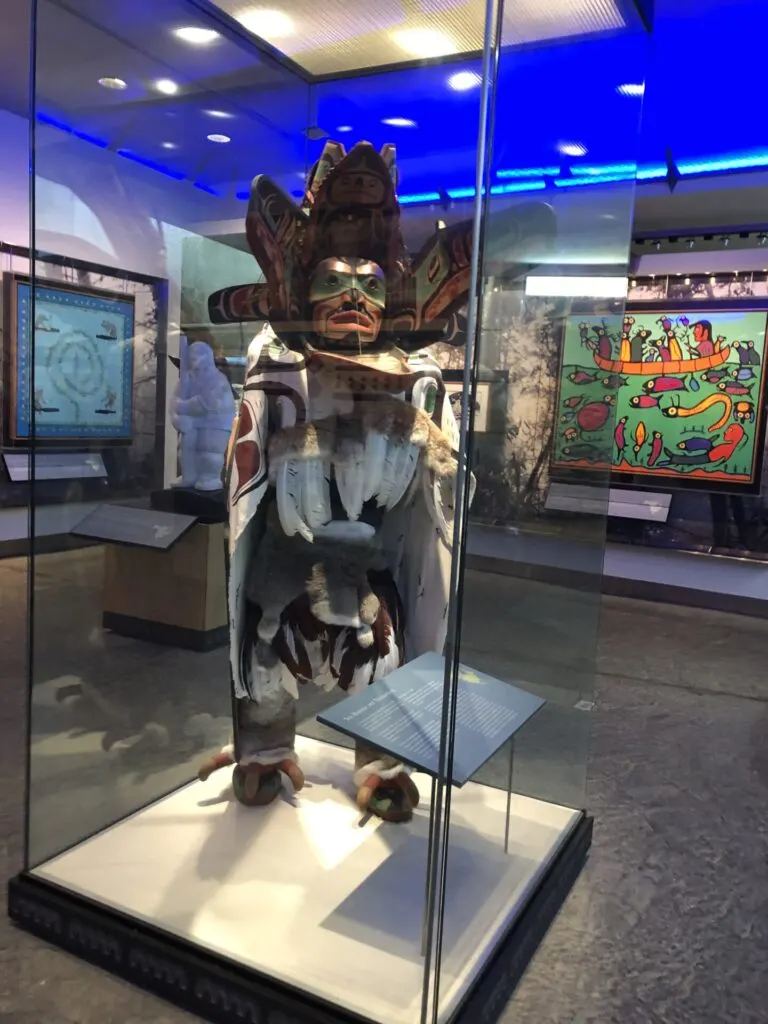 Ok, ok, this one is a little bit of a tease.
The Great Wolf Lodge is coming to Foxwoods Casino Resort in Mashantucket soon
(2025), but it's not quite ready yet.
We'll keep you updated on the status of this awesome indoor waterpark.
In the meantime, folks can keep visiting the Great Wolf Lodge location in Massachusetts.
---
There you have it – 17 fun attractions for families in CT.
Enjoy your family trip!