Contrary to popular belief, Connecticut isn't always frigid cold – it gets pretty dang hot here in the summer. Luckily we live in a place that really invests in recreation. Splash pads in CT are a great way to break up the monotony of those long summer days – and to cool off!
Our list of Connecticut splash pads has the whole state covered – just pick the one closest to you and grab your swimsuits!
Keep in mind that many of the splash pads don't open till Father's Day weekend, in June. Just in time for the intense summer heat!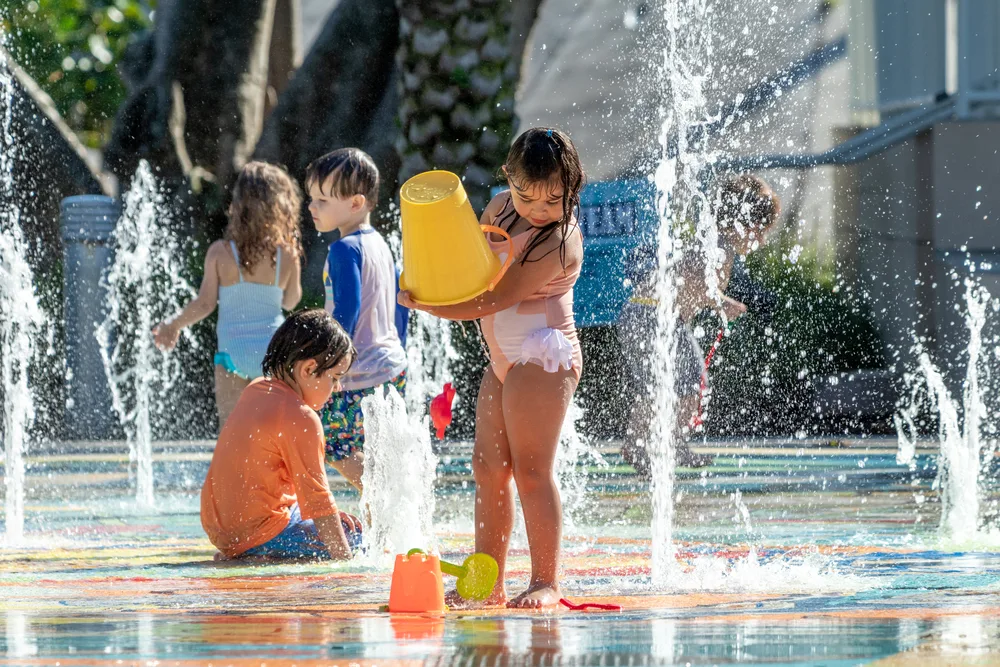 The 18 best splash pads in CT
Kavanaugh Park, also known as Trask Park, is free to the public and open Monday through Friday from 11 am – 4 pm.
There are plenty of picnic tables and pavilions on-site, as well.
5 Trask Rd., Old Saybrook, CT 06475
The RecPlex Spray Park is open from 9 am till 9 pm. There are plenty of playscapes and places to picnic here, as well.
215 Old Hebron Rd, Colchester, Connecticut 06415
This free splash pad is open to the public and is located near a beach. This is a great place to cool off in the summer if you are in the East Haven area.
Cosey Beach Avenue, East Haven, CT 06512
Rockwell Park not only has one of Connecticut's best splash pads, but it also has play scapes and plenty of places for skateboarding and bike riding.
243 Jacobs St, Bristol, CT 06010
Calf Pasture Beach in Norwalk draws in visitors from all over Connecticut. Not just for its amazing splash pad, but for the abundant seaside activities.
Calf Pasture Beach Road, Norwalk, CT 06851
Villano Park is home to Hamden's best splash pad, as well as playscapes, ball courts, and picnic areas.
2750 Dixwell Avenue Hamden, CT
Scalzi Park is the largest recreational area in the city limits of Stamford. Her, you'll find an amazing splash pad, as well as plenty of other outdoor summer activities.
Address: 97 Bridge St, Stamford, CT 06902
The splash pad at Indian Ledge State Park is small and certainly not the main feature of the park, but there's so much else to do here, including playgrounds and multipurpose fields.
Indian Ledge Park Road, Trumbull, Connecticut, 06611
This is a really fun splash pad that you'll find at the end of a trail that runs through a massive dinosaur park.
The splash pad itself is fairly large and has tons of fun features – some for older kids and some for tots.
You will have to pay the admission fee to the dinosaur park in order to use the splash pad, which some folks might find a bit hefty.
1650 Hartford New London Tpke, Oakdale, CT 06370
This fun Bridgeport splash pad opens on May 28th and is one of Bridgeport's best splash pads. For a full list of Bridgeport splash pads, click here.
1875 Noble Avenue Bridgeport, CT 06610
Keney Park in Hartford not only has a splash pad, but also has walking trails, places to picnic, and fishing spots.
A perfect place for the whole family!
337 Vine St, Hartford 06112
Willow Street Splash Park is one of 2 awesome splash pads in New Britain. This splash pad is fairly large and has water spouts that are great for both toddlers and older kids.
43 Willow St, New Britain, CT 06051
The Chelsey Park Splash pad opens Memorial Day weekend every year and is a great place to bring your kids during a hot summer in the New Britain area.
35 Wildwood Street, New Britain, CT
Lighthouse Point Park is located at one of New Haven's most beautiful beaches. Along with the splash pad, there are plenty of walking trails, picnic areas, and other outdoor activities here.
2 Lighthouse Rd.New Haven, CT 06512
Wolcott Park is an amazing green space located in beautiful West Hartford. Along with the splash pad, there are plenty of other fun activities to do here.
1341 New Britain Ave, West Hartford, CT 06110
The Lauter Park Splash Pad in Willimantic opens every year on June 16th and is open to the public 7 days a week from 10 am to 6 pm.
Lauter Park, 625 Jackson Street, Willimantic, CT 06226
Fernridge Park has one of the longest-standing and coolest splash pads in CT. The splash pad here is free and open to the public.
There is a playground here, as well as walking trails and places to grill out. A great place for a summer day trip with the kids!
561 Fern St, West Hartford, CT 06107
---
There you have it – 18 awesome splash pads in CT to choose from. You've got to hand it to Connecticut for having all these awesome summer water spots for kids!
Have fun and stay cool out there!