You would not believe how many beautiful and artistic day trip destinations are right here in Connecticut. The next time you are looking for that perfect quick getaway, you won't have to look far or for long because there are some amazingly artsy towns in Connecticut.
If you are looking for something creative, fun, and artsy, then you will have your pick of some amazing destinations all within driving distance.
There are amazing state parks, amazing restaurants, and amazing towns right here in the Nutmeg State.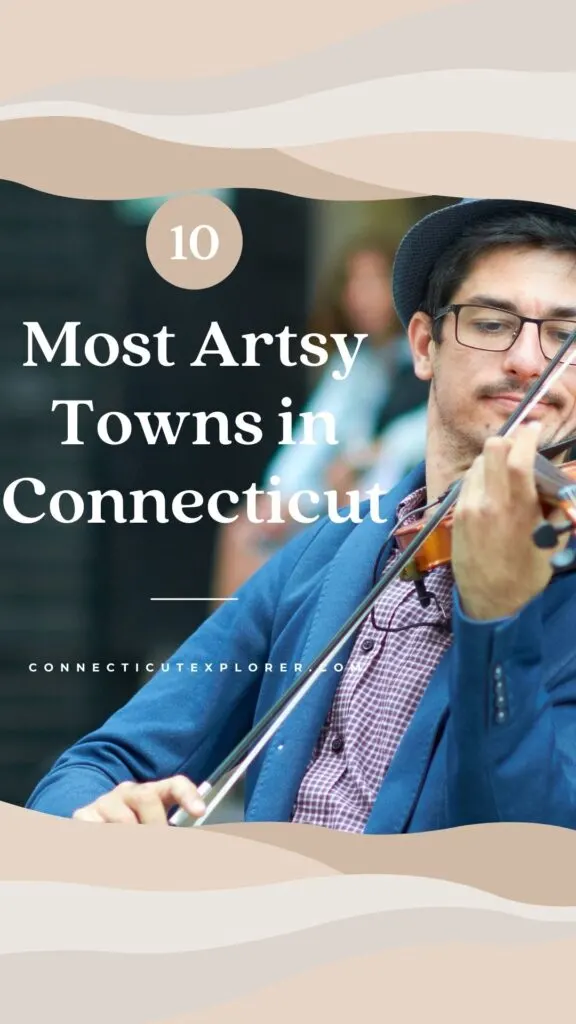 10 most artsy towns in Connecticut
1. Old Lyme, Connecticut
The towns in Connecticut have some interesting names and for good reason.
The town of Old Lyme is in the eastern part of Connecticut, so it is right along the shoreline and easily accessible.
The town's history is very art-oriented, as Florence Griswold's boarding house is still standing and has been maintained over the years.
It was once the center for the Old Lyme Art Colony.
The American Impressionist artists made many works of art in the Florence Griswold boarding house that is now a museum open for you to visit!
2. Norfolk, Connecticut
The arts span a wide range of areas, like paintings, sculptures, or writing, but Norfolk is big on the music area of the arts.
It is also considered the music capital of northwest Connecticut.
The historic Infinity Hall still hosts many shows for jazz, rock, and folk musicians to perform all year-round.
The downtown area of Norfolk is gorgeous, easily walkable, and features the same architecture from the 18th and 19th centuries.
3. New Haven, Connecticut
We know New Haven is a city, but it belongs on this list!
Yale, as you well know, attracts many art lovers to the city and to the campus area, but all of New Haven has something to offer for art lovers.
The cultural center is full of museums, theaters, and galleries that will take a few trips to cover!
New Haven is the home of the Jazz Festival and of the International Festival of Art and Ideas.
4. Chester, Connecticut
The town of Chester is so quaint and charming. Artists are known to come and live here for some quiet and solitude, and to enjoy the peaceful surroundings that are easily photographed.
The downtown area is a good break for some hustle and bustle, and has a few shops, restaurants, and galleries for you to check out!
5. Ridgefield, Connecticut
The Berkshire Mountains are a beautiful sight to see. Right at the foothills of them rests the town of Ridgefield.
They have their own artists guild, so it is definitely home for the artsy type!
Their historic playhouse and museum is a wonderful place to catch some live shows, look at the theater barn, and visit the art garden!
6. East Haddam, Connecticut
The town of East Haddam is loaded with theatrics and the arts. It is the home of the Godspeed Opera House, where you can submerse yourself in a live performance and then visit the Gillette Castle nearby.
Their tours are open to the public, and Gillette Castle is definitely one you want to see since it was William Gillette's tribute to Sherlock Holmes.
7. Cornwall, Connecticut
Since there are so many types of arts, it is worth noting that the unique craftspeople have their own little claim of land in Cornwall.
The covered bridge makes the town one of a kind and has 3 village centers where you can look at the different shops and local pottery and gifts.
8. Essex, Connecticut
The quaint town of Essex made the 1,000 Places to See Before You Die List, so it is definitely one to visit.
It was also once hailed 'The Perfect Small American Town' because of its wealth of history, gorgeous galleries, and shops and restaurants galore!
It is the home of the Connecticut River Artisans and houses the Ivoryton Playhouse.
9. Guilford, Connecticut
Guilford is right along the shoreline, so it is very popular and has become a busy arts community.
You can take a walking tour of the town, and it covers the Guilford Arts Center where you will see some of the shops and galleries that call Guilford home, and a non-profit art school that helps people from all upbringings enjoy art.
10. New Canaan, Connecticut
New Canaan is super popular because it is a quick hour train ride from New York City, plus it is gorgeous!
The Phillip Johnson Glass House is a super popular destination, and the Silvermine Arts Center is award-winning and houses all sorts of visual arts by professionals.
New Canaan is a striking site, and the home of Grace Farms, unique art and mindfulness organization.
We definitely hope you have a list of places to visit now! The arts are beautiful and have so much to offer, so we are lucky to have so many wonderful towns right at our disposal.
Whether you want to see a museum or a rare piece of art by a local artist, you won't be disappointed if you decide to visit any of these artsy towns in Connecticut!