You may think Connecticut is just a stop along the way to New York or Massachusetts, but Connecticut has a lot of its own charm and grace to offer. If you already live here, then you may have seen some of it yourself, but in case you are planning a vacation or some time away, maybe even your next big move, then you might find our list of the 10 best small towns in Connecticut helpful!
The best thing about small towns is the community, and the smaller the town, the more people you know.
With locally-owned businesses and smaller companies, there is so much in terms of easy daily routines and meeting new people.
So, whether you want to make a quick trip or a big move, you'll want to look into these 10 best small towns in Connecticut! We've also included suggestions for places to stay if you're looking to get away for the weekend or you need a home base when checking out the town before your move.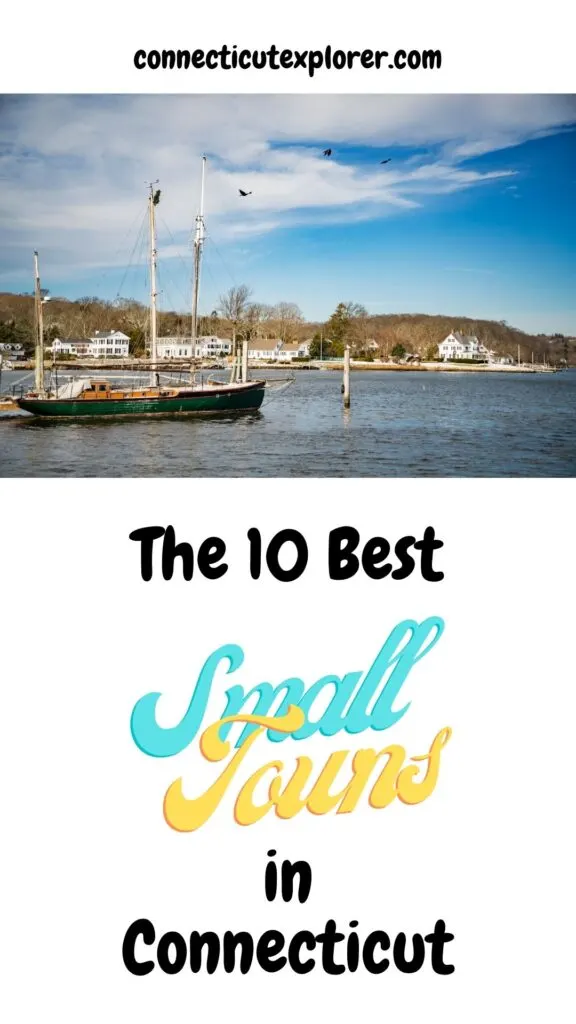 The 10 Best Small Towns in Connecticut
1. Cornwall
In the County of Litchfield, Cornwall has a wealth of greenery, character, and charm. Just off the foothills of the Housatonic River, Cornwall has been hailed the greenest town in Connecticut.
The Mohawk State forest is within the town of Cornwall, so that's where a large portion of their greenery and nature comes from.
The historical character is all in the centuries-old bridges in the state of Connecticut. Today's Cornwall is bursting with recreational activities like hiking, fishing, water sports, and biking.
If you're planning a visit, check out the Beehive Cottage for a nice, small-town short stay feel!
2. Mystic, Connecticut
Mystic is a small town that is nestled on the Mystic River, which flows all the way into the Long Island Sound.
Mystic was an important shipbuilding center before its official founding in the mid-17th century.
The charms of New England can all be found in Mystic, as well as many tourist attractions, like one of the best pizza places in Connecticut at Mystic Pizza, and the beautiful seaport.
Mystic has the perfect mix of country life and small town, urban living.
Want to visit? The Seaside Getaway has a small guest capacity and is right where all the fun is!
3. Milford, Connecticut
Milford has tons to offer in terms of beach towns. It's quiet, just by New Haven and the Long Island Sound, and has the small-town charms with the comfort of a populated suburb.
Old Town Milford is the real sight to see, where you can find a maintained historical district with old shops, great food, and all the beach town charms.
Their town green is the second-longest in Connecticut and has memorials and lots of town history.
If you are planning a quick visit to check it out, the New England Beach House is small and cozy!
4. Monroe, Connecticut
Within Fairfield County, the small town of Monroe is welcoming lots of newcomers. It's a short drive to cities like Bridgeport, New York City, and New Haven.
Their historical charm has carried on over the years and is the proud namesake of the 5th United States President, James Monroe.
There are tons of parks, like Great Hollow Lake and Webb Mountain, and biking paths to give your legs a rest!
For a quick visit, the Romantic Riverfront Farm House is perfect for a short getaway.
5. Bethel, Connecticut
Not far from New York City, the town of Bethel was home to Meg Ryan and Duracell batteries.
With a small downtown area packed with boutiques and antique shops, you'll find their farm-to-table eateries and scenic surroundings to be hard to leave.
Start outdoor adventures at their nice parks, or relax at their indie theater, which is home to the annual Connecticut Film Festival.
No matter how long you visit, you'll find the Waterfront Lake House to be a wonderful resting place.
6. Chester, Connecticut
Since 1692, the town of Chester has welcomed all and sits nestled along the hillsides by the Connecticut River. There are beautiful marinas, brooks, lakes, and incredible waterfalls to explore.
Their state forest is also over 1,000 acres. Chester is super quiet, has that old-timey feel, and still makes room for new-age advancements like art galleries and theaters.
It's come a long way from the shipbuilding, mill town that it used to be, and now presents the world-renowned Godspeed Opera House.
Check out a show, or visit for fun, the Tuscan Villa is great for a family trip!
7. Washington, Connecticut
Washington is a small town and a farming community with serene, farm and forest views.
Their architecture is well-maintained and as historic as their culture.
It is super close to New York City, so it is one of the nice towns in Connecticut to stop by in, but the country lifestyle may make you want to stay longer!
The town is right at the foothills of the Berkshire Mountains, so if you visit, you can fall in love with the scenic nature preserves, trails, and lakes, and winter skiing slopes!
The Waterfront House on Lake Waramaug is one of their nicest hotels!
8. Essex, Connecticut
Middlesex County hosts the quaint town of Essex. It is surrounded by water on 3 sides and only a few miles away from the Connecticut River's junction to the Long Island Sound.
The town's center boasts old, Federal, and Colonial-style buildings that have been around for years!
But, they have been modernized to meet the times, so now you can stop by amazing coffee shops and wonderful seafood dinners.
Lined with trees and right on the harbor, the town of Essex has parks and conserved lands you won't want to leave!
The Sunny Cottage with a Private Beach is also an awesome place to stay if you visit!
9. Branford, Connecticut
Right by the Ivy town of New Haven, Branford is a suburban small town that's idyllic and scenic.
So, if you want a mix of suburban small towns and shops nearby, but also the more historic and charming feel, then Branford is right up your alley.
The Long Island Sound archipelago is easily accessed, and on the way to the Thimble Islands. They have a long, 30-mile trail that will lead you through Branfords' woodlands, lakes, and wetlands.
If you plan to visit, you might stay at the Beachside Studio Vacation hotel!
10. Westport, Connecticut
New Yorkers love to vacation here, that's how you know it's good! This small town is a cool escape from big city living or just your normal daily routine.
They mix the small-town old-time feel with a modern, present-day vibe. The Westport Country Playhouse is a popular attraction, as well as the Westport Museum of History and Culture.
So, if you're creative or just love a good vacation, then you might find Westport to be to your liking.
For a quick visit, the Cozy Cottage in Westport is happy to have you!
We hope the vacation bells are ringing for you now!
Whether it's a day trip, change of scenery, extended stay, or permanent move the best small towns in Connecticut are charming, welcoming, and timeless.