Have you ever taken a hot air balloon ride? If not, you're in for a real treat – and lucky for you, CT has some amazing places for hot air balloon rides!
In this article, you'll get a little information on what you can expect from a hot air balloon ride, and you'll get a list of 5 places in CT that offer them.
Let's get right to it.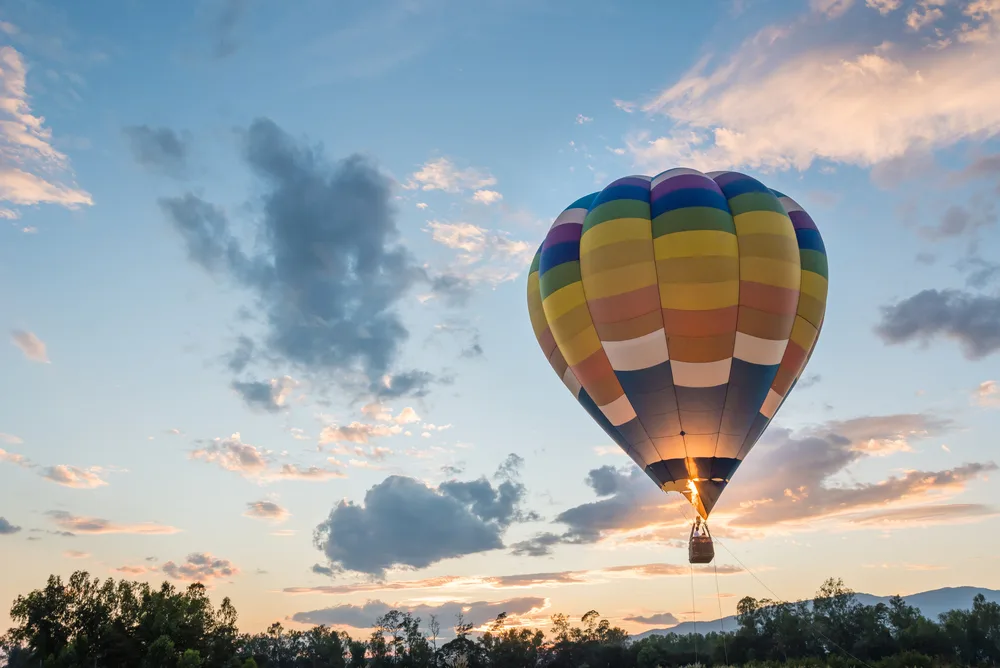 What to expect from a hot air balloon ride in CT
If you're considering a hot air balloon ride, lucky you – not many people are lucky enough to experience something so extravagant.
There are some things to take into consideration before you book your reservation, though:
Hot air balloon flights typically depart first thing in the morning, around 6 or 7 am. Expect an early morning departure.
Hot air balloon rides are not cheap. There are a lot of moving parts, supplies, and skills that require cold hard cash to keep up. Make sure you've got the funds, my friend.
You'll be standing up for the entire process. So, wear some comfy shoes.
Taking off is a process. Expect a lengthy waiting period while the pilot prepares the craft.
A champagne toast is a post-flight tradition. If you don't drink alcohol, inform the company ahead of time and/or bring a non-alcoholic alternative.
A hot air balloon ride is not only fun for those looking for a unique experience, but it's perfect as part of a romantic getaway, or for photography.
Thinking about proposing to your special someone? A hot air balloon ride can help make the moment unforgettable.
Now that you know what to expect, let's find some places for hot air balloon rides in CT.
5 amazing hot air balloon rides in CT
CT Ballooning is one of the biggest names in hot air ballooning in Connecticut.
Their main launch site is located in Farmington, CT, however, they utilize multiple launch sites all over the state.
The experience with CT Ballooning lasts about 3.5 hours, with 1 hour of that taking place in the air.
There's always a post-flight toast to partake in, as well.
Rates are reasonable, for a hot air balloon ride, with CT Ballooning, which is great, too!
Berkshire Balloons is one of the most popular hot air balloon companies in the state, in no small part due to its convenient location near the city of Hartford.
Berkshire Balloons utilizes 2 launch sites – one in Bethlehem and the other in New Hartford.
As with the other hot air balloon rides on our list, the setup, ride, and landing process takes roughly 3 hours total, with the actual balloon ride lasting roughly an hour.
Connecticut Voyager Balloons in Woodstock, CT is a great place to book a hot air balloon ride.
They offer a variety of packages, including shared balloon rides, private rides, and tethered rides.
Launches take place at multiple sites around the Quiet Corner region of Connecticut.
Connecticut Voyager Balloons offers gift certificates. So, if you're not interested, but you know someone who is, you can gift them an experience they'll never forget.
Western Connecticut didn't get left off this list.
If you live west of New Haven or you're a New York City resident looking for a scenic getaway, Gone Ballooning is your hot air balloon go-to.
gone Ballooning's rates are very fair, especially considering their proximity to the city.
They also offer gift certificates for both individuals and groups.
Aer Blarney Balloons operates out of Connecticut's only FAA-approved balloonport.
The company is owned and operated by a Commercial Balloon Pilot, Advanced Ground Instructor, Remote Pilot, and LTA Flight Instructor, Mick Murphy, and his wife, Karen.
Essentially, you know you're in good hands with Aer Blarney Balloons.
They offer several packages to choose from and the departure times are restricted to early in the morning.
With Aer Blarney Balloons, you can watch the sunrise or set, or even take a nice afternoon flight!
---
There you have it – if you're ready to spoil yourself and/or someone you love with an amazing hot air balloon ride, check out one of the 5 places on our list.
Enjoy and be safe!