Being on the East Coast means stunning sunrises accompanied with little to no noise – and there are so many amazing places to watch the sunrise in Connecticut.
Take the time to get up in time to appreciate the glow that overtakes the morning. With these beautiful views, some similar to the sunset watching ideas, and some original, these trip ideas will make your sunrise unforgettable.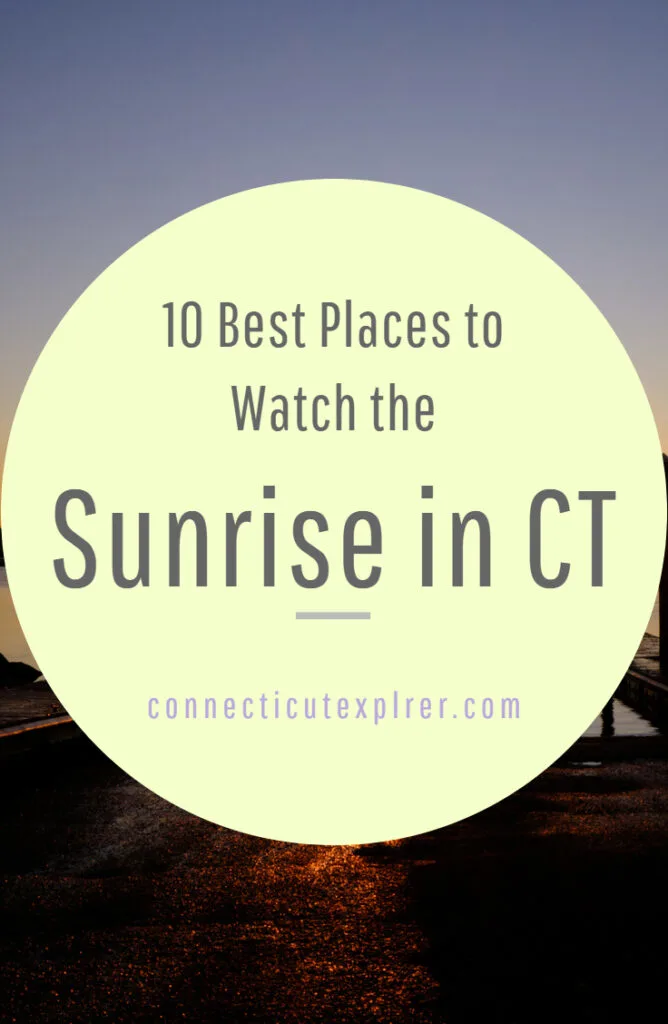 The top 10 places to watch the sunrise in Connecticut
1. Harbor Park, Middletown, CT
The first on the list is a great pick for both sunsets or sunrises – Harbor Park in Middletown, CT.
The view is absolutely spectacular from the boardwalk overlooking the water to Arrigoni Bridge.
With the right lighting, you can see the double arcs reflect in the water. A dream-like sunrise!
This is a beautiful spot to take in a sunrise whether you are going for the perfect photograph or just enjoying the moment.
80 Harbor Dr, Middletown, CT
2. Lion's Head Hike, Salisbury, CT
As one of the most popular hikes in the state of Connecticut, Lion's Head is also one of the most beautiful places to take in a sunrise.
Considering the types of views you will get, it is a short hike that offers a lot of rewards.
Salisbury, CT
3. Harbor One Marina, Old Saybrook, CT
If you're looking for a truly unique sunrise-viewing experience, check out the Harbor One Marina during the sunrise to watch the boats light up just before the rest of the sky.
Harbor One Marina in Old Saybrook, CT has tons of docks to go park yourself on as you watch the Long Island Sound take life in the morning.
So, come for the sunrise and stay a while.
26 Bridge St, Old Saybrook, CT
4. Ocean Beach Park, New London, CT
Ocean beach park remains on both lists for sunrises and sunsets for Connecticut.
With family-friendly areas that offer picnic tables, playgrounds, and tons of walking trails for everyone, it is the ultimate destination for families.
You are sure to see a beautiful sunrise first thing in the morning no matter your location in this amazing park.
98 Neptune Ave. New London, CT
5. Harvey's Beach, Old Saybrook, CT
Old Saybrook is one of the state's most popular beaches, and for good reason – it's gorgeous!
Why? Because the sand is super soft and there is nothing like taking in a beautiful sunrise with nice soft sand wedged in between your toes.
Sit back and relax on this beautiful beach while the sun comes up.
Plum Bank Road. Old Saybrook, CT
6. Walnut Beach, Milford, CT
Walnut Beach is Connecticut's sandy shore sunrise destination. Located in Milford, you can hop on out to the pier, which is the town's popular photography spot.
With the sunrise coming up over the Long Island Sound from Walnut Beach, you can also see Charles Island – what a beautiful sunrise!
Walnut Beach, Milford, CT
7. Litchfield Fields, Morris, CT
Litchfield Fields is a must-see for an unforgettable sunrise, no matter the season.
The beautiful foliage offered in this area is truly remarkable. Take in fresh crisp air during the fall or spring, or better yet enjoy the morning breeze during a summer sunrise.
These fields are a nature lover's dream and something you should not miss out on.
155 Alain White Road Morris, CT
8. Silver Sands State Park, East Haddam, CT
If you are around Milford, you can catch the sunrise from a beautiful state park called Silver Sands State Park.
The Long Island Sound is a natural beauty to catch the sunrise on and Silver Sands is the ultimate place to do that.
With tons of recreational space for families (397 acres of state beach park to be exact) check out the sunrise from the dunes, the woods, the picnic tables, or any other area you please – then stay and have a great time!
Silver Sands Pkwy, Milford, CT
9. New London Harbor Light, New London, CT
Catching the sunrise from the New London Harbor Light is quite a romantic and beautiful experience.
It's a New England picturesque moment to the T, and for those who don't like getting sandy or climbing hills for their view, this one is an easy choice.
Pequot Ave, New London, CT
10. Madison Beach Hotel, Madison, CT
While this option is not free, it is absolutely worth visiting. With possibly the most gorgeous room views in the state, you can catch the best Connecticut sunrise here.
If you're looking for the full romantic getaway experience, rent a room here for a weekend and take a stroll out to the wharf first thing in the morning. You won't regret it.
It's a vintage beach stay that propels you back in time. There's nothing better than feeling like you are in a New England romance movie. (It's also a great place to pop the question!)
94 W Wharf Rd, Madison, CT
Take in a sunrise in Connecticut
Whether it's fall, winter, spring, or summer, you can start your day with the most beautiful way to wake up – a Connecticut sunrise.
What's your favorite place to catch a sunrise in Connecticut?