Being in Connecticut, there is so much to explore and so much beauty to admire. It's one of the most picturesque New England areas in any season, which is why it is perfect for any photographer – from beginner to expert.
From lighthouses and stunning beaches to amazing hikes with surrounding fall foliage, there is nothing you can't capture in Connecticut.
Here is just a little inspirational kick for you who are looking for amazing places to take pictures in Connecticut – our top 10 photography spots in CT!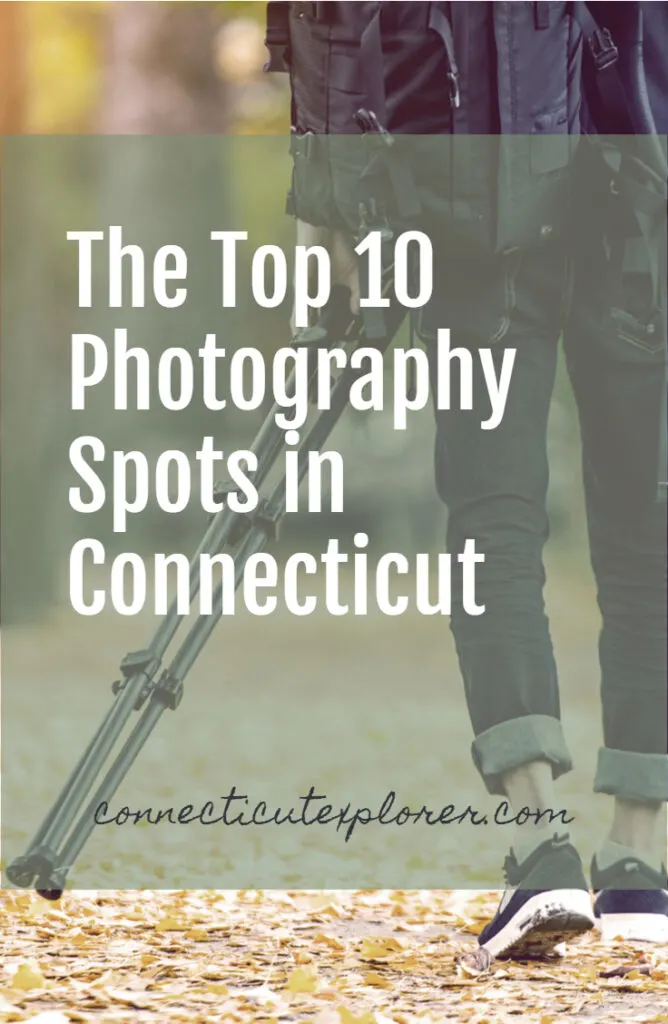 The 10 most beautiful photography spots in CT
1. Castle Craig, Meriden CT
Starting off with a bang, Castle Craig is hands-down one of the most unique and best photography spots in CT.
Nestled up on the East Peak of Hanging Hills sits this gorgeous rock castle that boasts 32 feet of height and has a circumference of 58 feet.
While the photos of the castle are obviously going to be incredible, it's the photography potential of the surrounding areas from the observation deck that make this place top-notch.
Peak Dr, Meriden, CT
2. Westfield Falls, Middletown CT
Coming in at a very close second is Westfield Falls. This beautiful waterfall that sits in Middletown Connecticut is a nature lover's dream.
The scenery here is both powerful and peaceful. With two drops with 30 feet in between each other, the 18 and 15-foot plunges of water are quite a sight to photograph.
Middletown, CT
3. Connecticut State Capitol, Hartford CT
For those who are keen on architecture and a little more city life then taking picture of the state capitol in Hartford is a great option.
The state building is beautiful itself but the surrounding area where there is grass and trees really sets the scene.
If we weren't mistaken the capital building of Connecticut also looks quite like a castle and at the right time of day (sunrise or sunset) it is sure to bask in the glory and glow.
210 Capitol Ave. Hartford, CT
4. Essex Steam Train, Essex CT
History nerds rejoice! This is a wonderful historical site that still functions today as the Essex Steam Train.
As one of the last functioning ones in America, it is important to capture this beautiful industrial machine in action.
If you are looking for a spin on photography consider going when it becomes the Polar Express for all the children during the holiday hours.
With decorations and cookies, it is a win-win for everyone.
1 Railroad Ave, Essex, CT
5. Thames River, New London CT
Are we in England? No, but New England does itself a pretty good job when it comes to capturing this beautiful river with sailboats passing by.
When the skyline is lit just right you can get the most beautiful reflection of the water making this a top spot for photographs in Connecticut.
Tip, there are a few eateries that offer stunning views of their back decks that make it a two-for-one deal you just can't resist.
New London, CT
6. Mystic Village, Mystic CT
Mystic Village has become one of the more popular tourist destinations over the last few decades as it boasts a beautiful harbor, historic buildings and streets, and some pretty darn good food and shopping.
With practically everywhere you go being a perfect place to photograph it can be hard to choose.
Go ahead and take a walk down the mom-and-pop shops as this represents a different time and has preserved itself well. You really start to feel like a sailor in older times.
Mystic Village, Mystic, CT
7. Walnut Beach, Milford CT
You wouldn't be a photographer in Connecticut if you didn't get at least one beautiful shot of the coastal line here.
That's why Walnut Beach becomes one of the most perfect spots to photograph as the pier makes sunsets and better yet, sunrises just the most impeccable view ever.
Enjoy it from the boardwalk or get your toes wet to take close-ups of the tiny shells and rocks that have washed up onshore.
85 Viscount Drive, Milford, CT
8. Hammonasset Beach State Park, Madison CT
Sometimes the best photographs are when there is not a lot going on but a vast landscape.
If you want to take in the world here and see an impressive view then coming to Hammonasset Beach State Park in Madison will do that for you.
This two-mile beach offers the largest uninterrupted shoreline in the state of Connecticut.
With unobstructed views, this becomes a top photography spot.
288 Boston Post Rd, Madison, CT
9. Elizabeth Park, West Hartford, CT
For those of us with a green thumb, Elizabeth Park Conservancy becomes a garden sanctuary in the springtime.
With beautiful shrubbery and flowers everywhere it is impossible to not take out a camera and start snapping away.
It's also listed as a historic site and spans 102 acres of beautiful space.
One of the best pieces of advice here is to make sure you catch the blooms of the rose gardens. Capturing this romantic setting is great for a postcard!
561 Asylum Ave, West Hartford, CT
10. Lobster Landing, Clinton CT
New England is known for its lobster, seafood, and fishermen. A portfolio of photography would be missing if you didn't include a buoy shack and lobster shack.
There is no better one to choose from than Lobster Landing in Clinton, CT. With a backdrop of the Long Island Sound, it doesn't get any more scenic than that.
152 Commerce St, Clinton, CT
The Perfect Photo Album
Whether you are snapping away on Instagram or taking out your professional Cannon, these are some of the very best spots to capture wonderful moments in CT.
The views themselves are enough but even better when you share them with friends and family.
With each location around the state, there are so many options to choose from no matter what season you are looking to photograph in!