If you are looking for something unique and thrilling, Connecticut has some great ziplining places to choose from.
Ziplining is one of Connecticut's favorite outdoor activities, but, believe it or not, we have some great indoor ziplining venues, as well!
Let's jump right in and find out some awesome places for ziplining in CT!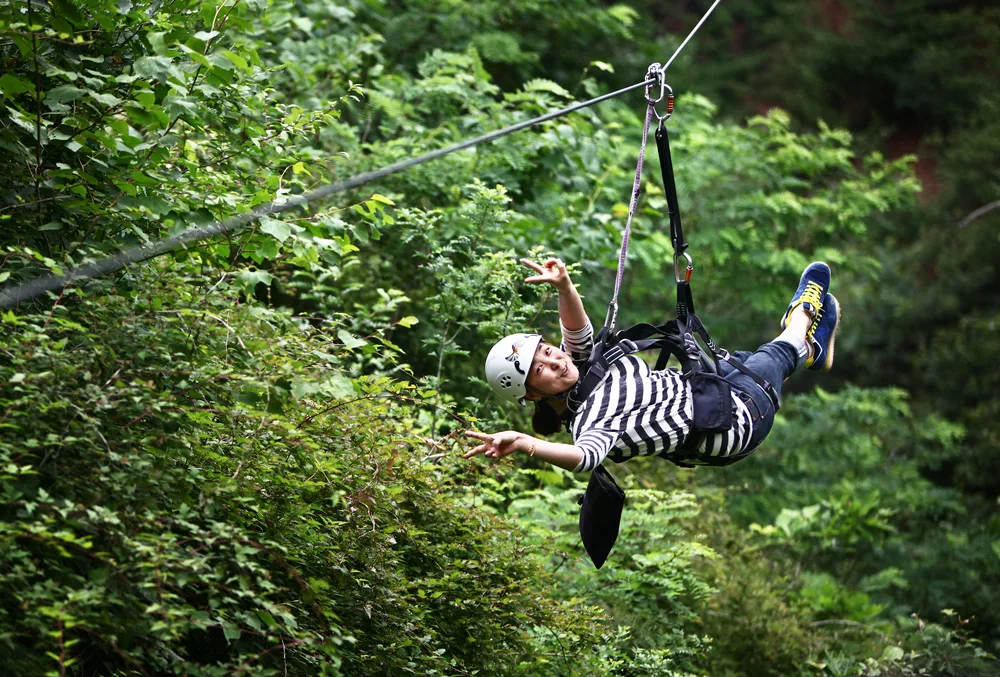 7 great places for ziplining in Connecticut
If you're already familiar with Fields of Fire in Mystic, CT, then you know this one.
Fields of Fire is now Tree Trails Adventures!
Here, you can experience zip lining and other aerial ropes adventures. The courses range from beginner to expert, so there's something here for everyone!
Tree Trails is great for couples and families, but it's also great for company team-building events, as well and can be reserved for other special events during the off-season.
Tree Trails provides all the gear you'll need for your visit, so there's no need to worry about safety.
Your ticket price includes 2 hours of high-flying fun in the trees!
Address: 715 Noank Ledyard Rd, Mystic, CT 06355
I don't know how many times we passed Jordan's Furniture in New Haven without realizing what awesomeness was contained within that building.
IT Adventure Ropes Course in New Haven, CT is actually the largest indoor venue for ziplining in the world!
Equipped with a full-body sling harness, you can climb high and explore over 100 different ziplining course variations, from beginner to advanced.
This is a great place to take your little ones, too, as there is a mini-ziplining course that's perfect for small children.
This is a great ziplining spot for birthday parties and other fun events, as well!
Address: 40 Sargent Drive, New Haven, CT 06511
Foxwoods Casino & Resort is one of Connecticut's main attractions. It draws in crowds from all over New England and beyond.
It's no wonder, either. I mean, what can you NOT do here?
The HighFlyer Zipline at Foxwoods takes you from heights of 350 ft and sends you soaring up to 45 mph over the trees, with stunning views of the Long Island Sound!
This ziplining adventure is not for the faint of heart – thrill-seekers only!
Address: 350 Trolley Line Blvd, Fox Tower Parking Rotunda, Mashantucket, CT 06338
Have you ever wanted to spend the day on an adventure up in the trees?
Well, The Adventure Park in Bridgeport has what you are looking for!
Here, you'll be challenged to get from one platform to the next with a series of ropes, bridges, and ziplines.
If you want to try ziplining, but you're a bit apprehensive about heights, there are different levels to choose from. You can start low and work your way up as you get more comfortable with the process.
This aerial adventure park also has ax throwing and is a great place for birthday parties and other group events!
Address: 4450 Park Avenue, Bridgeport, Connecticut, 06604
Owned by the same company as the previous listing, the Adventure Park in Storrs, Connecticut is similar, but with different treescapes and structures.
Here, you can experience ax-throwing, ziplining, and almost a dozen unique tree trails for zipliners of different levels.
Kids as young as 3 are welcome here and it's a popular place for kids' birthday parties!
Address: 2007 Storrs Road, Storrs, Connecticut, 06268
Just 2 minutes from Middletown, CT is the small town of Portland, where one of the most popular Connecticut ziplining spots can be found.
What sets this place for ziplining apart from the others on this list is that you don't just zipline here, you zipline into the water!
There are tons of other activities here, as well. From cliff jumping to swinging from ropes, this is a great place to get your outdoor thrills!
Brownstone Adventures Sports Park is also a great place for private parties and corporate team-building events.
Address: 161 Brownstone Avenue, Portland, Connecticut
If you are ready for a challenge in the treetops, EMPOWER is ready to meet that challenge and push you even further.
This aerial adventure park spans over 9 acres and has 4 levels of difficulty. So, this place is great for anyone from beginner level to expert level.
The longest ziplining course at EMPOWER reaches over 450 feet!
There are also a lot of other activity options for thrill-seekers here, like their 65 ft free-fall!
Address: 240 Governors Hwy, South Windsor, CT 06074
There you have it – the 7 best places for ziplining in Connecticut.
Now, get out there and have yourself an adventure!