If you live in or are planning a visit to the beautiful seaport city of New London, CT, you might be looking for some awesome things to do here.
You are in luck. This coastal city has so many great activity options!
Whether you're an art-lover looking for a great gallery, a sea-lover interested in venturing into the open ocean, or a parent who's got kids to entertain, New London, Connecticut has something for you.
This list only has 18 incredible things to do in New London, CT, but we assure you that you'll come across so many more while you're out and about.
Be sure to check each website for parking, admission fees, and hours.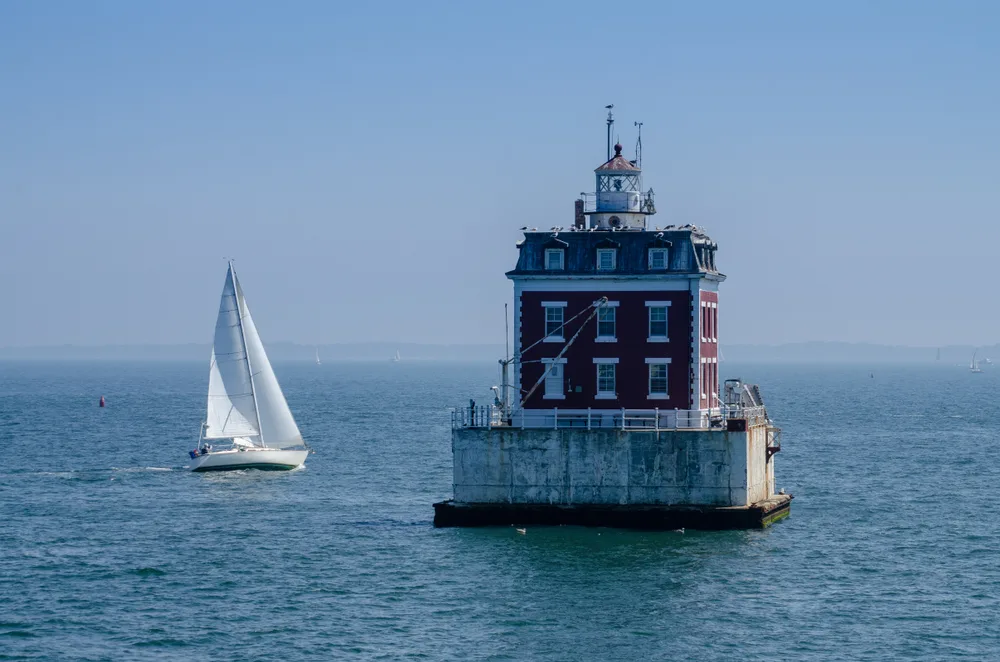 The 18 Best Things to do in New London, CT
The Connecticut College campus in New London, CT is filled with spectacular castle-like buildings and well-maintained green spaces.
If you're ready to take in some next-level beauty after touring the campus, a trip to the Connecticut College Arboretum should be on your list of things to do.
Here, you can take a peaceful stroll along the main walking path as you enjoy the native plants and bird watching.
Whether you're looking for a place to relax in the sun or you're a water park kind of person, Ocean Beach Park has something for you.
Here you can take a dip in the ocean, then relax on the beach or swim in the nearby pool.
Ocean Beach has waterslides, rides, and a cafe. There's even a playground in the sand here!
This is truly a place in New London you can come and stay all day.
Built in 1833, the Custom House is a trip back in time.
Here, you can browse exhibits showcasing artifacts from New London's seaport history, like the history of steamboats on the Long Island Sound and the history of Whaling in New London.
There's also a lovely gift shop here where your purchase helps to fund the museum's exhibits and education efforts.
Right next to Connecticut College, is the wonderful Lyman Allyn Art Museum.
Here, you will enjoy the Tiffany in New London exhibit, as well as a really fun exhibit of antique toys from various cultures.
There's also a sculpture trail on the museum grounds to tour and art workshops for those interested.
History and military buffs will really enjoy this New London activity.
Fort Trumbull is filled with static and interactive exhibits detailing New London Harbor's military history dating back to the Revolutionary War.
Here you can explore the grounds while enjoying Harbor views and take in the exterior architecture.
Oh yes, and you can fish here, too!
Connecticut is home to some of the most beautiful lighthouses in New England – 2 of them being the Ledge Light and New London Harbor Lighthouse.
Climbing tours of the lighthouse are sometimes available and any boat tour to the Ledge Light or ferry across the Long Island Sound will give you a beautiful view of this lighthouse – the tallest in Connecticut.
There is so much to do and see in the New London Waterfront Historic District. Ice cream shops, cafes, and shopping – it's all unique and it's all right here.
The waterfront dining here is unique, as you can dine while you watch the boats come and go from the docks, as well as watch the Amtrack, which runs all the way to New York City.
If you're getting out and about early in the day, New London has some amazing breakfast restaurants you should check out!
From June to September, you can enjoy a cruse around the New London Harbor and take in the sites from the sea.
There are 3 departure point for the round trip cruises and fees are incerdibly reasonable. For local residents, season's passes are also availible.
On Hempstead Street, near the statue of John Winthrop, is a graveyard from the 1600's.
This historical site is peaceful and many find reading the headstones (the ones that are marked) to be fascinating. The lot overlooks the beautiful Thames River.
A few historical figures are buried here, including Sarah Kembel Knight, the author of The Journal of Madame Knight.
If you're looking for a waterfront dining experience with some fantastic food, you should defintely check out On The Waterfront Restaurant & Bar.
The views of the Thames River here are incredible, as are the dishes. If you are a seafood lover, you're in luck – seafood is their specialty.
Located at the corner of Eugene ONeill Drive and State Street, is a spectacular whale mural.
The mural was painted by Robert Wyland, who is responsible for over 100 whale murals all over the world. It is maintained by the New London Restoration Committee.
Visitors from all over enjoy parking and walking across the street to get a great shot of the Whaling Wall.
Interested in the chance to visit the childhood home of the author of the great American paywright, Eugene O'Niell?
Here you can browse artifacts and memorobilia while admiring the restored furnishings of thei Nobel Prize winner's boyhood home.
From paintings to archeture, the Hygenic Art Gallery in New London features some amazing exhibits.
The art pieces here aren't limited to popular artists, which gives equally fantastic and lesser known artists the chance to showcase their works.
Author meet and greets and book signings can also be found here, as well as live shows.
This neat book store features titles for folks of all ages, with a focus on social justice themes.
Here, you can enjoy classes, book signing, and a quaint cafe while you browse the incredible and unique book selection.
Located on State Street, right next to the Title IX Book Store, the Garde Arts Center is the place to visit in New London, CT for those interested in live performance art.
From comedy shows to dance performances, folks visiting New London have plenty to choose from here.
16. Have Fun at Toby May Park & The New London Rotary Playground
The kids are bored and restless – what is there to do with kids in New London, CT?
The Toby May Playground has plenty of fun options for both kids and adults.
Bring your soccer balls and pop-up nets and play some soccer on one of the many open fields. There's a basketball court here, as well!
For younger kids, there is a great playground here with swings, a climbing wall, multiple playscapes for children of different ages and abilities, and a shaded sitting area for picnicking.
The Inn at Ocean Avenue is a favorite getaway spot for locals, as well as visitors.
With 4 acres of grounds and plenty of indoor amenities, such as cooked-to-order meals and quiet reading nooks, this place is a great place to relax after taking in all the sites.
18. Get Some Exercise on a New London Mural Walk
If you are excited to see the Whaling Wall, there are plenty more murals in New London for you to check out.
This walk spans 6-blocks and features local artists, as well as well-know international artists.
The map can be found here.
There you have it! 18 of the most amazing things to do in New London, CT!
Enjoy your visit to this beautiful and historic whaling port!