If you're looking for a great place to swim, boat, picnic, or fish, you should definitely check out Gardner Lake in Salem, CT.
This is one of our favorite lakes in Connecticut for so many reasons and we want you to spend a day having fun here on the water, too!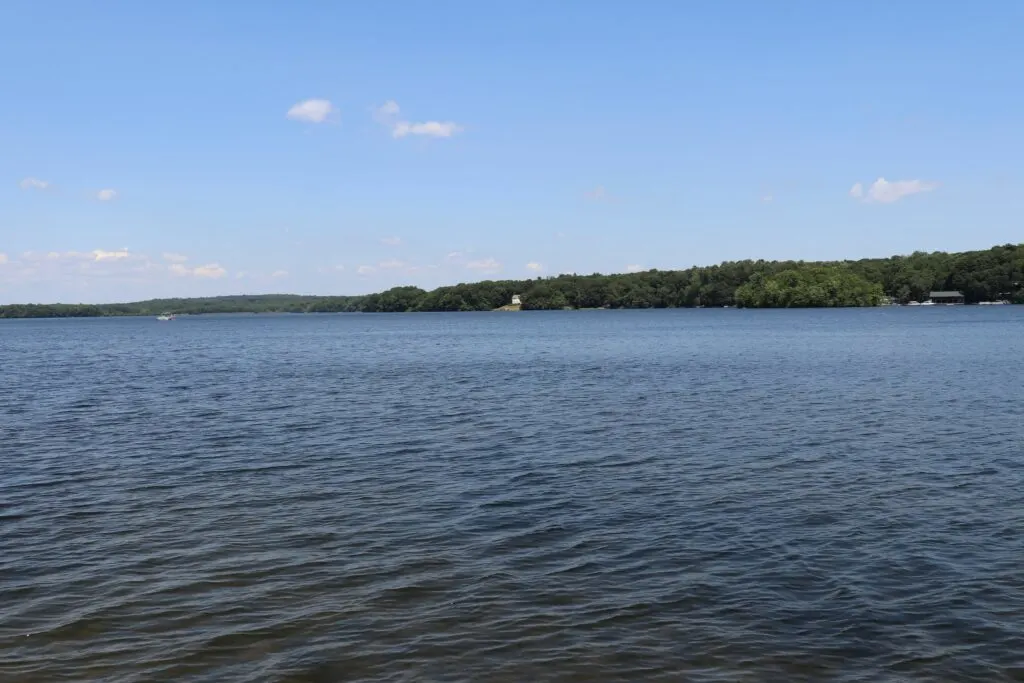 Where is Gardner Lake?
Gardner Lake is located in the town of Salem, CT, in New London County, near Oakdale, Bozrah, and Norwich.
It's also easily accessible to people living in New London and East Lyme.
It's located just off Rt 82
It's a relatively small lake that spans around 530 acres. It's a natural lake and was added to the state's roster of protected park properties in 2001.
Is Gardner Lake private?
No. While Gardner Lake is lined with many private homes, it's a public lake.
The lake is home to family-friendly activities and folks come from all over eastern Connecticut to visit.
What is there to do at Gardner Lake in Salem CT?
Swimming
Gardner Lake has a nice swimming area that people from all around come to visit during the summer months.
The swimming area is roped off, and its maximum depth inside the roped area is around 8-10 feet.
The beach area is mostly dirt, not sand, and on rare occasions, you might come across some broken glass from an inconsiderate visitor.
We definitely recommend bringing some water shoes for the kids, just in case.
There is no lifeguard for Garder Lake's beach, so you'll need to exercise appropriate caution when swimming.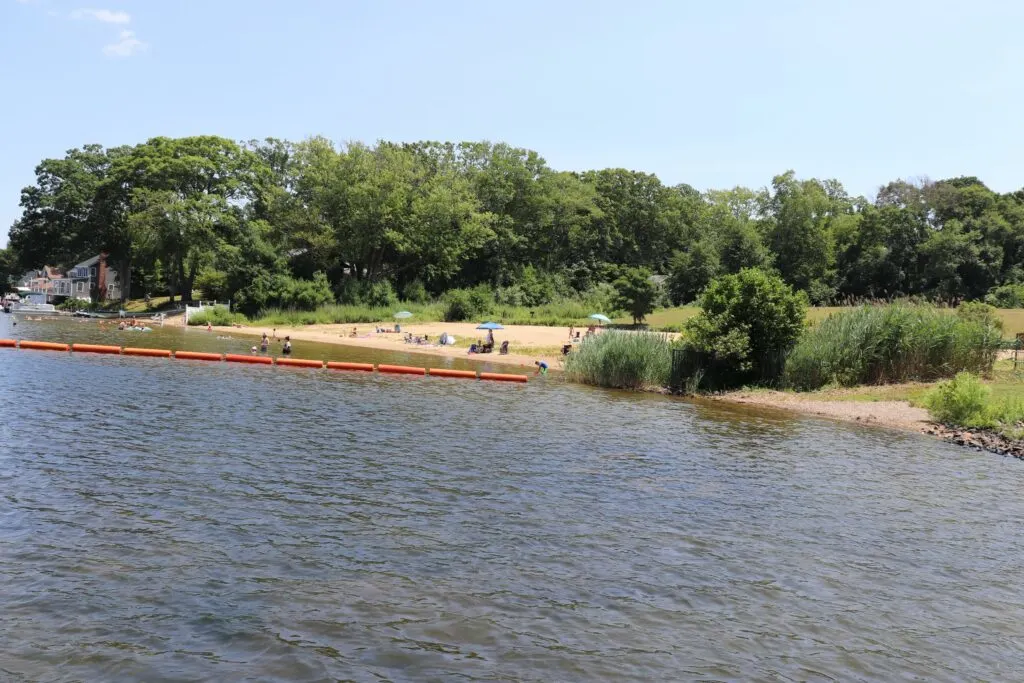 Picnicking
Gardner Lake is a great place to picnic. You can do this at one of the picnic tables up toward the parking lot, however, many folks enjoy setting up tents right on the beach for a picnic.
There are a few grills available down near the beach.
My family enjoys simply laying a blanket out on the beach for a picnic.
Boating
If you've got some jet skis, kayaks, a canoe, a motorboat, or a kiteboard, Gardner Lake is worth bringing them to.
Minnie Island State Park is a fun destination for boaters. Many folks boat or kayak to Minnie Island for fishing or picnicking.
Since the lake is pretty active in the Summer, it's a great place to water ski. Lots of boats and jet skis make for some extra awesome wake jumping.
Fishing
The fishing at Gardner Lake is considered good by local anglers. All summer long, you'll see fishing boats launch and return with coolers of bass and perch.
The lake has been stocked regularly with walleye since 1993, as well.
What kind of fish are in Gardner Lake?
According to Premier Angler, the following fish are what you can expect to catch if you decide to go fishing here.
carp
sunfish
walleye
yellow perch
black crappie
smallmouth bass
largemouth bass
trout
bull head catfish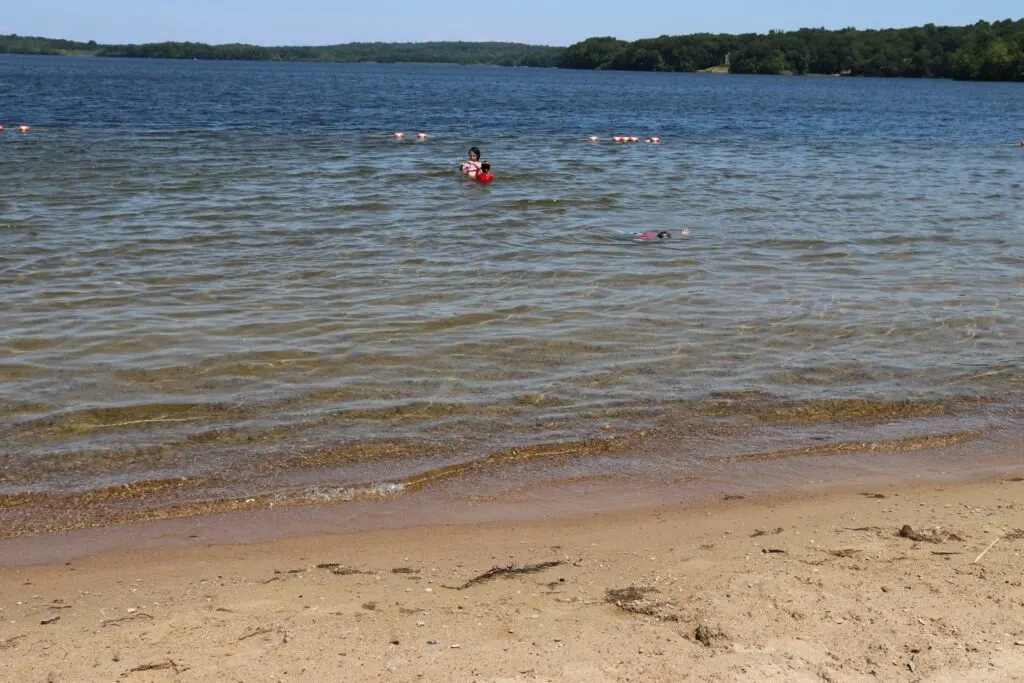 Facilities
If you are looking for anything other than port-o-johns at Gardner Lake, you are out of luck.
There is a row of port-o-johns between the boat launch and the beach parking lot and a couple more port-o-john's down near the boat launch.
---
I hope you enjoy Gardner Lake in Salem, CT as much as my family does.
There isn't a single time we've visited the lake where we haven't enjoyed ourselves and made new friends.
Frequently asked questions
Is there a house at the bottom of Gardner Lake?
The story of Thomas LeCount's house being at the bottom of Gardner Lake is true. In 1895, Thomas LeCount attempted to move his house from the south side of the lake to the east side of the lake while it was frozen.

The house slid off course, thwarting the task, and sunk to the bottom when the ice thawed.
Where is the house in Gardner Lake?
The house in Gardner Lake is reported to have mostly rotted away.
Does Gardner Lake have a beach?
Yes, Gardner Lake has a beach and a roped-off swimming area for visitors to enjoy. The beach is first instead of sand, though, so bring your water shoes.
Can you kayak on Gardner Lake?
Yes, Gardner Lake in Salem, CT is a great place to kayak. People come from all over eastern Connecticut to kayak at Gardner Lake.