There isn't a time during the year when I'm not down for a tall, tasty milkshake. I recently went on a search for places that serve the best milkshakes in CT and let me tell you – I was not disappointed.
The milkshakes at these top shops range from simple, classic flavors to some of the most outrageous and surprising flavors you could imagine.
I'm about as excited to tell you about these CT milkshake shops as you are to learn about them.
Connecticut is known for its amazing donuts, but that's not the only sweet treat we do well at!
Some of the milkshake shops on my list are well-known across the state, while others are hidden gems.
So, let's get right to it!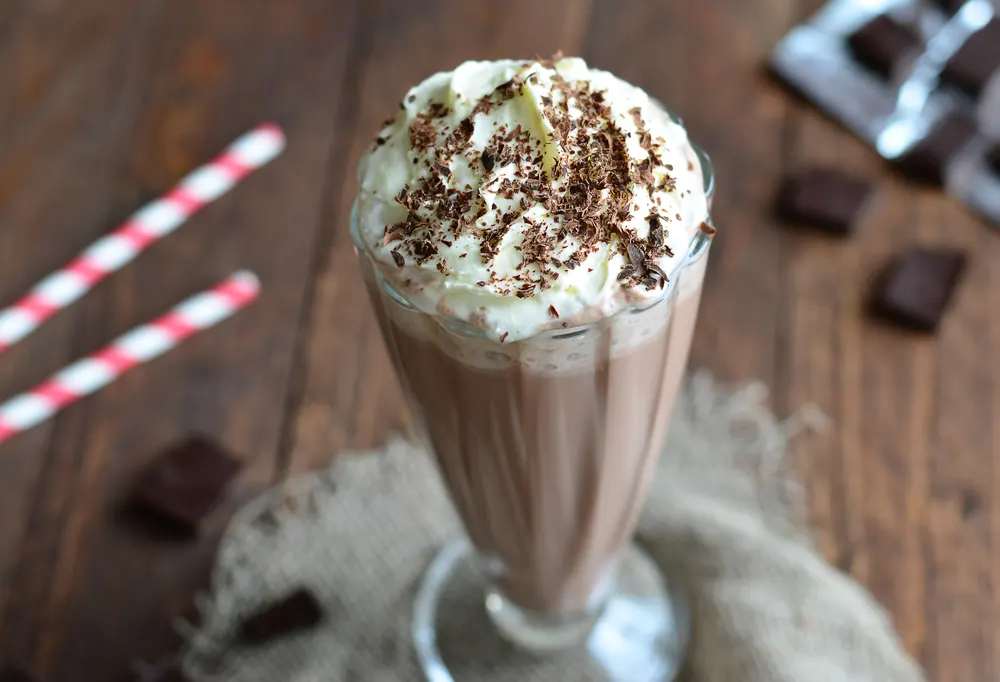 9 places for the best milkshakes in CT
Easily one of the best places for milkshakes in CT is Bell City Diner in Bristol.
The milkshakes here are out of this world – and they get really creative with them.
Bell City Diner features everyday shakes like their Cinnamon Bun and Butter Pecan shakes, but they go all out for holidays with some really elaborate holiday-themed options, too.
Bell City diner also serves some amazing food – breakfast, lunch, and dinner!
Address: 782 Pine Street, Bristol, CT 06010
Elm Street Diner is well-known for its amazing milkshakes. People even visit the Elm Street Diner from New York City for these incredible shakes.
They serve milkshake flavors like Cinnamon Toast Crunch and Red Velvet Cake.
All their milkshakes are over-the-top good and dressed to the nines.
Address: 463 Elm Street, Stamford, CT 06902
Shady Glen in Manchester, CT is well-known for its 50's style diner atmosphere, as well as its out-of-this-world burgers and ice cream.
Their milkshakes, though – absolutely superb.
Any flavor of ice cream that you find on their extensive menu can be ordered as a milkshake.
It's been said that you can't visit Manchester without visiting Shady Glen, and I think that's about right.
Address: 840 Middle Tpke E, Manchester, CT 06040
If your mouth isn't already watering at this point, it's about to be.
Rich Farm in Bristol carries milkshake flavors like Rum Rasin, Sweet Cream, and German Chocolate Brownie.
And those are just a few of the flavors they serve every day. They have specialty flavors, too, though!
Flavors like Bananas Foster and Irish Coffee are sometimes available. The link above has their menu – the flavor selection is insane!
Address: 409 Hill Street, Bristol, CT 06010
The Scoop in Ellington is a clean ice cream shop that sells only all-natural ice cream and milkshakes.
Not only is the Scoop a really fun place to stop in and grab a delicious milkshake, but they actually host birthdays here, too!
All of their milkshakes are dressed up to look amazing, and the flavors are incredible!
Address: 18 Church Street, Ellington, CT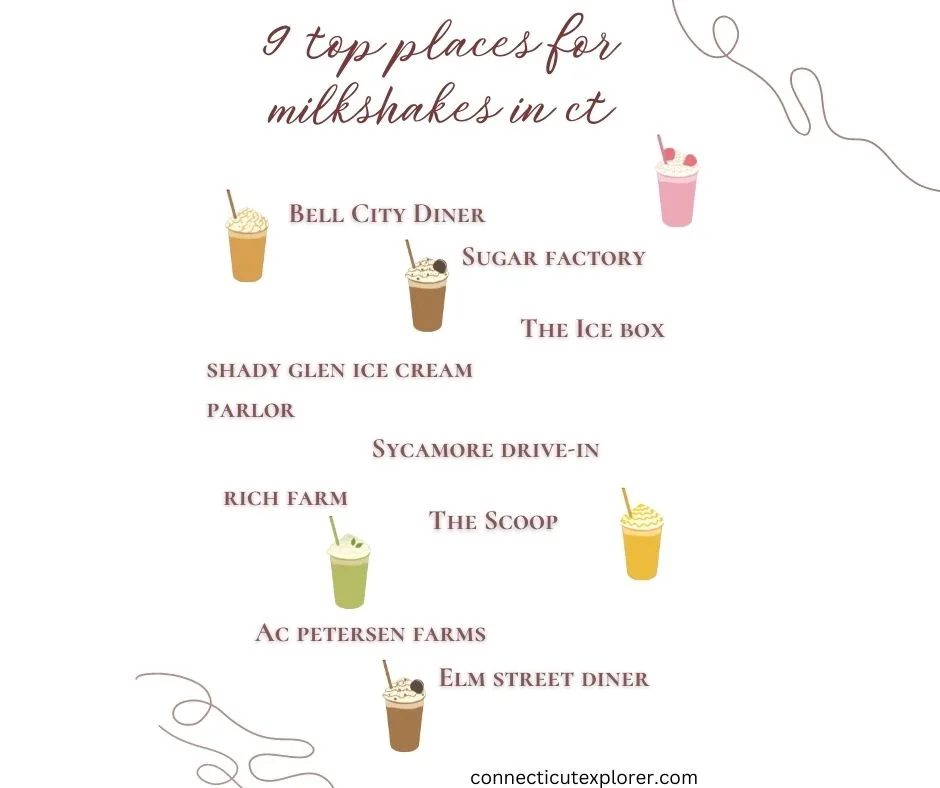 The Sugar Factory has locations in Las Vegas, New York City, and more, as well as abroad.
Its location at the Foxwoods Resort and Casino in Mashantucket has got to be the best of them all, though.
With options like their Caramel Sugar Daddy Cheesecake milkshake, you'll be in heaven here.
Address: 350 Trolley Live Blvd, Mashantucket, CT 06338
The Ice Box in Brooklyn, CT is one of the best places for milkshakes in the far east part of the state.
They've got lots of super yummy milkshake flavors to choose from, including Cotton Candy and Coffee & Cream.
They also have vegan milkshake options, too!
Address: 17 S Main St, Brooklyn, CT 06234
The Sycamore in Bethel is one of Connecticut's most established drive-in Restaurants.
Along with a classic atmosphere, they serve up some of CT's best milkshakes, too!
Come to the Sycamore for milkshake flavors like their popular Black & White shake or Banana.
All of their milkshakes are handmade and absolutely delicious!
Address: 282 Greenwood Ave, Bethel, CT 06801
Last, but certainly not least, on our list is AC Petersen Farms in West Hartford, CT.
This place is incredible.
With flavors like Caramel Sea Salt Chip and Mocha Mud Pie, you know you're in for a treat.
They also have some yummy seasonal flavors, as well, like Apple Crisp and Pumpkin Oreo.
Address: 240 Park Rd, West Hartford, CT 06119
---
There you have it – the 9 best places for milkshakes in CT.
Any one of these places has the cue for your milkshake craving.
Heck, visit them all!