If you've been thinking about visiting Niantic Beach (Niantic Bay Beach) in East Lyme, CT, it's time to go ahead and do it – this beach is great.
Niantic Beach is one of the most well-known beaches in eastern Connecticut and its got a lot to offer visitors.
I've put together some information about this awesome Niantic Beach for you that will help you plan your trip.
Let's go ahead and get to it.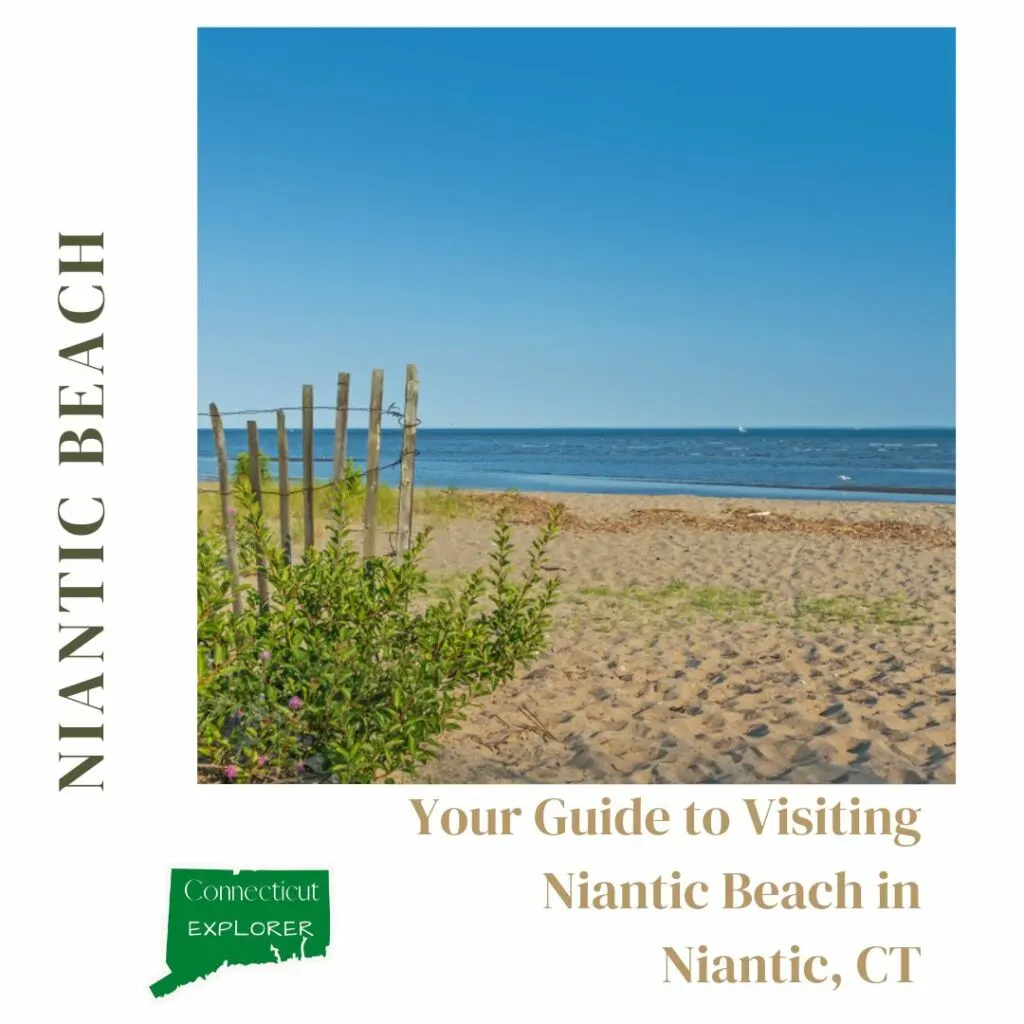 Niantic Beach is the largest of the 3 beaches in the village, spanning roughly 1/2 mile in length.
There is typically a lifeguard on duty here during the summer season, which makes this beach a great choice for swimmers.
There are restrooms here, as well as outdoor showers, which is definitely a helpful feature for beach-goers.
Where is Niantic Beach?
Niantic Beach is located in the Village of Niantic, in the Town of East Lyme, CT.
One of the spots this beach can be accessed is in Cini Park. Cini Park's address is 108 Pennsylvania Avenue in Niantic, CT.
You can also get to Niantic Bay Beach if you park at Hole in the Wall Beach and walk a ways down the Niantic Bay Boardwalk.
Directions to East Lyme, CT and Niantic Beach
The majority of folks who visit Niantic Beach use the Cini Park access point, simply because it's quite a walk from the Hole in the Wall Beach parking lot.
Cini Park is located off Route 156, which is called Main Street if you're coming from the west of Niantic and Rope Ferry is your coming from the east.
The sign for Cini Park is easy to miss. It's right at the base of the Niantic Bay Bridge on River Road, which is on the Niantic side. (Waterford is on the other side of the bridge.)
Below is a link to Niantic Beach for Google Maps. If you click on the link, it will give you directions from your current location.
Is Niantic Beach on the Atlantic Ocean?
Yes and no. Niantic Beach is located on Niantic Bay, which is on the Long Island Sound.
So, the waters are shared by the Atlantic Ocean, but it's a bay.
When you look out across the water from the beach, you're looking at the Long Island Sound, not eastward at the Atlantic.
How much does Niantic Beach cost?
For the 2022 season, season passes for residents were just $45, whereas non-residents were paying $175.
For a day pass, residents were looking at $15 in 2022 and non-residents were paying $40.
7-day passes can be purchased, as well, for those just visiting for a week, which is nice. In 2022, those were $100.
If you are visiting Niantic Beach during the off-season, it's free.
Is the Niantic Boardwalk free?
Yes. If you let the town employee know when you park that you are not using the beach, but plan to walk along the Boardwalk, you will not have to pay the fee.
Are dogs allowed at Niantic Beach?
Niantic Beach is decidedly more dog friendly than the other beaches in Niantic, however, the official rule is that dogs are only allowed on the beach during the off-season.
There are definitely beaches in Connecticut that are more dog-friendly than this one, but this beach is large enough to where people tend to not make a fuss about someone bringing their furry friend.
Just know that you could be looking at a fine if you bring your dog here in the summer.
Is fishing allowed at Niantic Beach?
Yes, fishing is allowed at Niantic Beach. Fishing on the jetties is popular on the Connecticut coast, but people have great luck right from the beach, as well.
If you want to fish here, you will need to get a fishing license and you'll still have to pay the fee at the parking lot during the summer season.
If you're serious about fishing, there are plenty of other great fihsing spots in Niantic you should check out.
What is there to do near Niantic Beach?
Niantic Bay Beach isn't as close to downtown Niantic as the other 2 beaches, but there are some nearby places you can walk to.
Skipper's Seafood is a great choice if you're in the mood for fish and chips.
They have a nice patio you can dine on that overlooks the Bay, which is pretty relaxing after a day of swimming.
When Pigs Fly is not within walking distance, but it's only a couple miles down Rope Ferry and it's definitely worth the drive.
It's a greasy spoon type breakfast/bruch/lunch restuarant and it's literally one of the best of it's kind in the state.
Depending on your abilities and/or motivation, you could walk to the shops in downtown Niantic.
It's just a short drive to the shops, though.
There are book stores, botique thrift shops, antique stores, and more downtown.
---
I hope this information is helpful for you and that you enjoy your visit.
Niantic Beach is such a cool place and we have so much fun every time we get the chance to visit.