If you're looking for some information to help you plan a visit to Indian Well State Park in Shelton, CT, you've come to the right place.
This awesome Connecticut state park is one of my family's favorites, and after your visit, I'm sure it will be a favorite of yours, as well.
There's so much to see and do at Indian Well State Park that it's helpful to have a plan when you visit.
I mean, you really don't want to miss anything here – from the hiking trails to the swimming area to the waterfall, this place is awesome.
I've put together a guide with all the information you'll need when you visit Indian Well State Park in Shelton, CT.
Let's get right to it!
Where is Indian Well State Park in CT?
Indian Well State Park is located along the Housatonic River in Shelton, CT. The park is located at 1 Indian Well, Shelton, CT.
Indian Well spans over 150 acres and features the beautiful and popular Indian Well Falls.
Directions to Shelton, CT and Indian Well State Park
You get to Indian Well by way of Route 8. Whether you're coming north or south, your exit number will be 14.
From the exit, there will be signs for the park and you can expect to drive another 2.5 miles or so.
It's fairly easy to find. You'll know you're coming up on the entrance because everything will be wooded and there will be a nice big sign for you.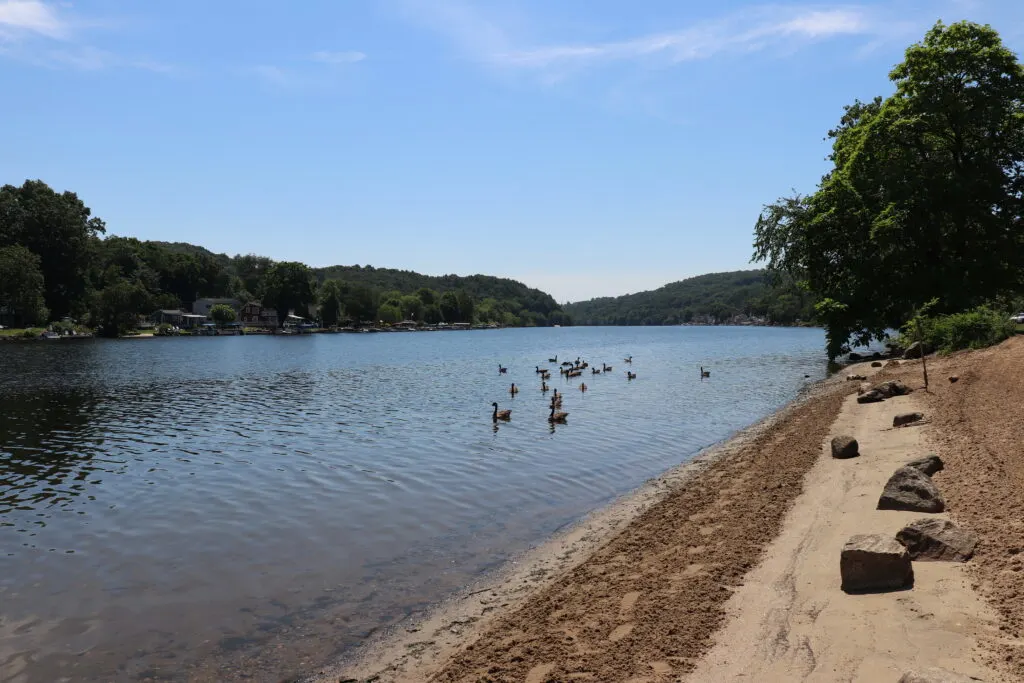 How much does it cost to get into Indian Well State Park in CT?
As long as the vehicle you drive is registered in the state of Connecticut, it's completely free to get into Indian Well State Park.
If you're not a resident of CT, there's a $10 parking fee for weekdays and a $15 parking fee for weekends.
Are dogs allowed at Indian Well State Park?
Yes, dogs are allowed at Indian Well State Park as long as they've got their rabies tags and they're leashed.
During the off-season, people sometimes take their dogs and let them run around in the large open field between the entrance booth and the river, which is pictured below.
Of course, this is not technically allowed, but Connecticut residents that are into nature are generally pretty easygoing about dogs.
I highly discourage this during the busy season, though.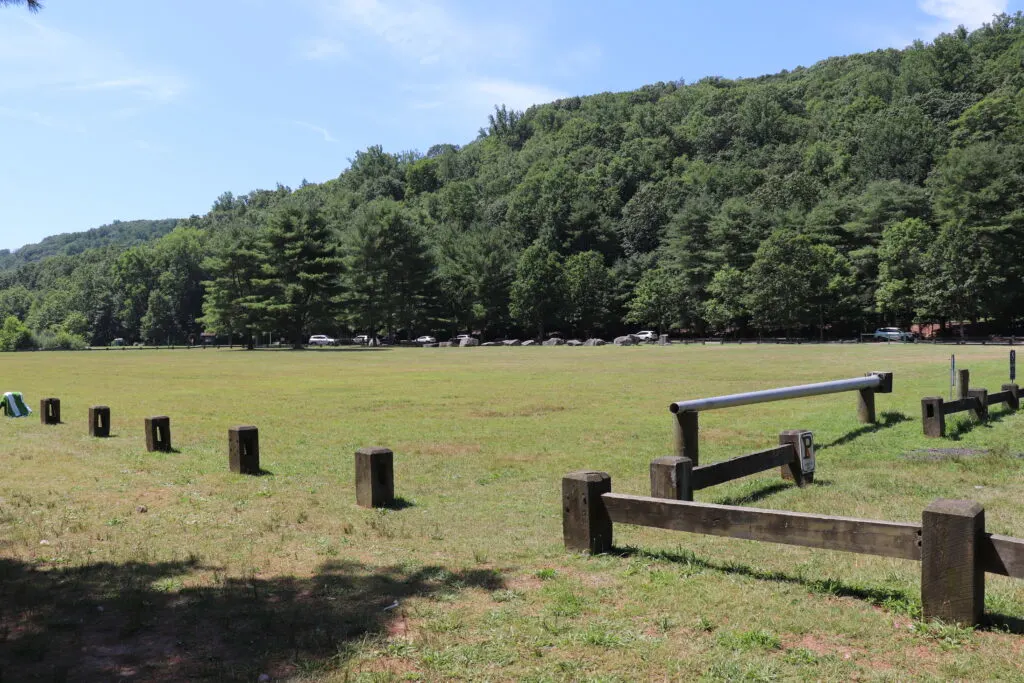 What is there to do at Indian Well State Park in CT?
This is such an amazing place to spend the day. Whether you're visiting with kids or you're looking for a peaceful hike alone or as a couple, I highly recommend this park.
Let's check out what there is to do here.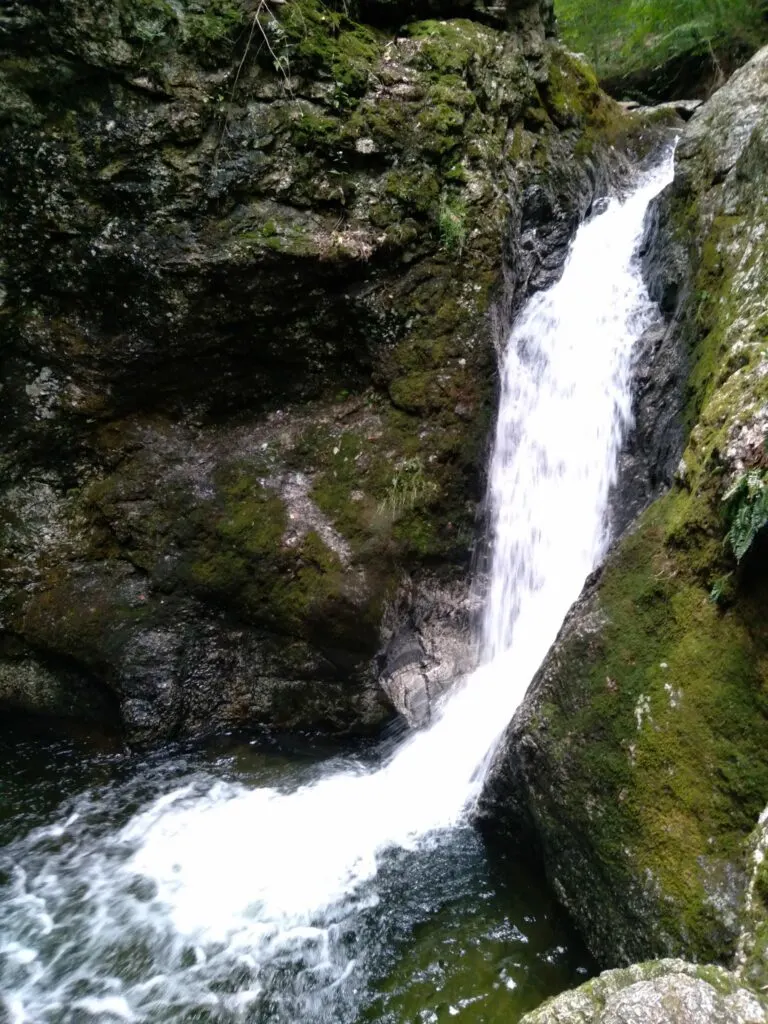 Hiking
Indian Well is a great place for hiking. You have 3 trail options here for you to enjoy – Indian Well Trail, Tahmore Trail Loop, and Paugussette Trail.
The Paugussette Trail is over 8 miles long and for serious hikers only.
Both the Indian Well Trail and the Tahmore Trail Loop take you to the Falls and are fairly easy.
You'll access the trails across the street from the parking area.
Fishing
The Housatonic offers some great river fishing. You can do this from the shore outside of the swimming perimeter or from your boat.
Brown trout and rainbow trout are 2 of the most common catches for anglers.
Swimming
Indian Well is one of our favorite state park swimming spots for the summer.
The sand here is soft, the swimming area is roped off, and there are lifeguards on duty during the on-season.
The water in the roped-off area is not too deep, maybe about 3-4 feet, depending on the depth of the river.
The swimming area during the summer is usually bustling with music and families, and there's always food being grilled by picnickers.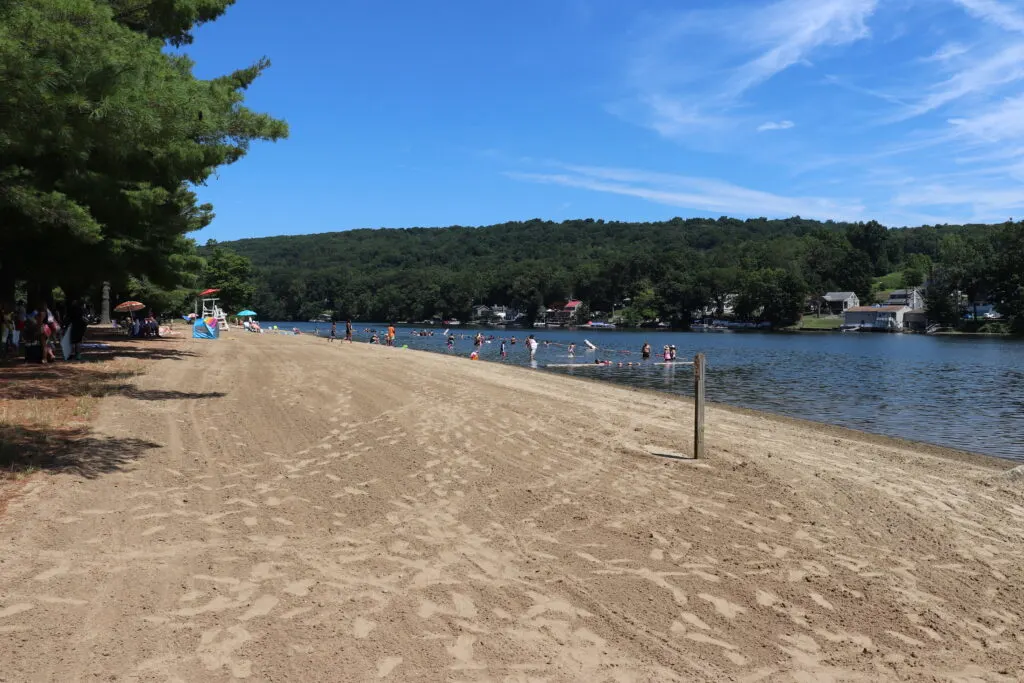 Picnicking
Indian Well has open picnic areas, as well as covered shelters. The open lawn is also a great place to lay a blanket down and eat some lunch.
It's great for kite flying, too.
People who come for the swimming generally use the picnic tables near the river or they just lay blankets out on the beach.
Boating
Indian Well is a great place for boating and jet skiing. The Housatonic River tends to have a pretty strong current, though.
So, if you're thinking about kayaking or canoeing, please take that into consideration.
Camping
Unfortunately, there is no place to camp at Indian Well. I'd definitely like to see this change in the future, though.
Indian Wells Waterfall
Indian Well Falls is absolutely spectacular. I took a photo of it to show you earlier in the post, but I'm certainly not a talented photographer enough to capture its true beauty.
The falls are 15 feet high and are surrounded by beautiful mossy rocks.
To get there, you have to do some climbing over rock scrambles. So, be sure to wear some decent hiking boots.
Can you swim in Indian Wells?
The pool at the bottom of the falls is beautiful, but it's not really a great swimming spot.
The water is ice cold all year round. It's not comfortable for a swim whatsoever.
People do some here for cliff jumping, but it's technically not allowed and it's extremely dangerous.
The history of Indian Well State Park in Shelton, CT
The 150-acre lot that Indian Well State Park sits on was purchased by the state of Connecticut in the early 1900s from a power company that owned it.
Indian Well is said to be named after the pool at the foot of the waterfall.
Folklore states that the Native American tribe in this region measured the well's depth of 100 feet and found no bottom.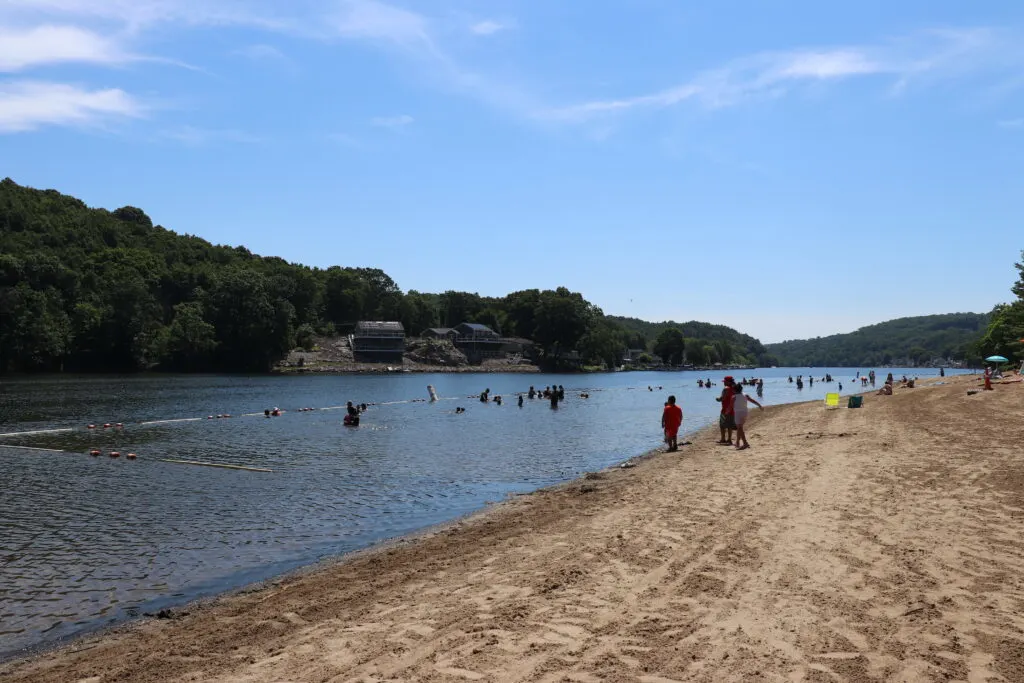 Indian Well is definitely worth the trip for hikers, swimmers, and waterfall watchers alike.
I hope you enjoy this park as much as we do!