If you are interested in visiting the Hole in the Wall Beach in Niantic, CT, you're in for a treat. It's one of Niantic's most beautiful beaches.
Hole in the Wall is one of the first beaches in Connecticut that I took my children to visit and it holds a special place in my heart because of that.
Plus, it's just an awesome beach with a lot of cool things to do nearby.
If you are planning to come and check this beach out, I've got some great information here that will help you plan your trip.
Let's get right to it.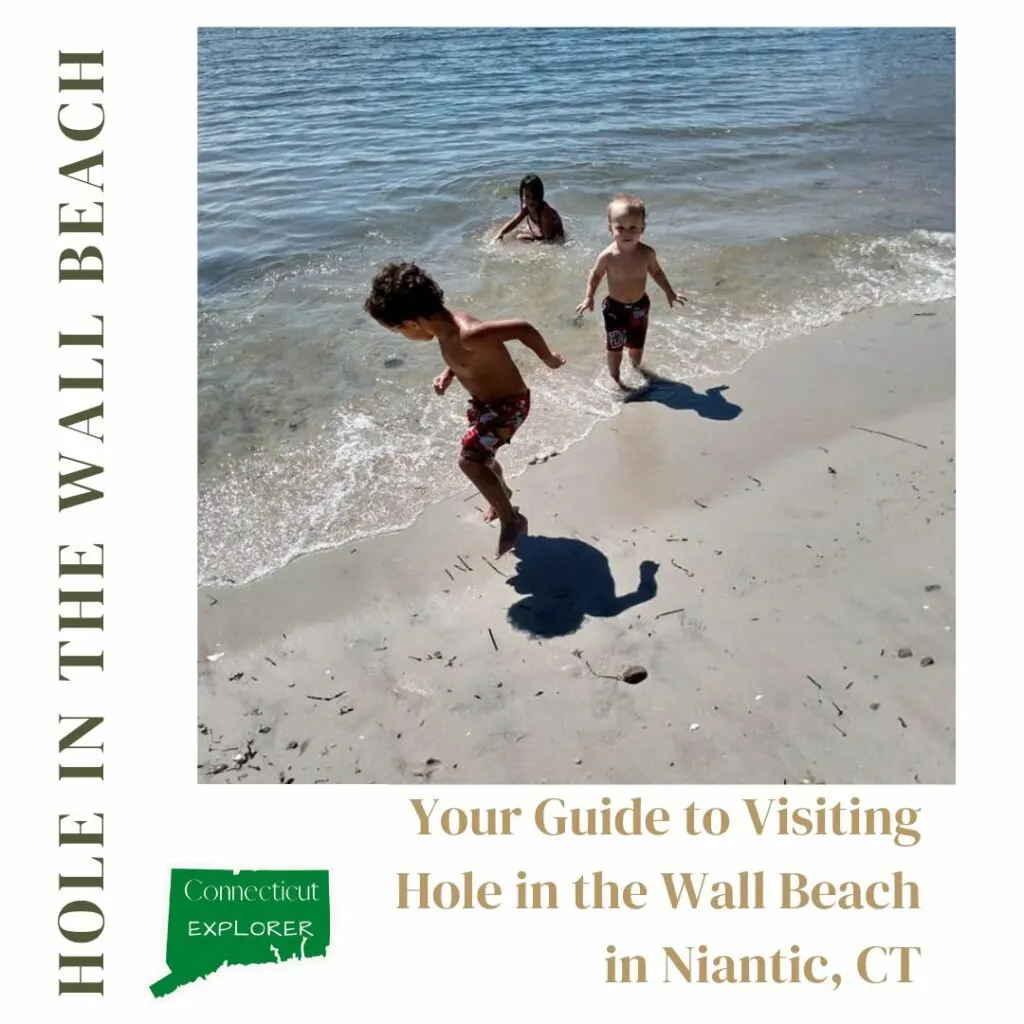 Where is Hole in the Wall Beach in Niantic, CT?
Hole in the Wall Beach is located off Main Street in the village of Niantic, CT, in the town of East Lyme.
The official address of the beach is 4 Baptist Lane, East Lyme, CT 06357.
You get to the beach through a tunnel underneath the train rail.
The beach is sandwiched between the Niantic Bay Boardwalk and McCook Point Park.
Directions to Hole in Wall Beach
Hole in the Wall Beach is located off Route 156, which runs west toward Old Lyme and east toward Waterford.
156 is called Main Street when you get into Niantic, just over the bridge by Cini Park to the east, and around East Coast Taco to the west.
When you come into the part of Niantic with all the quaint shops, you'll see a little ice cream shop called Gum Drops and Lollipops on the south side of the road.
This is where you'll find Baptist Lane. It's a narrow road and it's very easy to miss.
Below is a link to Hole in the Wall Beach for Google Maps. Just click the link and you'll get directions from your current location.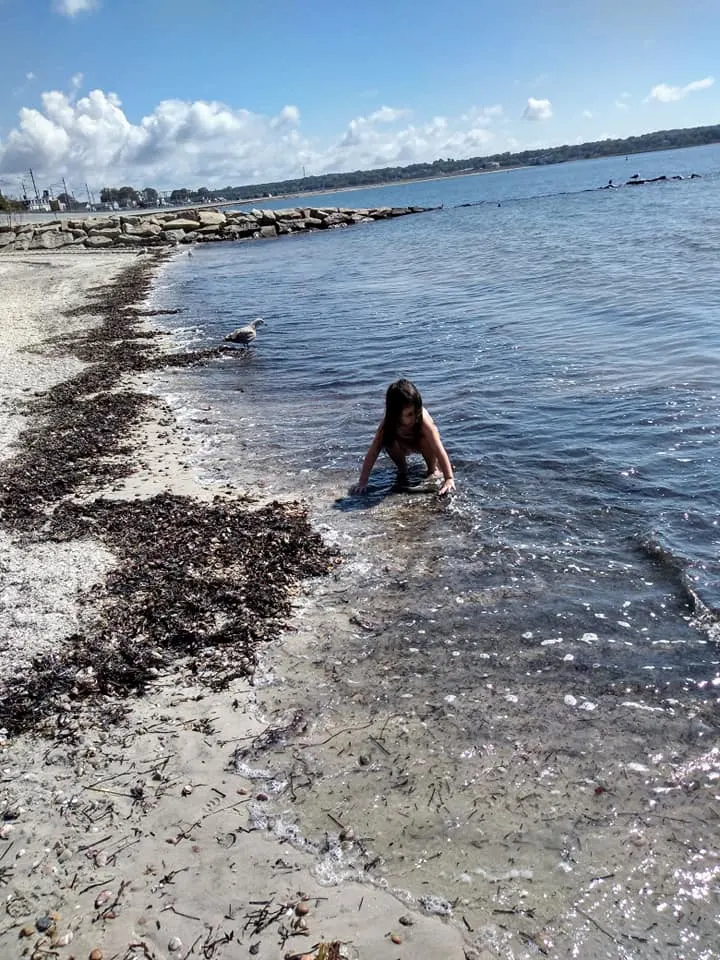 Is Hole in Wall Beach on the Atlantic Ocean?
While technically, Hole in the Wall is an Atlantic Ocean beach, it also kind of isn't.
Hole in Wall Beach is located in the Niantic Bay portion of the Long Island Sound.
So, yes, you'll be swimming in salt water here, and you'll find all the wonderful ocean wildlife here, but you'll get a view of The Sound and not the vast Atlantic Ocean.
How much does Hole in Wall Beach cost?
Season passes for the beach are very affordable for residents, but less so for visitors.
For the 2022 season, season passes for residents were just $45, whereas non-residents were paying $175.
For a day pass, residents were looking at $15 in 2022 and non-residents were paying $40.
If you are visiting Niantic for a summer trip, there's a special deal where you can purchase a 7-day pass, which is a lot less steep than the season's pass.
If you are visiting this beach during the off-season, it's free.
Are dogs allowed at Hole in Wall Beach?
Dogs are allowed at Hole in the Wall Beach only during the off-season, which is between Labor Day and Memorial Day.
Locals and town officials are pretty strict with the "no-pets" during the summer.
If you are looking for a beach to take your furry friend to, Connecticut does have some great dog-friendly beaches you should check out, though.
This just isn't one of them.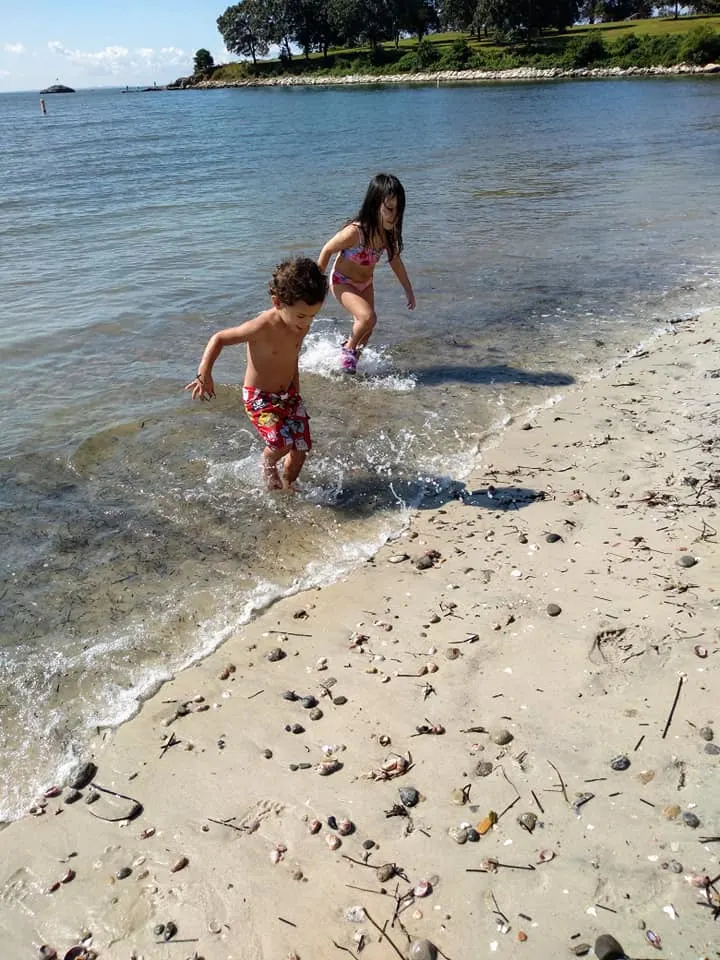 Is fishing allowed at Hole in the Wall Beach?
Yes, fishing is allowed at this beach, however, you won't spot anglers here very often during the on-season.
Hole in the Wall is fairly small and most of the beach is designated as a swimming area during the peak season.
There are much better places to go fishing in Niantic.
On the other side of the Boardwalk is another beach, Niantic Bay Beach, which is much larger, less crowded, and just a better fishing spot all around.
What is there to do in Niantic near Hole in the Wall Beach?
When you've had enough fun and sun, there are plenty of other things to do within walking distance in Niantic.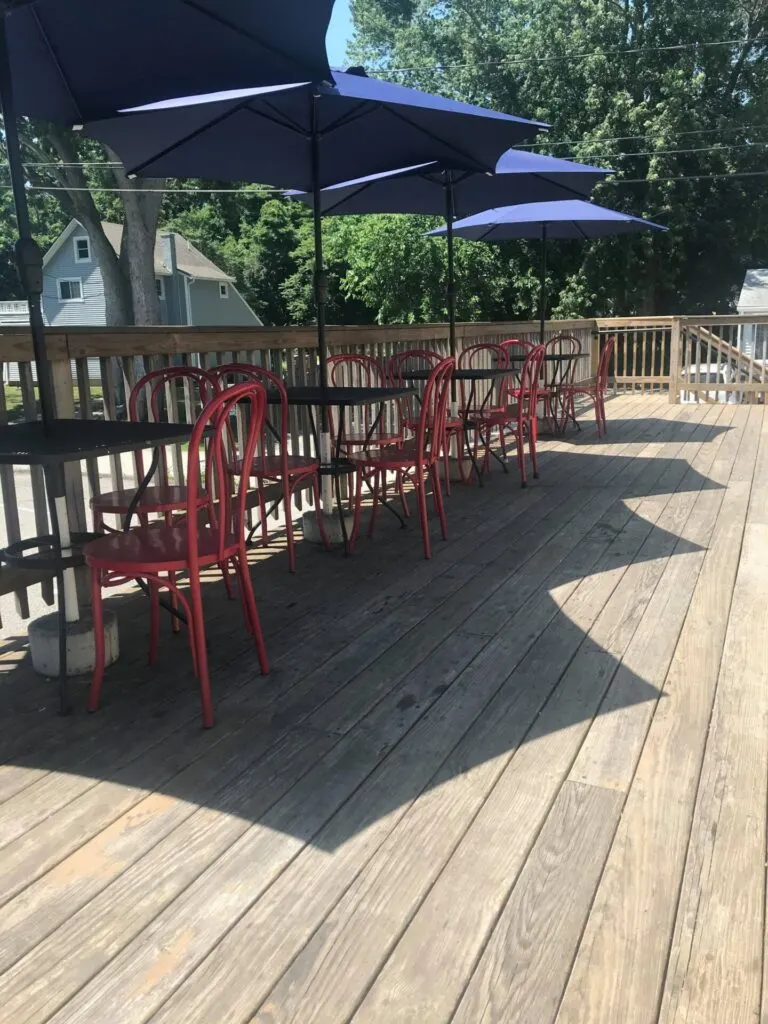 Gum Drops and Lollipops is located right at the corner of Baptist Lane and Main Street.
They have some of the best ice cream in the area and serve burgers and other lunch items as well.
Inside Gum Drops and Lollipops is a candy and fudge shop where you can pick out some sweet treats to take home with you.
If you turn left onto Main Street, there's a nice coffee and sandwich shop called Cafe Sol.
If you're leaving the beach after 4 pm and you're looking for some dinner and maybe a glass of wine, Lillian's Cafe is worth the visit and is within walking distance.
There are some other places for lunch and dinner around East Lyme/Niantic you could consider, as well.
There are a number of specialty boutiques, antique stores, and places to pick up souvenirs and fun collectibles, all within walking distance of Hole in the Wall Beach.
Worth mention is Niantic's charming collection of used bookshops, called Book Barn. There are 3 of them in Niantic and each one is unique.
If you head west, toward East Coast Taco (you'll have to drive for this one), you'll find 2 Book Barns.
The larger of the 2 is spectacular and even has goats you can pet.
The 3rd bookshop is right near the beach and is wonderful, as well.
The history of Hole in Wall Beach
The name Hole in the Wall was inspired by the route you have to take to get to the beach – it looks like a hole in a wall.
Really, it's a train underpass that was constructed in 1894, when the railway was widened to fit double tracks.
The tracks are still in use today, which is a really fun feature that visitors enjoy.
You can enjoy the beach, the boardwalk, shopping, and more, and see the trains zip east and west every now and then.
---
I hope you've found this information about Hole in Wall Beach in Niantic, CT helpful.
This is really a fun place to visit!