Outdoor ice skating in Connecticut is hugely popular because it can be done in the winter seasons, and in late fall. Now is the perfect time to start planning those fun family activities for the holiday seasons that are rapidly approaching.
Some ice rinks commonly overcharge for admission, or don't offer a lot of seating or other activities and even ice skates! If you have had that experience, then you don't have to worry about that anymore.
Cold weather is usually a downer, but once you get out on the ice and start skating in circles, you won't even want to sit by the fire for a while!
We've got the best places for outdoor ice skating in Connecticut right down here for you.
It doesn't matter if you are a beginner or have a perfect triple-axel, these ice rinks have the best options for family fun. By the time you leave, you'll be wondering when you can come back.
10 Best Places For Outdoor Ice Skating in Connecticut
1. Redding Community Center- Redding, CT
When you want a break from your fun day of ice skating, you can take a break in their seating area and watch the lessons going on.
The Redding Community Center is open from dawn to dusk at the disposal of their nearby patrons and can also give you skating lessons if you are interested, or want to enroll your kiddos in ice skating classes.
The website updates daily with new hours and policies to help keep everyone safe. This place has so many options for the family or your group of friends!
2. Rinks at Veterans Park- Norwalk, CT
Now, this is a fun one, especially for any hockey lovers out there. The Rinks at Veterans Park has a few skating classes for kids and adults.
The hockey lessons are for kids aged 10 years and older, so while they are playing and learning on the ice, you can visit the Rinks at Veterans Park lounges. Their hockey leagues continue in the summer too.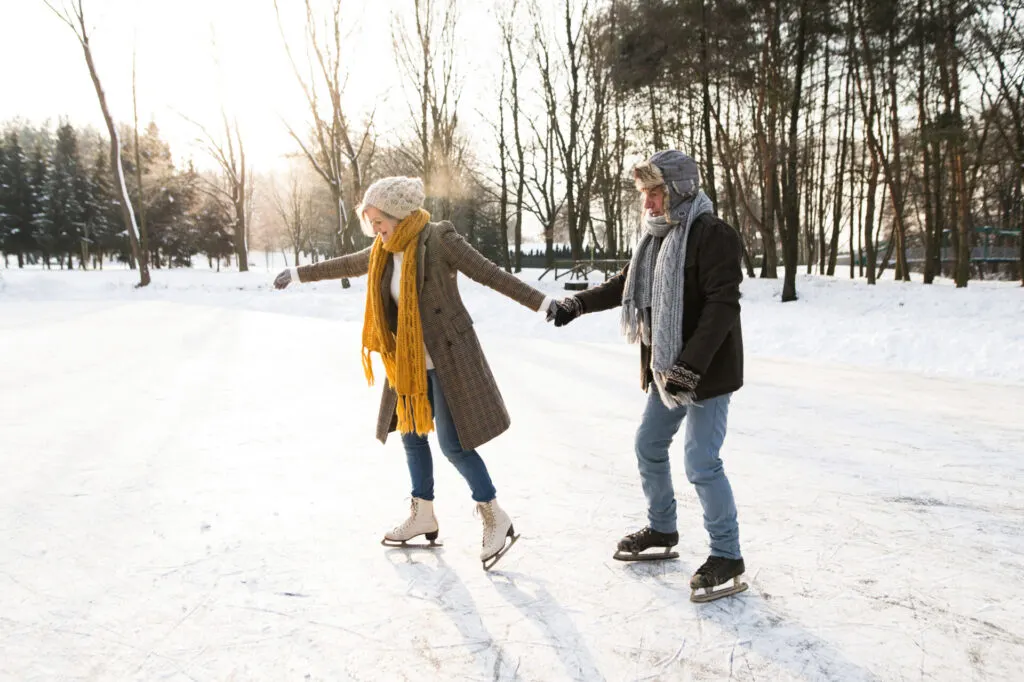 3. Osbornedale State Park- Derby, CT
This is one of the few state parks that has a designated skating area. At Pickett's Pond in the Osbornedale State Park, outdoor ice skating is open for young kids and families.
The ice is checked for safe skating levels before the public is allowed, so it is perfectly safe and reliable when the time is right. There is a fireplace on sight at the pavilion, so when you need to warm up, sit down and roast some marshmallows and have hot chocolate.
Can you feel the holiday season coming up? Some ice skating under the sunset is in your near future!
4. The Bushnell- Hartford, CT
Hopefully, things will be different in this 2021 winter season since The Bushnell closed to the public last year, but they are ready to open up again this year.
They are nestled in downtown Hartford between the beautiful high rises and the city skyline. Open in November through January, the Bushnell is a perfect winter oasis with free skate rentals and lessons.
5. Owen Fish Park- Fairfield, CT
There is a piece of New England right here in Connecticut. The Owen Fish Park located in Connecticut is lively and a picturesque part of the best that New England has to offer.
Parks & Recreation does daily checks of the ice so that it is always safe for skating. Once the temperature starts to drop, the checks happen and then the Park is open to the public.
It has the perfect scenery for hockey games or just practicing your ice skating skills.
6. Winding Trails- Farmington, CT
Sometimes people are worried about the integrity of ice skating rinks that are outdoors, but the Winding Trails rink makes sure that the ice is 6 inches thick before anyone can skate on it.
They offer lots of family fun and entertainment with music at the rink, so there is plenty to do while the kids skate!
They are a full-service rink with rentals and everything, so just bring your happy spirits and have fun!
7. Gorham's Pond- Darien, CT
This one may just be straight out of a movie. Gorham's Pond is a picture-perfect winter ice skating rink that is coupled with the crisp outdoor setting of winter.
Their website is very helpful and offers a lot of information so that you come prepared.
Another hockey-playing rink, Gorham's Pond is open to families and groups of people looking to have some ice skating fun.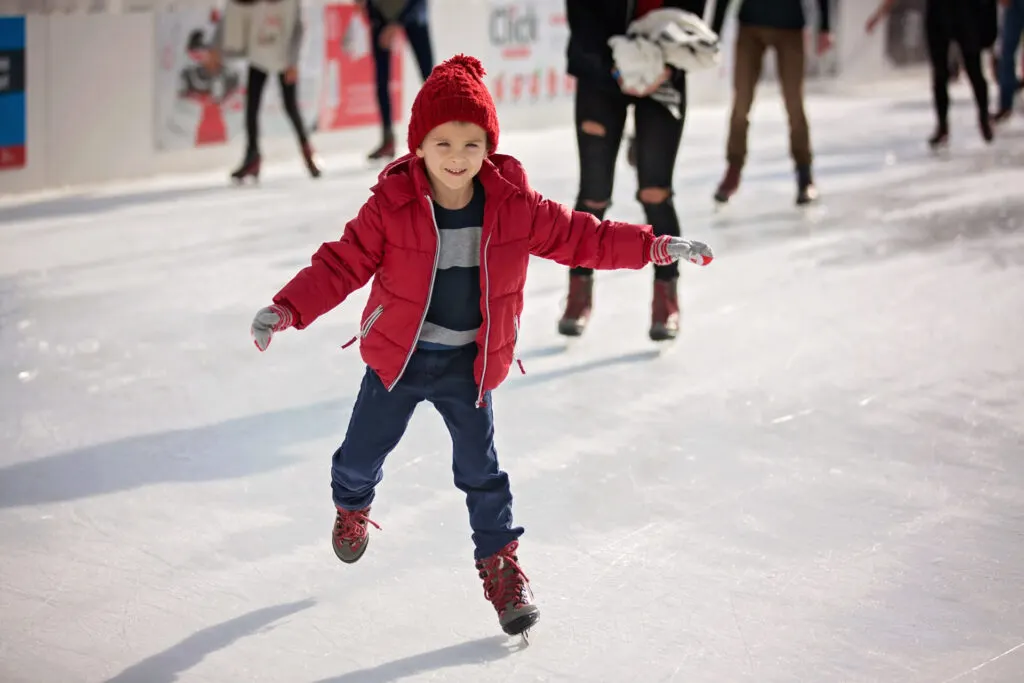 8. Eastbury Pond- Morris, CT
Once the weather is right, the Eastbury Pond is thick enough for skating and ready to house many happy families over the winter months.
It is a naturally frozen pond, so the ice skating experience is fully authentic and memorable. They do not offer rentals, so you do need to bring your own skates.
But, this place is worth it, since it has so much more to offer!
9. Westport Pal Rink at Longshore- Westport, CT
Day or night, the Westport Pal Rink is open for skating. The big floodlights make night skating safe and easy, and the surface is kept smooth and well kept.
Their skate hours vary, so once the season starts, the website keeps everyone up to date. Westport is a beautiful destination, near the Long Island Sound, so a day of ice skating at the Westport Pal Rink will come with a lot more fun for you and your family and friends!
10. Simsbury Farms- West Simsbury, CT
This outdoor skating rink has a covered pavilion, so if there is a bit of falling snow or sleet, you don't have to stop the fun.
The Simsbury Farms rink does have skates for rent, but you are more than welcome to bring your own if you choose. They charge an entrance fee, but it is not outrageous and helps them keep staff on hand to maintain the rink.
Simsbury is a cute little town in Connecticut, with a lot nearby for the family to enjoy, including a petting zoo over at Flamig Farm!
---
Connecticut winters are so beautiful – too beautiful to stay inside. So, get out there and experience some outdoor ice skating in Connecticut this winter!