Are you looking for some amazing Portuguese restaurants in CT? If so, you're in the right place.
Portuguese food is so delicious and unique in its preparation. The garlic, the olives, the kids of pasta – everything is just so delicious and beautifully prepared.
Whether you're in the mood for a nice warm bowl of Sopa da Pedra or you've got a taste for Ameijoas a Bulhao Pato, the restaurants on this list will satisfy your cravings.
Connecticut has some great Latin and Mediterranean cuisine, as well as Latin American cuisine, like Cuban food.
The Portuguese restaurants don't disappoint, either.
Let's get right to it.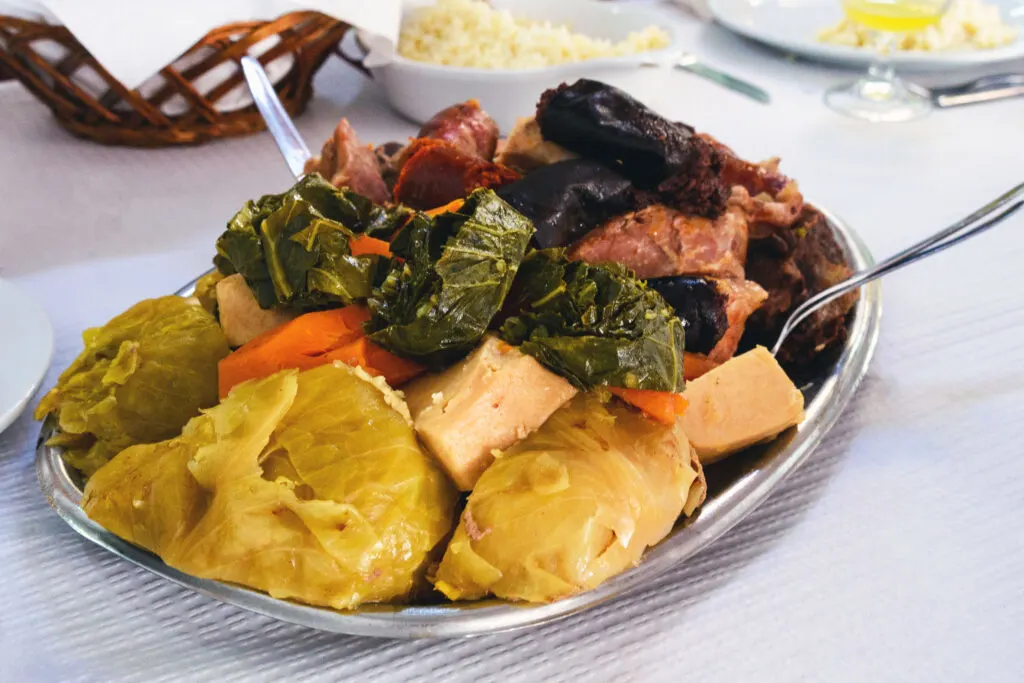 The 7 top Portuguese restaurants in CT
If you're in the Hartford area, you're lucky. Next to New Haven, it's the best city in CT for foodies.
There's just so much culture and passion in Hartford and Primavera Pub serves up a hearty helping of both of these.
Here, you'll find dishes like Bacalhau a Gomes Sa and Paella. Primavera Pub runs daily specials, as well.
The atmosphere here is very comfortable and they offer valet parking as of recently.
Address: 283 Newington Ave, Hartford, CT 06106
Avenue Restaurant in Naugatuck is Connecticut's top spot for Portuguese cuisine in a fine-dining atmosphere.
At Avenue Restaurant, you'll find contemporary dishes that are heavily inspired by traditional Portuguese meals.
Avenue serves appetizers like chicken wings, Octopus Galego Style, and Camarao a Mocambique.
As far as entrees, the Bife a Portuguesa and Polvo a Lagareiro are great choices.
Address: 147 Rubber Avenue, Naugatuck, CT 06770
If you're in the mood for a steak and seafood restaurant that focuses on authentic Portuguese preparation, The Atlantic deserves your attention.
The Atlantic in Danbury has delicious traditional Portuguese dishes such as Mariscada and Espetada Atlantico.
In addition to amazing food, Avenue has a fantastic Portuguese wine selection, as well!
Address: 176 Osborne Street, Danbury, CT, 06810
Whether you're looking for Spanish food or Portuguese food, Brasa Pub & Restaurant in Bridgeport, CT has you covered.
Come to Brasa for dishes like Pate and Olives, Torresmo, and Fillet com Fritas.
Brasa is a highly-rated restaurant with a classy, but friendly atmosphere.
Address: 1439 Madison Avenue, Bridgeport, CT 06606
Hartford is a Connecticut cultural epicenter. There are so many wonderful restaurants here that represent an array of countries and cultures.
If you're an American who's interested in trying authentic Portuguese food or your Portuguese and you're wanting a taste of home, Chaves in Hartford is your place.
Here, you'll find classic Portuguese dishes like Costelas de Vitela com Arroz e Espargos and Feijoada.
The atmosphere at Chaves is super casual, but don't be fooled – the food is amazing.
Address: 1819 Park Street, Hartford, CT 06106
If you're looking for some traditional Portuguese cuisine in the Bridgeport area, Omanel is your place.
O'Manel's soups include Sopa a Alentejana and Caldo Verde and the ever-so-delicious Cogumelos Recheados is an appetizer option.
Entree items at O'Manel's include Paelha a Marinheiro and Bife a Portuguesa.
The atmosphere here is upscale but very comfortable.
Address: 1909 Main Street, Bridgeport, Connecticut 06604
---
There you have it – 6 amazing Portuguese restaurants in CT.
Every single one of these restaurants is amazing. The food is delicious and the atmosphere can't be beat.
Enjoy!