Groton, CT, best known as the Submarine Capital of the World, is an excellent place to begin the day with a good breakfast.
Groton has a variety of family restaurants, diners, bakeries, hotel restaurants, and markets converted into restaurants where you can enjoy a good breakfast.
Here are the 10 absolute best restaurants for breakfast in Groton, CT.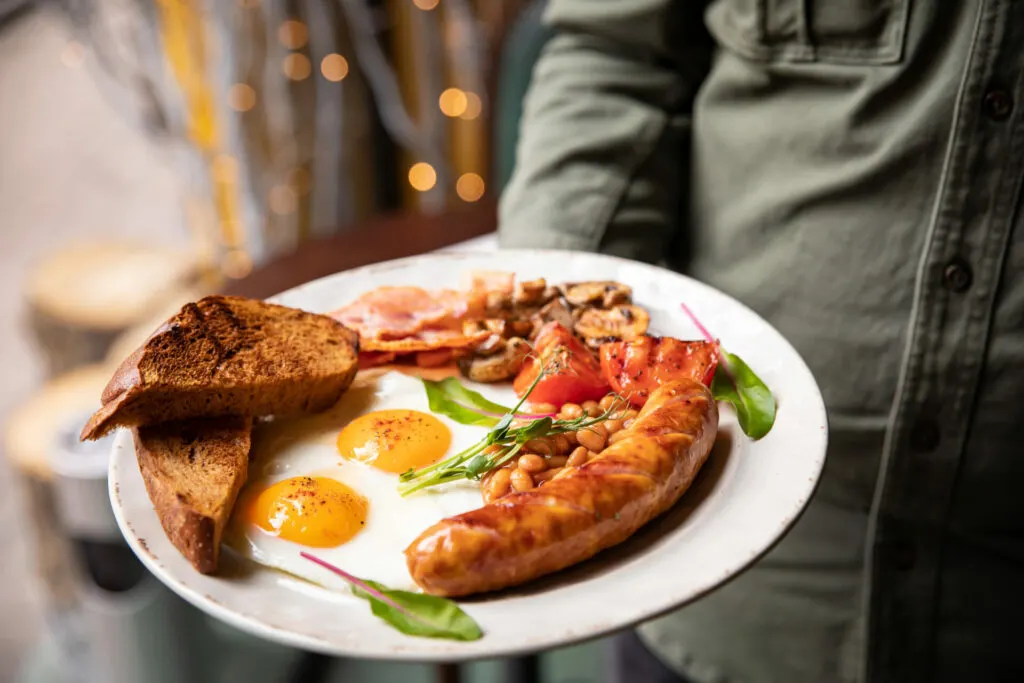 The 10 best places for breakfast in Groton, CT
The Shack
Established in 1989, The Shack offers classic diner specialties, including breakfast, at their Groton location, one of the southeastern Connecticut chain's three restaurants (The East Lyme location is listed as one of the places to go for the Best Breakfast in Connecticut).
Their breakfast menu has something for everyone, with eggs, breakfast sandwiches, pancakes, Belgian waffles, and French toast.
Those with hearty appetites may want to order The Mess, which consists of home fries topped with scrambled eggs, ham, peppers, tomatoes, mushrooms, onions, and sausage covered in bacon and Monterey jack cheese.
441 Long Hill Road, (860) 445-5500, website
Groton Townhouse Restaurant
The Groton Townhouse Restaurant is a family restaurant with a large breakfast menu specializing in omelets and pancakes.
They have over thirty different omelets on the menu, including a chicken fajita omelet and a Hawaiian omelet made with Canadian bacon, pineapple, and Swiss cheese.
The pancake offerings include coconut crunch pancakes, with chocolate chips, coconut, and almonds; raisin oatmeal crunch pancakes, topped with cinnamon and powdered sugar; and the Pancake Melba, buttermilk pancakes topped with peaches, vanilla ice cream, and melba sauce.
355 Route 12, (860) 449-0355, website
Norm's Diner
Originally located near the National Submarine Memorial, Norm's Diner, the only breakfast place in Groton, CT located inside a classic 1954 Silk City diner car, moved to its current location in 1964.
Even though pancakes and French toast are on Norm's Diner's breakfast menu, eggs are the star of the menu with many omelets and breakfast sandwiches to choose from.
Among the omelet, selections are a broccoli and cheese omelet and a steak bomb omelet, which is essentially a cheesesteak omelet.
One of the breakfast sandwich meat options is scrapple, a pan-fried combination of pork scraps, flour, cornmeal, and spices.
171 Bridge Street, (860) 405-8383, website
Puffins
Puffins is the only breakfast place in Groton to have a deck that overlooks the Thames River.
The restaurant is operated by Seabird Enterprises, a non-profit organization that provides vocational training to physically and developmentally disabled individuals.
Puffins' breakfast menu is limited but reasonably priced. The menu includes pancakes, French toast, breakfast sandwiches, and a handful of egg dishes.
The restaurant's freshly made bread and roll selection include brioche, cranberry walnut, and cinnamon raisin, along with white, wheat, and rye.
169 Thames Street, (860) 446-9348, website
Buford's Family Restaurant
Located near Fort Griswold Battlefield State Park, Buford's is a Groton neighborhood storefront diner that serves breakfast six days a week. A screened-in patio is open during nice weather.
Buford's menu offers eggs, pancakes, French toast, and breakfast sandwiches.
The restaurant's specials creatively tie in with a seasonal or special event theme and sometimes use ingredients not often seen in breakfast dishes.
For example, a pirate-themed Crooker Star French Toast uses banana nut chocolate chip bread, fall-themed hayride pancakes use cranberry walnut batter, and a July 4th-themed Statue of Liberty omelet includes turkey, broccoli, and Swiss cheese.
126 Poquonnock Road, (860) 446-1765, website
Village Bake Shoppe
The Village Bake Shoppe, a cozy cafe and bakery serving breakfast and lunch, is often called "the best-kept secret in Groton."
The breakfast menu features made-to-order sandwiches, wraps, and burritos, using their own homemade bread and croissants.
Among the menu items are a bacon, fried egg, and avocado melt sandwich on Indian Grain bread and a buffalo blue breakfast wrap with two eggs, buffalo chicken, blue cheese, roasted red pepper, and avocado.
500 Long Hill Road, (860) 445-8292, website
Carson's Store
Originally a general store in Groton's Noank neighborhood, Carson's Store was transformed into a 1950's style cafe that serves breakfast, lunch, and ice cream. The cafe also sells souvenir shirts, mugs, signs, paintings, and jewelry.
Carson's breakfast menu includes eggs benedict, pancakes, French toast, omelets and scrambles, and breakfast sandwiches.
Being close to the water, the menu features a lobster benedict; a lobster, egg, and cheese breakfast sandwich; and two different lobster omelets, one with spinach, the other with bacon, and avocado.
Non-lobster specialties include a smoked salmon benedict; a brisket, egg, and Swiss breakfast sandwich; and a balsamic egg white omelet.
43 Main Street, (860) 536-0059, website
Jude's Lil Diner
Jude's Lil Diner is a small, homey restaurant serving breakfast and lunch located near Poquonnock Plains Park and the Groton Senior Center. In nice weather, sidewalk dining is available.
The breakfast menu offers a small selection of breakfast sandwiches, eggs, omelets, hash, quiches, pancakes, waffles, and French toast.
Jude's offers soupy, made with ground beef, bacon, celery, onion, ketchup, baked beans, and steak sauce, as a meat option.
The specials are posted on a whiteboard and have included a Reuben omelet, a kielbasa and cheese omelet, and bacon pancakes.
110 Fort Hill Road, (860) 235-5441, website
Aunty Daisy's Donuts
Aunty Daisy's Donuts is part of the Bridge Market, a Groton neighborhood store and gathering place better known for its wood-fired pizza.
Aunty Daisy's Donuts provides an alternative to Dunkin for breakfast seekers. Diners can play board and card games or test their skill at the arcade.
Aunty Daisy's Donuts' menu consists of fresh-baked donuts, bagels, breakfast sandwiches, coffee drinks, and milkshakes, including some gluten-free options.
Specialty breakfast sandwiches include The Margherita, made with two eggs, tomato, mozzarella, and basil; and The Irish, featuring two eggs, corned beef, hash browns, and Swiss cheese.
118 Fort Hill Road, (860) 333-1692, website
For a list of more awesome donut shops in Connecticut, click here.
Flanagan's Food & Drink
Located inside the Baymont Hotel, Flanagan's Food & Drink is a convenient restaurant for Groton residents and visitors to grab breakfast.
Flanagan's breakfast menu is basic, with eggs, pancakes, French toast, and eggs benedict.
The restaurant also offers a buffet featuring scrambled eggs, home fries, meat, baked goods, fruit, cereal, and beverages at a reasonable price.
For groups and organizations holding meetings and gatherings at the hotel, two additional buffet options are available: a continental breakfast buffet and a made-to-order omelet bar.
360 Route 12, (860) 445-8000, website
---
You're likely getting hungry from reading the descriptions of the distinctive breakfasts offered by the top ten places for breakfast in Groton, CT.
Each restaurant on the list has something that distinguishes them from each other, whether it be a specialty that isn't on any other restaurant's menu, a neighborhood feel, a river view, easy accessibility, outdoor dining in season, or an opportunity to help a developmentally disabled person learn job skills.
Whether you are a resident of Groton or a neighboring town looking for a new place to have breakfast, a visitor heading to the USS Nautilus, or a visitor or commuter stopping in Groton on the way to Mystic, other shoreline towns, New Haven, or Hartford, each of the top ten places for breakfast in Groton is worth a visit.
Many of the restaurants are open only in the morning and early afternoon.
A couple of restaurants are closed at least one day a week, so it's best to check the hours before making a special trip to Groton to have a good breakfast.