Whether you're looking for a public beach for swimming or a place to ride your jet ski, Rogers Lake in Old Lyme, CT has what you're looking for.
In this post, I'll go over what activities are allowed at Rogers Lake and what to expect during your visit here.
Haines Park, located at Rogers Lake, is one of our kids' favorite swimming spots and it's loaded with fish, which, of course, is great for us.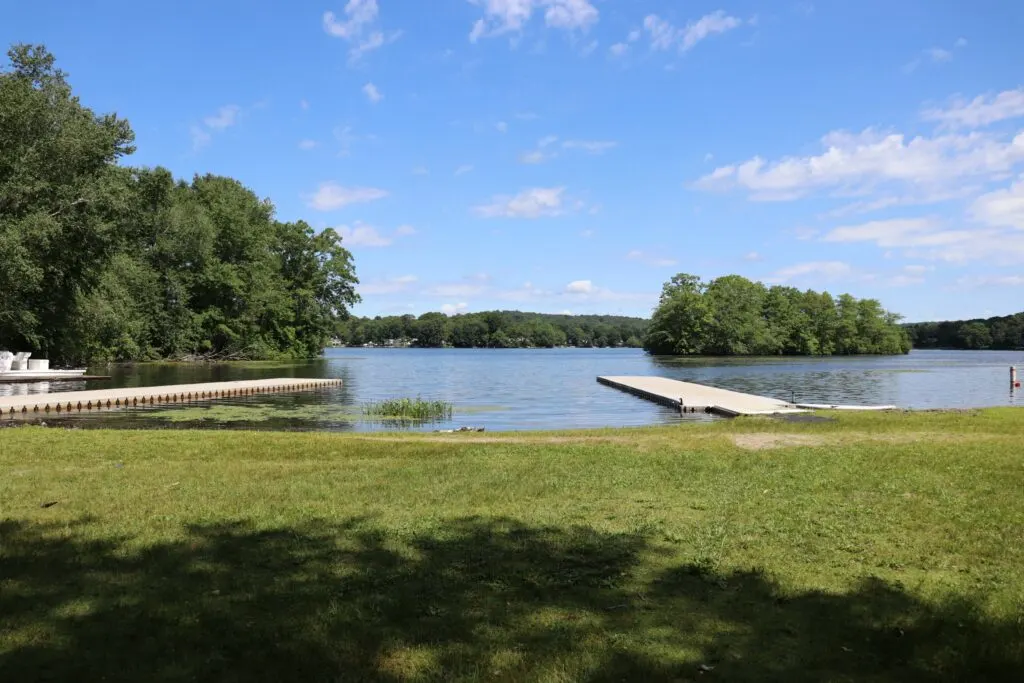 Where is Rogers Lake in Old Lyme, CT?
Rogers Lake is located on Route 1 between the towns of East Lyme and Essex, in Old Lyme, CT.
There's a small liquor store across the street from the main entrance at Haines Park at 183 Boston Post Rd, Old Lyme, CT 06371.
You'll also see a small country market as you approach the lake.
The boat launch is located on Grassy Hill Road.
What is there to do at Rogers Lake in Old Lyme, CT?
Though the lake is small, there is plenty to do here. From swimming to boating, a trip to Rogers Lake has your summer needs taken care of.
Swimming
While adults might not get a lot of satisfaction from wading in water that's just a few feet deep, the small public beach at Haines Park on Rogers Lake is perfect for kids to swim in.
There is often a lifeguard on duty and the water is tested regularly for harmful levels of bacteria.
If you've got toddlers, this is seriously one of the safest lakes in Connecticut to take them swimming at.
(Parking pass is required)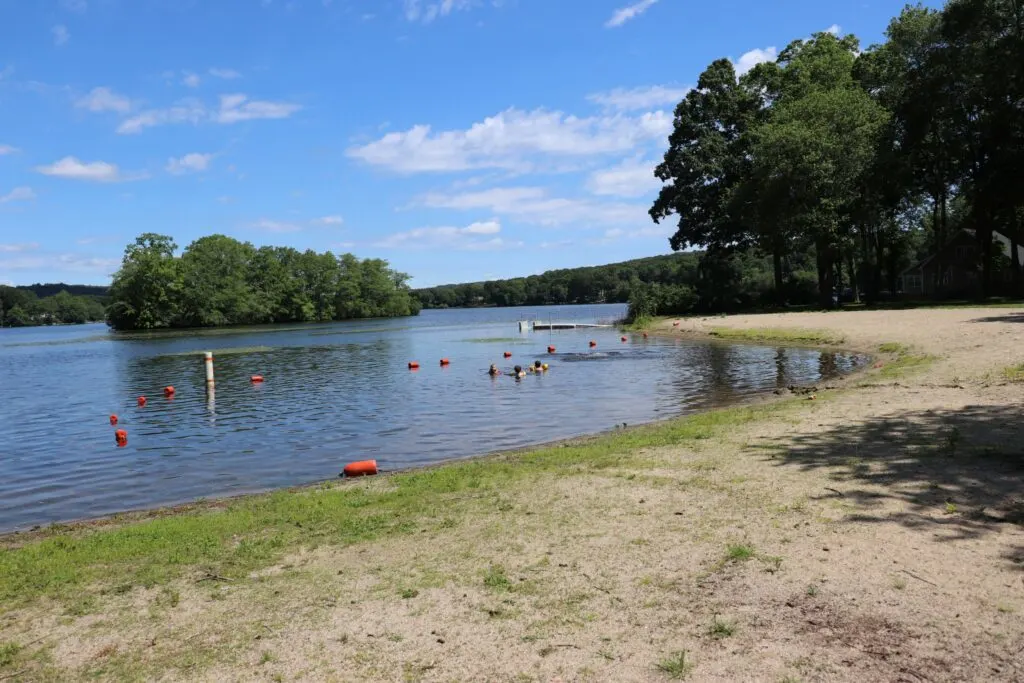 Fishing
The fishing at Rogers Lake is awesome!
From yellow perch to largemouth bass, this lake is full of fish. You can see massive schools of bluegill and bass right from the boat docks!
The minimum size of largemouth bass is 12″ at Rogers Lake and town employees do check for fishing licenses.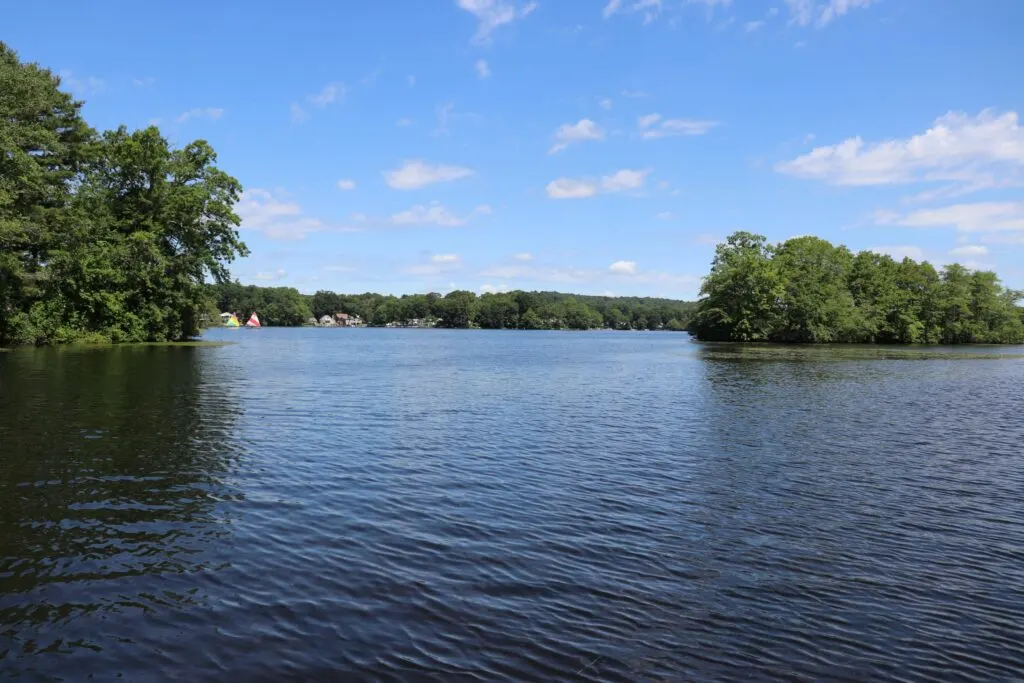 Picnicking
There are a couple picnic tables at Haines Park, one on each side of the parking area.
There is also a nice grassy area that has lots of large trees for shade. This is a great spot for laying down a blanket and having a picnic.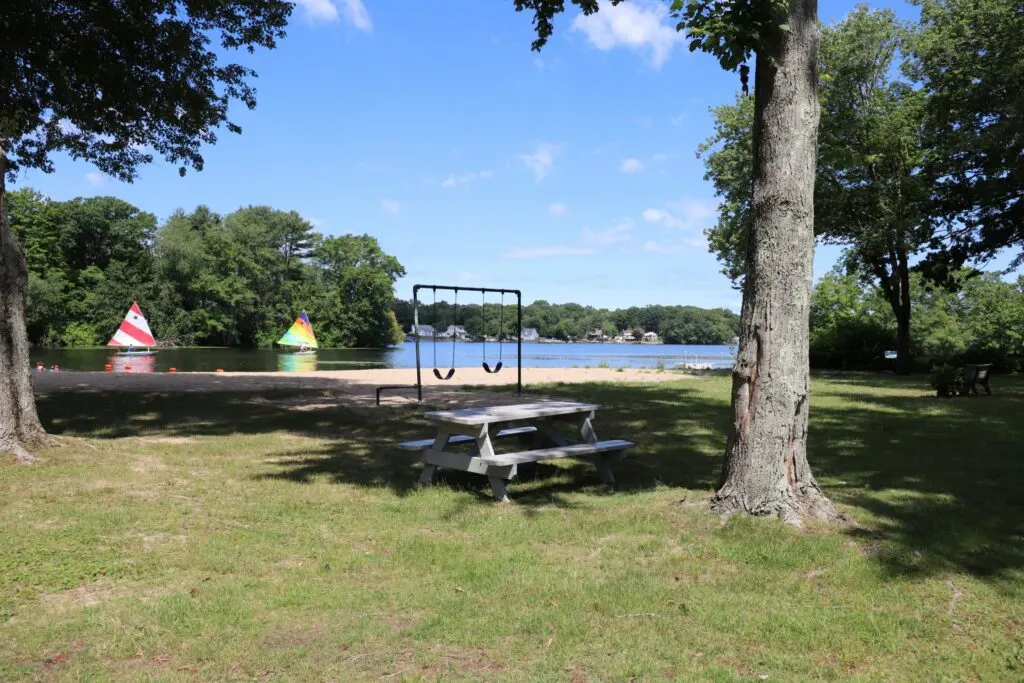 Playground
There is a small playground with a slide and tire swing at Haines Park at Rogers Lake.
It's nothing spectacular, but it's great for when the kids want to take a break from swimming, or for cool weather days when you want to visit the lake, but swimming isn't an option.
There is also a separate structure with swings a little closer to the swimming area.
For older kids and adults, there's a decent size basketball court near the restrooms. (The restrooms are seriously nice for a public park, by the way.)
Boating
Rogers Lake is one of the best places for lake boating in Old Lyme, CT.
The boat launch is located around the corner from the main parking area at Haines Park and up the road a short distance.
The lake is relatively small and great for sailing. You will regularly find catboats and Sunfish crafts here.
This is also a great lake for kayaking and canoeing.
Motorized boats, including fishing boats and jet skis, are allowed on Rogers Lake.
If you plan to jet ski or motor boat at Roger's Lake, make sure to be mindful of the residents who live along the water in this quiet town.
Also, the no-wake zones are plentiful here.
Rogers Lake is a beautiful spot in Old Lyme, CT. Residents who live on the lake are well aware of how lucky they are, and the lake attracts visitors from all over southeastern Connecticut.
We hope you enjoy your visit.
Here is a gallery of photos from Rogers Lake, taken at Haines Park!