If you are in the Hamden area and you are looking for some outdoors fun, you are in luck. Parks in Hamden, CT are second to none – and there are so many to choose from.
In this article, you'll learn a bit about the beautiful town of Hamden and get some choices of amazing parks in Hamden, CT.
---
As a suburb of New Haven that borders the city, Hamden's geography is diverse.
The southern part of Hamden mirrors New Haven's urbanness. The northern part of Hamden is more rural, with wide-open spaces.
Hamden's diverse geography allows for the town to have an extensive network of parks and fields. In addition to Hamden's town parks and fields, there are two state parks, Sleeping Giant State Park, on Mount Carmel; and West Rock Ridge State Park, in southwestern Hamden.
Both state parks offer hiking, fishing, and rock climbing. Hamden's town parks offer ball fields and courts, picnic facilities, and playgrounds.
One of Hamden's parks, Brooksvale Park, is a working farm with animals and a garden.
None of Hamden's town or state parks have a swimming pool. For those seeking to cool off on a hot summer day, there is a splash pad at Mayor Peter Villano Park.
Lake Wintergreen at West Rock Ridge State Park is open to non-motorized boating and paddle boarding.
In winter, cross country skiers can enjoy some of the Sleeping Giant and West Rock Ridge State Park trails, along with the Brooksvale Park trails.
Sleeping Giant State Park and Brooksvale Park also allow snowshoeing. Sledders will find good hills at Brooksvale and Pine Rock Parks.
Here are the top 10 parks in Hamden, CT. Every park is open year-round.
Hamden's town parks are open daily from a half-hour after dawn to a half-hour after sunset. The state parks are open from 8 AM to sunset daily.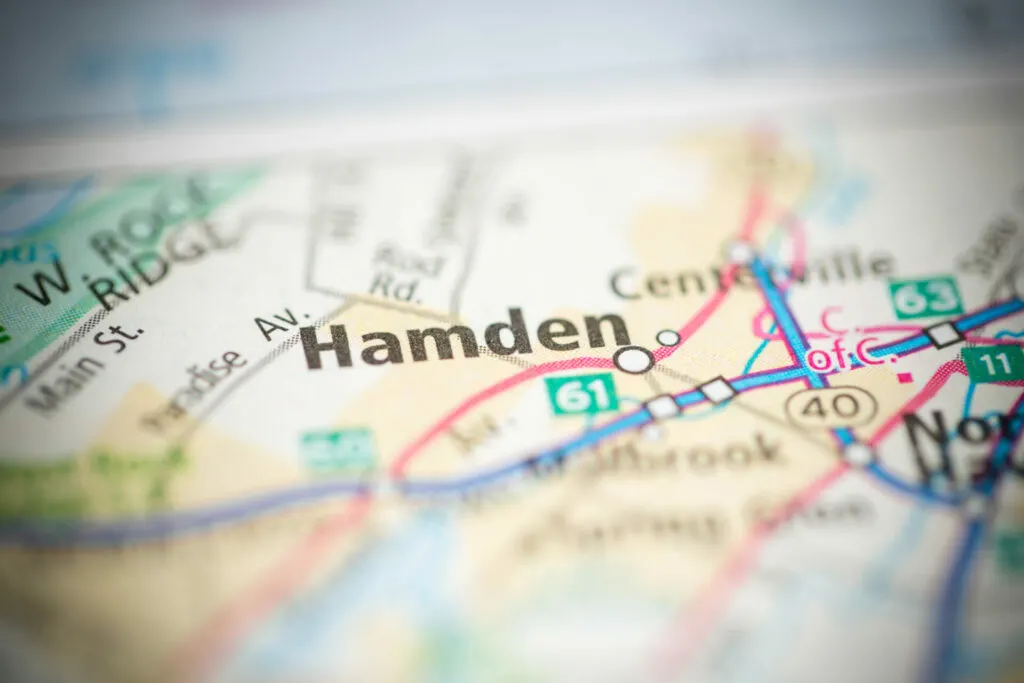 The 10 best parks in Hamden, CT
Sleeping Giant State Park
Sleeping Giant State Park became a Connecticut state park in 1924. The Hamden park got its name because the park has two miles of mountaintop that resemble a large man lying in a state of rest, a.k.a, a sleeping giant.
Sleeping Giant State Park has over 30 miles of trails. The most popular trail is a 1.5-mile path leading from the parking lot and picnic area to a stone observation tower on the peak of Mount Carmel.
From the observation tower, visitors can take in views of greater New Haven and Long Island Sound.
The park's other trails range from 0.7 to 5.1 miles in distance. A horseback riding trail runs along the perimeter of the park. The park's blue hiking trail is part of the Quinnipiac Trail, a 20-mile trail that's one of Connecticut's Blue-Blazed Hiking Trails.
The Sleeping Giant Park Association hosts a series of themed hikes that take place 1-3 times a month.
The themes include, but are not limited to, winter tree identification, spring wildflowers, hiking the Sleeping Giant, fall foliage, and forest bathing. The hikes require advance registration and are free to the public.
In the winter, cross country skiing and snowshoeing are allowed. The Sleeping Giant Park Association mapped a cross country ski trail using portions of the park's hiking trails. Snowshoers are welcome to use the regular hiking trails.
Rock climbers often navigate the Sleeping Giant's cliffs. One popular spot for rock climbers to navigate is The Chin. The Sleeping Giant's head is another rock climbing spot.
The Mill River runs through the park. Trout fishing on the River is permitted year-round, The Mill River is a Connecticut trout management area, which means trout fishing is catch and release only between September 1 and the second Saturday in April.
Park visitors may rent an open-air picnic shelter with tables, grills, and two fireplaces. Parking fees apply to vehicles registered outside Connecticut.
West Rock Ridge State Park
Connecticut's second largest state park, West Rock Ridge State Park sits on over 1,800 acres of land in Hamden, New Haven, Woodbridge, and Bethany.
The Park attracts fewer visitors than most other state parks, allowing for more solitude.
West Rock Ridge, a 7-mile long traprock mountain ridge with a continuous line of exposed cliffs, attracts visitors to the park.
From the Ridge, visitors can see nice views of New Haven Harbor and Long Island Sound. There is a scenic vista at the southern end of the park.
Among the park's seventeen hiking trails is the Regicides Trail, a Connecticut Forest & Park Association Blue-Blazed Hiking Trail.
The 7.3-mile long trail passes Judges Cave, where British judges Edward Whalley and William Goffe hid after King Charles II ordered their executions for sentencing his father to death.
The Quinnipiac Trail goes through the northern part of the park. The other hiking trails range in distance from 0.15 to 6.75 miles.
Most of the trails are open to mountain biking. The West Rocks Trail blog lists a handful of suggested bike routes.
The trails open to bicyclists are also open to horseback riders and cross country skiers.
Lake Wintergreen, a 44-acre former reservoir, is located within the park. The lake is stocked with trout and catfish.
Non-motorized boating and paddleboarding are permitted on the lake. Fishing is also permitted at The Farm Brook Reservoir and the Belden Brook Diversion Pond.
Rock climbers head to the southwestern part of the park, where the Old Quarry is located. Named the Old Quarry because it was quarried in the early 1900's, the climbing wall is accessible from the park's Teal Trail.
The road to West Rock Ridge's summit is open on weekends and holidays from Memorial Day Weekend to the last weekend in October from 8 AM to 6 PM. Parking information is available on The West Rock Trails website.
Brooksvale Park
Sitting on 500 acres, Brooksvale Park, on Brooksvale Avenue, was originally a farm in the 1800's.
Hamden leased the farm from its owner in the 1850's, then inherited the farm from its owner after his death. The farm became Brooksvale Park in 1963 and was expanded in 1970.
The centerpiece of Brooksvale Park is a working barnyard. Three miniature horses live inside the stable. The chicken pen is home to a flock of hens and one rooster.
Two beehives sit inside the apiary. Seven rabbits reside inside another pen. The north end of the barnyard has a half-acre organic garden with flower and vegetable beds. The vegetables grown in the garden are donated to local soup kitchens.
A maple sugaring shack inside the park hosts an annual Maple Sugaring Day each spring. Sap from the park's sugar maple trees is collected, boiled down, and bottled.
Brooksvale Park also features nine nature trails. One trail running along the perimeter of the park connects to Naugatuck State Forest's trails.
Some trails have geologic landmarks and rocks and stone walls dating back to the park's farmland days.
A unique trail is the Tree Identification Trail, a ¾ mile trail with 24 different trees.
Each tree has an identifying plaque stating the type of tree. At the end of the trail, visitors are asked to identify three non-marked trees.
In the winter months, the park allows sledding on a hill near the barn and maple sugaring shack. Cross country skiers and snowshoers are welcome on the trails.
More traditional park amenities include fields suitable for soccer, field hockey, and lacrosse.
A small playground has a slide, swings, and monkey bars. A pond located near the barnyard attracts visitors looking for tadpoles in the spring.
Besides Maple Sugaring Day, Brooksvale Park's annual events include a Trail Work Day, where volunteers clear branches and repair erosion damage.
The Brooksvale Fall Festival In September features hayrides, beekeeping and blacksmithing displays, police K-9 demonstrations, kids' activities, and other exhibits and shows. A wreath-making workshop takes place In December.
Mountain bikes, horses, and ATVs are prohibited from using the trails. The park requests that visitors not feed the farm animals.
Town Center Park
Bordered by Dixwell Avenue, Worth Avenue, Sanford Street, and the Miller Memorial Library, Town Center Park hosts most of Hamden's events.
The nearby Hamden Middle School uses the park for its athletic events. A community garden is located near the library.
Town Center Park was formerly called Meadowbrook Park. The​ Town Center Park Commission is entrusted to preserve 80 percent of the parkland for use as a wildlife habitat reserve, a bird sanctuary, and as a space for the arts, history, and recreation.
Shepherd Brook runs through the park. A direct trail connects the park to the Farmington Canal Trail.
The park attracts bird watchers, including members of the New Haven Bird Club, who find a variety of different birds. Animals spotted at the park include coyotes, bobcats, and deer.
Events taking place at Town Center Park include a summer concert series, fall movie nights, Santa visits, a food truck festival, a farmer's market, and Hamden Fest, the town's annual festival.
The Rotary Pavilion, a gazebo, serves as a venue for the summer concert series, as well as concerts by the Hamden Symphony Orchestra. The park's Red Barn Stage is the venue for Tieline Theater's Shakespeare In The Park series.
Town Center Park also has a playground called Josh's Jungle. Josh's Jungle was the brainchild of Jennifer Tramontano, who was frustrated by the lack of accessible playgrounds for her wheelchair-bound son.
Two giant giraffe statues flank the pathway near the playground entrance. The wheelchair-accessible playground has separate areas for younger and older children.
In 2021, Town Center Park adopted a puppy named Sloane. While Sloane was originally adopted to be a "guard dog", she serves more as a friendly ambassador for the park and its events. The Park's Facebook page has several adorable photos of Sloane.
Mayor Peter Villano Park & Rochford Field
Located on Mill Rock Road near the Hamden/New Haven line, Mayor Peter Villano Park was originally called Mill Rock Park.
After a series of renovations, the park was renamed for Villano, a one-time Hamden mayor who later became a member of the Connecticut House of Representatives, serving from 1993-2013.
The park's amenities include two lighted basketball courts and two lighted tennis courts. A multi-purpose field is suited for soccer, field hockey, and lacrosse.
Four separate sheltered areas are ideal for picnics. A sheltered performance area allows for concerts and community events like National Night Out to take place.
Two playgrounds feature climbing ropes and slides. One playground is designed for toddlers, with appropriate sized equipment and activities.
The other playground, geared towards older kids, offers taller climbing ropes and apparatus, monkey bars, balancing equipment, and musical toys.
Villano Park is the only park in Hamden with a splash pad. Open from 11 AM to 7 PM, Memorial Day Weekend through Labor Day Weekend, the splash pad is located between the basketball courts and the playground.
Overhead sprinklers are shaped like butterflies and leaves. Ground-level sprinklers rise up to provide kid-size geysers of water.
Rochford Field is situated across Winchester Avenue from Villano Park. Rochford Field consists of two baseball and softball fields.
One field is suited for kids while the other field is designed for high school, collegiate, and adult baseball and softball games. Albertus Magnus College's baseball and softball teams play their home games at Rochford Field.
Bassett Park & Larry's Playground
Baseball and softball players will enjoy Bassett Park, which is at the intersection of Ridge Road and Waite Street in Hamden's Spring Glen neighborhood.
There are five fields of varying sizes. In addition to recreational play, the fields host Hamden's little league teams. A concession stand is available for teams and leagues to use.
Along with the baseball and softball fields, Bassett Park's amenities include a basketball court, a tennis court, and picnic tables. Moretti Field, across Waite Street from Bassett Park, is used by Hamden's soccer leagues for games and practices.
One of the most popular features of Bassett Park is Larry's Playground. Larry's Playground, named for Lawrence Biller, was originally built in 1996. Thanks to a 2012 renovation, approximately two-thirds of the playground is wheelchair accessible.
Larry's Playground is divided into two sections, one for younger kids, the other for older kids. The section for older kids has a climbing wall, a zip line, slides, a see-saw, and a spinner.
The section for younger kids is surrounded by trees and features, in addition to age-appropriate playground equipment, a sand play area.
Hamden's Dog Park is located within a fenced area across Waite Street from Bassett Park. The Dog Park has trees, picnic tables, benches, and plenty of open play space.
John P. Denicola Park
Located on Treadwell Street in the Whitneyville neighborhood near the Hamden/New Haven line, John P. Denicola Park was originally known as Treadwell Park. The park was renamed for a former Hamden mayor.
The park's amenities include basketball courts, two bocce ball courts, and a multi-purpose field. One of the amenities attracts runners, joggers, and walkers. A quarter-mile running track goes around the park.
The shaded, spacious playground has equipment designed for all age groups. The equipment includes swings, climbing equipment, a see-saw, and a train.
Denicola Park hosts occasional concerts. The Whitneyville Civic Association holds community events at the park.
Pine Rock Park
Pine Rock Park is a Hamden neighborhood park located on Brook Street, with parking access off of Reyna Road. Helen Street Elementary School is within walking distance of the park.
Wilmot Brook runs north and south through the park. A pedestrian bridge allows visitors walking along the park's pathway to cross the brook.
Pine Rock Park's amenities include three softball fields, a field that is used for youth soccer games, a small playground, and a basketball court.
In the winter, Pine Rock Park attracts sledders. Starting in a hilltop located within a grove of trees, sledders slide down a steep, long hill to the ball fields near the parking lot.
Frank Cesare Memorial Field
Frank Cesare Memorial Field, formerly the Hamden Plains Recreation Field, is named for former Hamden town councilman Frank Cesare.
The park is located behind the Church Street School and is visible from Blue Hills Avenue, Noble Street, and Noble Court.
The park has two baseball fields, one for little league players, the other for high school and adult players. There is also a basketball court and a playground.
In 2017, the playground was completely renovated with all new equipment, including a swing set, a climbing structure with slides, a saddle street spinner, and a balance board.
A section of the playground features a fitness area, with push-up bars, pull-up bars, a climbing pole, and other exercise equipment.
John L. Carusone Field
John L. Carusone Field, originally St. Ann's Park, in the Highwood neighborhood, is named for former Hamden mayor John Carusone.
The park, on Pine Rock Avenue, became more kid-friendly thanks to improvements made in 2015.
The park has several multi-purpose fields that are used for youth soccer games, including those organized by the Hamden Soccer Association.
One of the improvements made to the park was the addition of basketball courts with benches. There is also a walking track.
The playground has kid-size climbing walls. One wall is self-contained while the other is part of a play structure. The playground also includes swings and other kid-friendly equipment.
---
There is something for everyone to enjoy at any of the top 10 parks in Hamden, CT. Every member of the family should take the time to go outside and have some fun at the parks.